Robbins Returns after Year-long Recovery
By: Ted Stovin Wednesday, March 20, 2019 @ 12:54 PM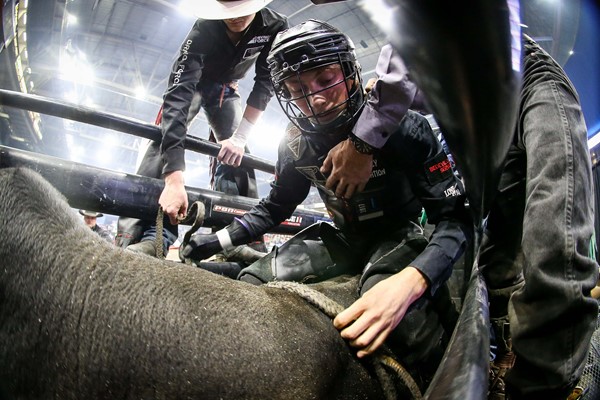 CALGARY, Alberta – In October and November of 2017, an 18-year-old Coy Robbins was on top of the bull riding world in Canada.
At the PBR Monster Energy Canadian Finals in Saskatoon he was named 2017 PBR Canada Rookie of the Year, finishing No. 20 in the national standings, and edging fellow rookie contender Dayton Johnston by 245 points.
A few weeks later he represented Canada at the inaugural PBR Global Cup at the home of the Edmonton Oilers inside Rogers Place.
There, Robbins would make one of the most exciting rides of the weekend with 85.5 points on Plenty Kool.
https://www.youtube.com/watch?v=7bqc_Db74gs
On the next bull, the fortune would turn. In the first bonus round, Robbins faced VJV Whiskey Hand and was knocked unconscious.
In the same season the bull riding world lost Ty Pozzobon, Robbins chose to sit out the next night of competition, one of the toughest decisions at that point in his young career.
RELATED: Down But Not Out
Robbins returned two weeks later only to accumulate another concussion in Regina, Saskatchewan at a Canadian Pro Rodeo Association (CPRA) event. He made his second return in the beginning of January to pursue his way to the PBR's elite level through the Pendleton Whisky Velocity Tour, and a berth to compete at the Canadian Finals Rodeo (CFR).
At the new home of the CFR in Red Deer, Alberta, the 18-year-old broke his humerus and dislocated his shoulder during his dismount from Girletz Rodeo's Wild Child, who he rode for 85.5 points to win the round.
RELATED: Injury Update – Robbins Plans for 2019 Return
Surgery would be required the next day.
"It's not something that I don't think I'd wish on my worst enemy really," Robbins said. "It took a lot out of me to be honest with you, mentally especially. Physically too, after the first surgery I think I was 145 lbs going into surgery and then after three months of sitting, bed rest, kinda not doing anything, I went back to the gym and I was 118 lbs."
The time off was physically and mentally trying.
"I lost a lot of weight, I wasn't eating anything and then mentally it really messed me up," Robbins said. "I kinda fell into a dark place with depression and anxiety. But the help of the Ty Pozzobon Foundation spreading the word about the awareness and talking I figured I better talk to my parents about it. I did that and then got the help I needed.
"Now, I'm feeling better than I ever have mentally, physically and ready to roll."
More than a year later, the third-year pro, now 19, returns to competition this weekend for the third stop of the nation's elite 2019 PBR Canada Monster Energy Tour.
The return wouldn't have happened if it wasn't for the help of Robbins' biggest supporters to get the help he needed.
"I talked to my mom, dad and brother and some other close family," Robbins said. "Just sat down and had a talk and then went to the doctor, talked to him. He's a good guy, I've known him for a while now. Talked to him and then got put on some medication. I think I was on it for about two months and then just actually, it was kinda crazy, Chad Besplug sent me a podcast, David Goggins talking with Joe Rogan.
"It changed my life I'm pretty sure. I watched it, it's a two-hour podcast, I recommend it to anyone. I watched it and I watched it in the morning and then that day I threw the medication in the garbage and I said: 'I'm gonna change my life.'"
Without the impact of the Ty Pozzobon Foundation, Robbins believes he wouldn't have reached out for help.
"I'm not just saying this to say it, but I don't think I would have," Robbins said. "To be honest with you, with the Foundation and everything they do with it, about it's OK to talk and things like that, is probably the only reason why I did."
Sitting at home while his friends were out living their dreams was tough on Robbins.
"I wasn't allowed to drive for like two months, because of my sling and still in so much pain," Robbins said. "So for two full months, I really wasn't allowed to leave the house. I could go outside and walk around but your mind starts playing tricks with you. Literally to just sit around and do nothing and a guy gets to thinking about shit and I think that's what it was about."
One trip he made last year was to the sold-out show on the Monster Energy Tour in Calgary in March.
"I was all slinged up and fresh off surgery really, just a month off," Robbins said. "It was a hell of an event. I'm pretty sure they sold it out. Good bulls, lots of good rides. This year, I'm glad to be back in the action that's for dam sure."
This time around, he's got no sling and his name is in the draw.
"I don't know the bull I've got the first night, it's one of Jim Thompson's bulls, Time Well Spent," Robbins noted. "But usually every bull I get on of Jim's has been pretty good. I don't think he's ever run in a bad one for me. I'm sure that'll be a good one.
"The second day I got Dirty Work of the X6's, the Carlier's there. I seen Jared Parsonage rode him for 83.5 I think on Day 2. Just a good one into my hand.
"It's looking good."
When asked if there was anything else he wanted to add before the return, he was direct.
"We're back baby."
The PBR Canada Monster Energy Tour resumes in Calgary, Alberta on March 22-23 for the third stop of the 2019 season at the Nutrien Western Event Centre at Stampede Park. Tickets are available at Ticketmaster.ca and fans can watch LIVE, nightly at RidePass.com
Follow Ted Stovin on Twitter @TedStovin