The Morning Line – Calgary – Day 1
By: Ted Stovin Friday, March 22, 2019 @ 8:36 AM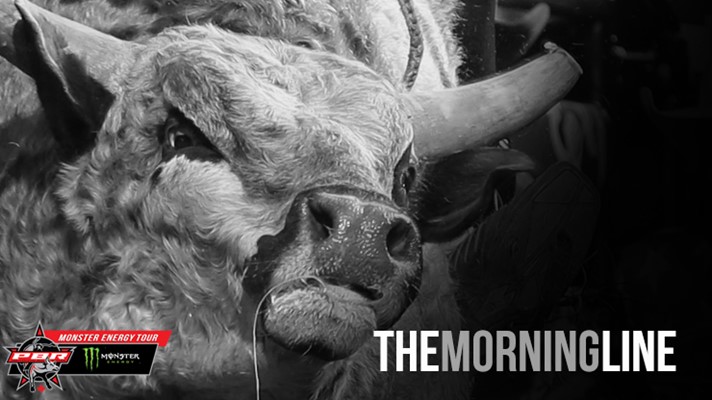 CALGARY, Alberta – After becoming the first-ever ticketed event to sell out the Nutrien Western Event Centre on Stampede Park last March, this event has big boots to fill.
A second day has been added, and it all starts tonight if you hadn't heard.
For the second-consecutive year the bulls will also be competing. A total of 27 of the top up-and-coming bovine athletes in the nation will buck both Friday and Saturday as part of the ABBI Canada Classic. Money is paid out on the aggregate over both days as well as in each round.
On the riding side of things, four guys have a shot at the PBR's elite level with a win, show or place in Calgary. A Top-3 finish would move Tanner Byrne into the Top 35 depending on what happens this weekend in Kansas City. Today, he's 38.3 points behind 2014 PBR Canada Champion Stetson Lawrence who's tied with Sean Willingham for the No. 35 spot.
The current top ranked rider in Canada, Jared Parsonage ranks No. 47 on the planet, and is 73.3 points behind Lawrence and Willingham. Finishing first or second would give him enough points to move up to Unleash The Beast territory next weekend. Shay Marks is No. 56 in the world, he and No. 67 Garrett Green would need a win to be inside the Top 35.
Let me know your thoughts and your picks for Calgary by tagging @PBRCanada on Twitter and in the comment section on Facebook or Instagram. 
RELATED: Click here for the full Friday daysheet
Todd Chotowetz vs. 481 Buck Nasty
After winning in Teepee Creek, Todd Chotowetz holds down the highest ranking he's ever held in the PBR Canada National Standings at No. 6. This matchup literally jumped out at me, Todd and Buck Nasty from Foley Bucking Bulls will be the first matchup out of the chutes tonight and it could end up being one of the best rides of the weekend. Buck Nasty has been a star, and now he's even on the side of a trailer! He will turn back into Todd's hand and we could get into the high 80's right off the bat.
Coy Robbins vs. 517 Time Well Spent
I spoke with Coy Robbins on Tuesday right after he saw the draw, and he was excited. This is his first PBR event back from injury in more than a year, and he's still only 19. Time Well Spent comes from Jim Thompson of New Sarepta and like Coy said in the story, there hasn't been a bad one that Jim has run in the chute for him yet. For Coy, he's going to ideally make more rides than not if he wants to accomplish the goals he has set forth. He's already on track to be a superstar in this sport, so this one should be business as usual. Thompson himself said this bull should be out one and to the right and that Robbins should ride him.
RELATED: Robbins Returns after Year-long Recovery
Dayton Johnston vs. 687 Hold the Dark
My partner in podcast crime, Wacey Anderson is pretty handy on the old Facebook and found me a video of this Dakota Peterson bull in a jiff when we were perusing the draw. Hold the Dark is a black and white paint that went hard around to the right in the video we watched. He looks like a great candidate to do well in the ABBI Classic this weekend as well. Dayton Johnston rides right handed and rides well into his hand. I could see these two matching up for big numbers and I hope that's the case.
Riley Gagnon vs. 8-519 Dirty Work
In Lethbridge, event winner Jared Parsonage rode this black-horned bull and made him look easy in Round 2. The X6 bull was real smooth around to the right away from Jared's hand. For Riley Gagnon, another rising star on the Canadian bull riding scene and the current leader in the 2019 PBR Canada Rookie of the Year race, Dirty Work should be into his hand. Gagnon is 1-for-5 so far this year in three events, but I see him improving those numbers this weekend.
Klayton Lakevold vs. 545 Timber Jam
For this event to also include an ABBI competition, I think it's great to see Timber Jam now competing at this level. Back in 2017 this bull was only two years old and won at the futurity level in Innisfail, Alberta. Fast forward two years and he's now competing in the Classic competition at four years old. Klayton Lakevold is a guy on the cusp. I'm going to compare him to Todd Chotowetz a couple years ago. The fundamentals are there and more time and persistence will get him to the next level. Timber Jam isn't an easy opponent, but a big ride here could do wonders for Klayton's confidence. I'm a fan of both sides of this matchup.
The PBR Canada Monster Energy Tour resumes in Calgary, Alberta on March 22-23 for stop No. 3 of the 2019 season at the Nutiren Western Event Centre on Stampede Park. Tickets are available at Ticketmaster.ca and fans can watch LIVE, nightly at RidePass.com. The stream will begin on March 22 and March 23 at 7:30 p.m. MDT.
Stay tuned in to PBRCanada.com and follow the tour on Facebook (PBR Canada), Twitter (@PBRCanada), and Instagram (@PBRCanada) for the latest results, news, stats and more.
Follow @TedStovin on Twitter