Photo Finish Propels Swearingen into Top 35
By: Ted Stovin Tuesday, May 14, 2019 @ 10:56 AM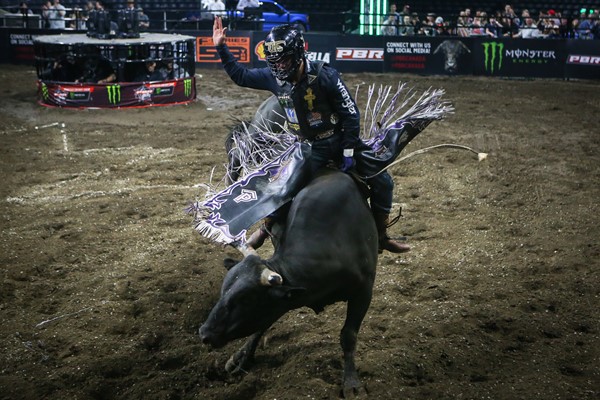 CALGARY, Alberta – From Mineral Wells, Texas on Friday night, to London, Ontario on Saturday night.
That's over 1,300 miles, or for us Canadians, 2,100 kilometres. 
"Getting here was a little bit of trouble," Daylon Swearingen, 19, said. "I was at a rodeo last night and then flew here out of Dallas, and it was storming real bad; they closed the airport a couple times."
Regardless of the travel issues he face, he entered them with momentum at his back, winning the bareback riding, bull riding and all-around title on Friday in Texas, taking the bull riding with a score of 91 points to beat five-time PRCA Champion Sage Kimzey.
"I didn't make my connecting flight in Atlanta this morning," Swearingen detailed. "I flew out at 6am out of Dallas, or I was supposed to, I don't know what time we ended up leaving. And 2pm was when we were supposed to leave [Atlanta] and then there was a group of 34 people coming from London, England, so we had to wait on them and they took like an hour to get through customs, they must not have wanted to rebook them or something."
Finally, he was on the ground, only one international border and over 200 kilometres east of London.
"My dad [Sam] picked me up at the airport and we drove here," Swearingen continued. "I got to Buffalo at about 5:30pm. It is about a two-and-a-half-hour drive [from Buffalo to London] we were quick through the border so that was good. I think they were on the second or third section of bulls [when I got to the event]."
Once made aware of the travel woes, Swearingen was moved down in the event order to ensure he would be able to compete. Awaiting him in London was Black Sails in Round 1.
"That was a real nice bull," Swearingen said. "When I was sitting at the airport I was like, 'man I don't want to miss this,' because I knew I had a good bull, like a good one to have fun on. But it worked out I got here and got to get on him."
In the championship round, after already securing the win, he was bucked off by Smoke Show.
"He didn't really leave right out of there," Swearingen said. "He kinda bucked straight like one and kind of had me rocked over and just kind of had me rocked right from the beginning."  
RELATED: Swearingen Wins Monster Energy Tour's London Classic
With two event wins to his name already this season, he didn't expect this one to only be on one bull.
"No, because most of the time you have to ride two [to win], I've rode two and been like second or third," he said. "I let a good one go away in the short round."
Swearingen then continued his travels by heading to Elmira, New York, for a Touring Pro Division event Sunday. He rode Snot Slinger for 86 points and his 1-for-2 showing earned him a third-place finish (17.5 world points). 

Entering the event No. 36 in the world standings, the win in Canada and third-place finish netted him 187.5 world points and moved him to No. 27 meaning he will compete next at the PBR's Unleash The Beast in Albuquerque this weekend.
"I was already going to Cheyenne because that was my invite from winning a Velocity down there, but Albuquerque, it was close so I am excited to go there," Swearingen noted of the PBR's Last Cowboy Standing taking place at Cheyenne Frontier Days in July.
Juggling between school in Panola College in Carthage, Texas and the Pro Rodeo and PBR schedules hasn't been easy, but it's easier when he's been winning.
"Yeah, it's a lot," Swearingen said. "Just trying to get in to the pro rodeos is kind of tough, so I know I can get in to the PBR's so it makes it a little easier you know what I mean? Just getting flights and all that is kind of tough, but my mom helps me a bunch."
Swearingen, however, has grown up in the rodeo business, so working multiple schedules isn't anything new.
"My dad and BJ [Prince] own a rodeo company, Rawhide Rodeo, it is based out of New York and also in Canada," Swearingen said. "The Rawhide Canada is based right out here in Ontario, so I come up here and rode junior rodeo, like getting on steers and stuff, and going to St. Tite and stuff. Canada, it's always been cool to come here and go to places like St. Tite, all of BJ's rodeos, and they're all good rodeos, and the crowds up here, there so much, they're always juiced up!"
Specifically, London was a good place to get to, close to home before heading out to Redding, California on Wednesday.
"Yeah, it is also a good thing," he said. "I've been going to school so I haven't been home since Christmas so I get to go home after tomorrow's event. I'm just kind of glad to be home for a little bit."