The Morning Line – Québec
By: Ted Stovin Saturday, May 4, 2019 @ 8:00 AM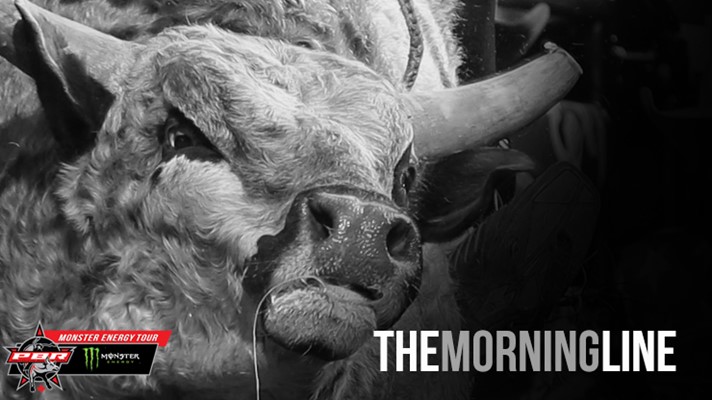 QUÉBEC, Québec – After a nasty spring snowstorm hemmed us all in for the night in Brooks, the bulls headed out on Sunday for the four-event eastern swing on the Canadian Monster Energy Tour.
The Canadian bulls in Québec this time around will come from Thompson Rodeo, Wild Hoggs Bucking Bulls, R-Saga Ranch and Vold Rodeo. Mark Reed of Maryland brings a trailer with the remaining bovine athletes.
This time at the Videotron Centre the format will vary slightly from years previous, but a total of 370 world points could be won for winning each round and the overall event title. A whopping 900 Canadian points can be taken home as well.
RELATED: Québec International Major to Feature Unique Progressive Elimination Format
A stellar list of bull riders highlights the field in Québec, including World No. 2 Chase Outlaw and Canadian No. 1 Jordan Hansen. With this new format, it's sure to be a fantastic night of bull riding.  
Let me know your thoughts and your pick for Québec by tagging @PBRCanada on Twitter on in the comment section on Facebook or Instagram. 
RELATED: Click here for the full Saturday daysheet
Zac Bourgeois vs. 403 Hello Darkness
After the opening ceremony on the Monster Energy Tour, the crowd will already be fired up, but with a home-province man to cheer on right out of the chutes the Videotron Centre is going to be insane. This will be the third year in a row Bourgeois will compete. At only 19 this year, I expect he makes his first big splash in the PBR tonight. Ridden three times in four outs according to ProBullStats.com, Hello Darkness from Jim Thompson is a black horned bull that spun left really smooth in both videos I watched. Scores have been 84.5 or 85. I expect the same from Zac as long as he doesn't let the hometown pressure weigh too heavily on him.
Tanner Byrne vs. 4141 Act Naturally
This bull's name fits exactly what Byrne needs to do. No. 50 in the world is not where he wants to be. He is coming off an injury but had his annual school this week at home in Prince Albert teaching the next generation with his dad and brothers. I bet he does what he needs to do and gets to Round 2. Sitting 168.3 points behind No. 35 in the world, a Top-2 finish would land him in a spot to go back to the elite level by the time Albuquerque comes around.
RELATED: Lambert and Byrne Headline Canadian Riders in Québec
Keyshawn Whitehorse vs. 35 Josiah's Fire
A dark red muley, Josiah's Fire from Andy Robertson is making his first trip east but should be a day off for the 2018 PBR Rookie of the Year. Ridden three times in five outs, Whitehorse couldn't have picked this one better himself for the first round.
Jared Parsonage vs. 336 Tykro Total
If I haven't thanked Slade Long enough lately I wanted to say thank you again. I appreciate being able to look up bulls and see videos attached to their outs. Being on the music in recent years I haven't paid as close attention as I did when I was behind a video camera. Tykro Total from the Wild Hoggs has been ridden three times in 15 outs according to ProBullStats.com. This is the only rematch on record in Round 1, dating back to May 2017 in Prince Albert, Saskatchewan. Then, Parsonage was bucked off but the bull score was only 38.5. Both Matt Triplett and Koal Livingston rode Tykro Total last summer for scores of 84 and 85. There are a ton of Canadian points available in Québec and Jared could leave the new No. 1 in Canada if he finishes ahead of the next man I'm going to talk about.
Jordan Hansen vs. 4714 Aftermath
We could quite handily have three rides in a row between Whitehorse, Parsonage and Hansen back to back to back. Aftermath comes from Mark Reed and has been tamed twice in five outs on record. Most recently he was ridden for an 85.5 in Hampton, Virginia. Hansen enters Québec the No. 1 man in Canada and in the lead for the year-end $50,000 bonus which will be awarded to the 2019 PBR Canada National Champion.
Chase Outlaw vs. 4070 Hammer Down
I had to count it up to remind myself but Outlaw has seven event wins on Canadian soil. In the beginning, he would win the first four events he came to between a pair of wins in Merritt, British Columbia, for his buddy, the late Ty Pozzobon's Invitational Touring Pro Division event and the Ponoka Stampede PBR remembering Jace Harty. Those first four wins came back in 2013 and 2014. What a ways this Arkansas man has come since. I remember him saying years back that he wanted to be a World Champion and this could be the year it all comes true; he comes into Québec the No. 2 man in the world. I bet Ty will be smiling from up in heaven when that happens.
Hammer down has been ridden in both outs this year, 87 points by Jake Lockwood in Bangor, Maine, and 85.5 by Marcus Mast in Worcester, Massachusetts.
RELATED: Outlaw Looks the Channel Canadian Success and Take Over World No. 1 Ranking
Derek Kolbaba vs. 34 Applause
Winning the PBR's first International Major here in Québec back in 2017, Kolbaba is the only international bull rider to have competed here all three years so far. Applause has been ridden three times in nine outs with the highest score being an 86. This dark red brockle-faced bull won't stand a chance against the current No. 11 man on the planet.
Marco Eguchi vs. Z1 Uptown Funk
There are a few good matchups in this first round but this isn't one of them. Marco won the 2018 PBR World Finals, which is the richest week of bull riding on earth, so he knows how to ride the best bulls, but this one is rather tough. Uptown Funk has yet to be ridden in PBR competition, 11 outs so far. He made debut at the PBR's elite level a few weeks back in Billings, bucking off Cody Teel. Uptown Funk may not be easiest bull in the draw but the path to a win isn't always easy, especially in this sport.
RidePass will stream all the action from Québec live on RidePass.com or via the mobile app starting at 7 p.m. ET on Saturday, May 4. Fans can also tune into TSN2 on Tuesday, July 2 at 7:30 p.m. ET for a one-hour highlights special of the event.
The Québec event will mark the fourth stop of the 2019 Monster Energy Tour, following the season opener on January 26 in Winnipeg, Manitoba, and subsequent stops in Lethbridge and Calgary, Alberta.
Tickets are on sale now and can be purchased online through PBRCanada.com, Gestev.com or Ticketmaster.ca. Tickets range in price from $34 to $145.50, all taxes and fees included. For $50, ticketholders will have the opportunity to purchase a Corral Pass giving them the opportunity to meet several of the PBR's fearless riders prior to the event while getting an up-close look at the event's animal athletes from atop the bucking chutes.
Stay tuned in to PBRCanada.com and follow the tour on Facebook (PBR Canada), Twitter (@PBRCanada), and Instagram (@PBRCanada) for the latest results, news, stats and more.
Follow @TedStovin on Twitter