Minion Stuart Retires as one of Canada's Greatest Ever
By: Ted Stovin Friday, November 29, 2019 @ 1:27 PM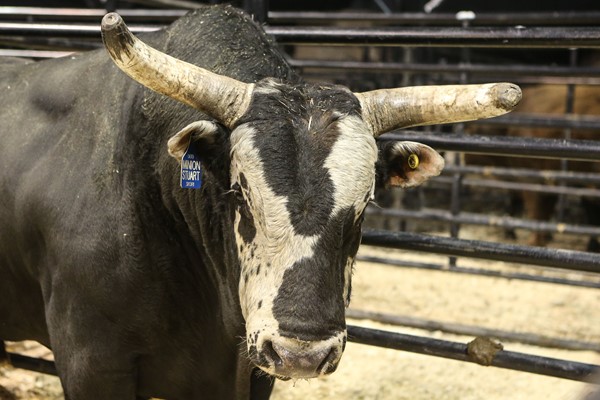 SASKATOON, Saskatchewan – He's a bull that everyone wanted to draw, but getting him didn't mean a guaranteed score, or that you wouldn't get hooked after making an 88-point ride.
Branded 0819, Minion Stuart from Skori Bucking Bulls is nine years old and retires as one of the greatest bucking bulls ever from Canada. One of a select few to not only win both a PBR Canada Bull of the Year title, but also be selected to three PBR World Finals. It's tough to place many other bulls from Canada ahead of him.
That's not to mention the 90 outs on record at ProBullStats.com, more than most in the bucking bull world. What's more impressive are the 44 rides which accounted for 21 round wins and an average ride score of 86.75 points.
And it all got started in the same place he was retired, right in Saskatoon, home of the PBR Canadian Finals.
"I just sent him a number," Ellie Skori said.
The brand number for the then un-named bull, 0819 was all that was sent to PBR Canada's Jason Davidson. The zero is for the year Minion was born, 2010.
"He went there as a three-year-old," Skori said. "I got there and I seen he was called Minion Stuart and I thought shit, maybe he sold his name to a law firm."
The law firm, however, wasn't the case.
"He told me that his kids named him. I didn't even know what Minion Stuart meant," Skori said of Davidson's kids Sutton and Jackson. "He just stayed that and Jason told me that his kids followed him pretty close."
Not available to be in Saskatoon this year for his retirement party, Minion remains at home near Kinsella, Alberta on the Skori Ranch.
"Yeah, he's alive and well, breedin' cows and miserable as ever," Skori laughed of the bull known for his surly disposition.
Right from that first trip in Saskatoon with Lachlan Richardson for a round-best 86.5 points, Minion Stuart had the effort and skill to be a top bucking bull. That first trip actually ended up being one of the only times this bovine was in the preliminary rounds of competition. Moving forward Minion spent his time almost exclusively bucking in the championship round everywhere he went.
"That was the one long-go trip and then the rest of his career pretty well short round trips," Ellie's son Lane said.
Error loading Partial View script (file: ~/Views/MacroPartials/RichtextEmbedVideo.cshtml)
"He was just cool right off the bat and always dirty in the back [pens]," Ellie said. "Not to riders, he probably only hooked two riders in his whole career. One guy probably asked for it and told Lane if he had him in the short round he was gonna spur him. He got bucked off and tossed over the fence and hooked for it too."
That ride that Ellie is speaking of is this one in the video below. For the record, Brock Radford didn't get a chance to spur the bull.
Error loading Partial View script (file: ~/Views/MacroPartials/RichtextEmbedVideo.cshtml)
"I'm sure bull riders will all be sad to see him go because he's treated them good, they've won a lot," Ellie said. "I think they've son about a hundred thousand in Vegas alone on him. They've placed in five rounds on him, so you know, he's been pretty cool, you don't get them very often and hopefully his kids buck the same."
Error loading Partial View script (file: ~/Views/MacroPartials/RichtextEmbedVideo.cshtml)
Ellie is correct in that statement, many of the top riders in the business had kind words for an old friend.
"It was cool to watch the career of such a great bull," said Radford. "He became infamous for his intimidation factor, mean attitude and reputation of putting guys to the top of the leader board. His Bucking Bull of the Year title doesn't speak to the amount of money or events won on the back of Minion."
Speaking to that 88-point ride on Minion in which he was thrown over the fence and took a victory lap with 2011 PBR Canada Champion Tyler Thomson [TNT] afterwards.
"That was definitely one of the highlights of my career," Radford said. "TNT was my mentor and likes to have fun and rode in to celebrate me in a bad ass fashion with a moment that I cherish for sure. As well as my buddy Lane [Skori] on the back of the chute flanking, I remember sitting over Minion just joking around the whole time leading up to it."
Two-time Wrangler NFR Qualifier Jordan Hansen echoed the same theme.
"I went 3-for-3 on him so I definitely had some luck on him. For how terrible he felt in the chute, he felt awesome in the arena."
Four-time PBR World Finals Qualifier Dakota Buttar didn't have the same luck, but still had respect for the animal athlete.
"Minion was as consistent as one could come. He had a ton of outs and if you rode him you knew you were going to get paid. I got on Minion twice and never got paid," Buttar laughed. "I took him right to the whistle once and he bucked me off pretty quick the second time.
"Till the day he retired he never passed the fence test."
Error loading Partial View script (file: ~/Views/MacroPartials/RichtextEmbedVideo.cshtml)
Also having a retirement party in Saskatoon was 2015 PBR Canada Champion Tanner Byrne, who was there as one of the three bullfighters, now in the second leg of his journey in the PBR.
"Minion has the heart of a lion," Byrne said. "He never had a bad day and always tried and tried. He helped me win a bunch of money over my career and also put my head in the dirt on a few occasions. One of my favourites of all time. Congrats to him and Skori Bucking Bulls for a stellar career."
Error loading Partial View script (file: ~/Views/MacroPartials/RichtextEmbedVideo.cshtml)
Along the way with a bull of this calibre, there were some fun stories, especially when Minion was so eager to get on the truck and go to another bull riding event.
"First one out of the barn, rearing to go," Ellie said. "I remember once, Lane was bringing him up and we were loading him and I went behind the trailer gate. I was beside it holding it and he'd been on the trailer a thousand times and he swung out at me and the old bugger tried to throw me on the trailer. That was not very cool.
"The first year we took him to Lethbridge he was pretty calvey and it was Lorne High's son in law, Dustin Wynyk. He was working in the back and he got up in the corner and he got up on the fence and Minion came up and speed bagged him in the nuts about three times.
"Then we got to Prince Albert and I remember Nansen [Vold] watched that and we were helping load in the short round and he said: 'Everyone get ready, it's about to get real.'
"He was a dirty old bugger in the back for a while."
Despite being a touch mean at times he still got the attention of some of the top contractors in the PBR, to possibly spend his life in the United States.
"We offered him for sale kinda in the first year when we went down there," Lane said of the World Finals "But there just wasn't anybody serious enough.
"I know in the last year I took him down there, Gene [Owen] come up to me and he was like: 'Ah I should a bought that bull when you offered him to me as a four-year-old. We were only asking $30,000 for him and he made that at the World Finals alone."
A missed opportunity for Owen, but blessing for the bull riders and Skori family on Canadian soil.
"Gene was kinda disappointed he didn't buy him when he was younger," Lane said. "But by that point he was seven and by that point we didn't really wanna sell him, we wanted to breed with him and stuff."
Longevity in a career is important in being a great bucking bull, the same with being a great bull rider. For Minion Stuart, the number of trips he had, at the elite level in Canada was unheard of. Lane Skori spoke to his favourite season.
"Probably winning bull of Canada," he said. "That year he was pretty outstanding, just the number of trips he took. When he was four and five both years he had 29 short go outs each year, which is, I mean, compared to the other bulls that were in the bull of the year race with him that was like the other ones were ten max, he just had damn near 30, which is pretty special to see a bull go from Ottawa, to Vancouver, all the way to Fort St John, all the way south to Vegas. It's a pretty big spread."
Looking back, Lane's favourite out ties in nicely to the pair retiring in Saskatoon.
"Probably the best ride that I seen made on him would a been when Tanner Byrne rode him in North Battleford when they still had it outdoors. He jerked him down right at the whistle and split his chin open, that was a pretty rank ride. They don't get much better than that." 
Follow Ted Stovin on Twitter @TedStovin