Bull Management Paying Off for Green
By: Ted Stovin Wednesday, October 23, 2019 @ 9:30 AM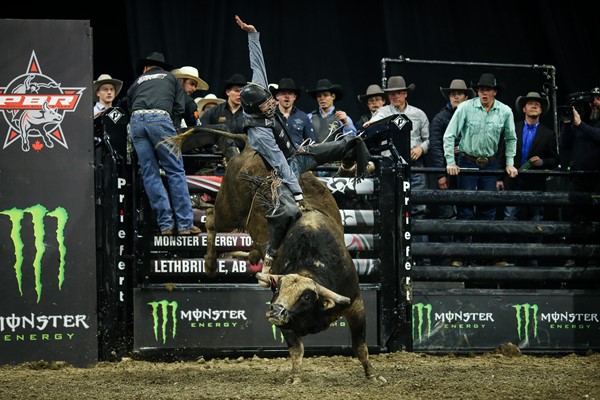 CALGARY, Alberta – The term "load management" turned into a headline this past spring when the Toronto Raptors made the run to their first NBA Championship.
Kawhi Leonard, Toronto's mega star never played in a back-to-back situation, limiting his schedule to 60 of 82 regular season games.
"Research in recovery, including sleep and nutrition, has exploded as athletes and teams look for any edge to improve performance," Lori Ewing wrote for The Canadian Press TSN.ca feature about Leonard on April 18th of this year, linked below.
RELATED: Load management 101: How the Raptors have treated Kawhi Leonard
"When you're tired, you lose a split second of reaction time and stability," said Alex Hutchinson in the article. "When you're tired, you lose a split second of reaction time and stability."
Mental fatigue can also be a factor.
"If you're mentally tired, your reaction time slows, and your decision-making slows," Hutchinson added.
Loan management isn't only about minimizing the risk for an injury, but it can improve performance in the long term.
It's something Garrett Green of Meeting Creek, Alberta has come to understand in the bull riding world, a sport much more dangerous than any of the big four.
"I like to take care of my body," he said. "I don't like being that sore and going so I just take er kind of easy, hit up some of the bigger ones I guess. Next year here coming up I might go a little harder, I might actually go down to the states a little bit and try that out a bit, but we'll see."   
So far in 2019, Green has only competed at seven regular season PBR Canada events, eight if you include the Calgary Stampede, but those results don't count towards the national standings.
"It's been good. I've been to eight PBR's and done really well at the eight I did go to so it's been really good," Green said. "Actually, I didn't even go to that many rodeos. I went to 19 rodeos so kinda a slow year, but I did really well at everything I went to. So it's working out here at the end of the year, I'm giving myself a shot anyway at a title either place so, just keep getting ready and getting in shape and see how she all plays out. Hopefully I draw some good stuff here at the finals and whatnot."
Comparing Green to the norm, the Top 10 bull riders in today's PBR Canada national standings have been on an average of 38.6 bulls, having gone to 22.8 events. With Green's eight, he's been on 20 bulls and ridden 13. Removing Calgary from the equation for standings sake, he's gone 11-for-14 to hold down a 79% riding average.
Despite the lack of events, he remains in contention for the year-end $50,000 bonus to be awarded at the culmination of the 14th edition of the PBR Monster Energy Canadian Finals, presented by Dakota Dunes Casino, in Saskatoon on November 22-23.
Green ranks No. 7 in Canada after the win in Abbotsford, 1,314.58 points behind No. 1 Dakota Buttar. To set the stage, 550 points can be earned in Edmonton this Saturday at the conclusion of the Monster Energy Tour's 2019 regular season. Another 350 could be won in Yorkton, Saskatchewan on November 8-9. To conclude the year, a whopping 2,250 are up for grabs in Saskatoon at the finals.
"That's the thing, it would be something," Green, who also qualified for the Canadian Finals Rodeo (CFR) said. "I've got a shot at the CFR so if I can give myself a shot here at Edmonton to give myself a shot at Saskatoon, that would be great."
The $50,000 would improve on what is already a career-best season in PBR competition which now includes a win on the Monster Energy Tour.
"It's really cool, they are awesome," Green said of the event in Abbotsford. "I haven't been to a pile of them, but I've been to a few and I've got close a few times. I've got a few thirds, maybe a second here and there, but it's good to finally come out and get a win."
Winning for Green came at the cost of another second-place finish for Brock Radford, who was edged out by a single point in the aggregate.
RELATED: Garrett Green Wins in Abbotsford
The 27-year old bull rider spoke to his dance partners in the arena.
"So Mogely, I got on in the long round, from the Carlier's," Green said. "So I talked to Wacey [Finkbeiner] about him. He told me that he was just kind of a shorter, bigger, black-horned bull that was just supposed to be around to the right and that's exactly what he was, so I went to spurring on him a bit. I think I got a little more points out of him than I could have otherwise, but he was good, I made a good get off and that was good."
Scoring 84.5 points, the former PBR Canada Finals qualifier went into the championship round in first place.
RELATED: Garrett Green Wins PBR's Elnora Brahma Rama
"Going into the short round, I didn't know much about [OMB] Legal Issues," Green said. "I talked to Slim [Wilson] a little bit and I said I'd seen him with Lonnie [West], and [Slim] said that's pretty much him. He said, 'He's gonna buck, but he's probably one of the best feeling buckers you're gonna get on.' So that sounds pretty good and he was really good. He kicked hard and came around to the left and felt awesome the whole time. It was really good."
For a bull spinning away from his hand, Green made the 87.5 point-effort look like riding a bike.
"Slim wasn't lying man, that bull feels really good. He lets you look pretty, that's for sure. He doesn't throw too much garbage."
Heading into the final three events of the season, Green is in position to potentially win both the Canadian Pro Rodeo Association (CPRA) and PBR Canada titles in the same year. Something yet to be done before.
Will the bull management pay off?
So far it has to a point with five Top 5 finishes and a pair of wins, but the biggest prize remains.
Follow @TedStovin on Twitter