Morning Line – Abbotsford
By: Ted Stovin Saturday, October 19, 2019 @ 8:00 AM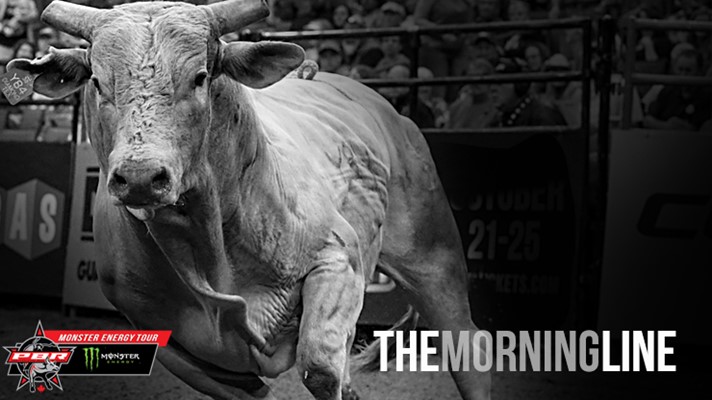 ABBOTSFORD, British Columbia – Since we've been doing the PBR Monster Energy Tour in Canada, the only two stops we've made now all four seasons are Saskatoon for the Finals and here in Abbotsford at the Abbotsford Centre.
It's getting better every year and I'm stoked to be back. What makes me even more pumped is getting back on the Monster Energy Tour train. I say it almost every time, but these are some of the best-produced events in Western Sports in Canada -- plus it's on TSN! Remember to check out the TV schedule for local listings.
On the title front, the only guy missing this week is No. 1 Dakota Buttar who is in Nampa, Idaho at the PBR's elite Unleash The Beast.
RELATED: PBR Unleash The Beast Preview – Nampa
Buttar is one of only two Canadians since 2003 to win an elite-level event with the PBR and Nampa was where he did it in 2017. He won over $30,000 USD in a single weekend, let's hope he can do it again.
In his absence, however, No. 2 Jared Parsonage and No. 3 Shay Marks both have the opportunity to leave Abbotsford first in the nation.
RELATED: Game Notes - Abbotsford
On rider has the change to earn 550 Canadian points on Saturday night, in addition to 170 world points. Both Parsonage (No. 39) and Marks (No. 46) are close enough to making the PBR's World Finals that these next two events could make the difference. For Marks, he needs to get past Buttar by the end of Edmonton if he wants to ensure a spot at the PBR's Pendleton Whisky Velocity Tour Finals in Las Vegas as the Canadian representative.
When there is $50,000 on the line for the Canadian Champion at the end of the PBR Monster Energy Canadian Finals, presented by Dakota Dunes Casino, in Saskatoon on November 22-23, the pressure is amplified. It's still almost anyone's game, but those looking to crack the Top 20 only have three more chances to do so, including tonight's Abbotsford Classic. It's a great time to be a PBR fan!
RELATED: Click here for the full Saturday daysheet
Aaron Roy vs. X313 Hell's Bells
Hell's Bells from Slim Wilson and Wilson Rodeo has been ridden four times in his last seven outs, but he's still a honky cat. This white-faced brindle goes right and looks like he could be fun if a guy gets in the right spot. This year alone scores have been as high as 88 points. Roy is No. 10 in the PBR Canada national standings and within striking distance of an unprecedented fourth PBR Canada title. He's still 1,800.83 points back of No. 1, but it's very possible with the points left to be won yet.
Jordan Hansen vs. 600 Tax Man
This X6 Ranch bull from the Carlier's in Medicine Hat only has one out on record so far. That's the 80-point ride by Nick Tetz from earlier this month in Grande Prairie. Ranked No. 4 in Canada, Hansen is fresh off putting the finishing touches on his second Wrangler National Finals Rodeo qualification. Since he's been focusing there, he hasn't been to any PBR Canada events since July in Kinsella. With three event wins though he's still only 1,102.51 points back of No. 1 and could completely erase that deficit before the end of October. Hansen makes it count when he needs to and stays on a ton of bulls. Look for this guy to be a major contender every time he nods his head and possibly be the second to earn two wins on the Monster Energy Tour so far in 2019.
Brock Radford vs. 7-513 Preacher Man
Another X6 bull, this one with a different prefix for man, has been ridden four times in seven outs on record. All four of those rides came in a row. Most recently he bucked off Jackson Scott in Grande Prairie. Scores have been between 81.5 and 84.5. The red, down-horned bull has been known to go left which would be right into Radford's office. At No. 7, 1,550.83 points back of No. 1, Radford needs to make a move and could do it here.
Shay Marks vs. 524 Lon's Lost It
The last video I watched of Lon's Lost It was from Coronation and there he didn't look too rider friendly. In seven outs on record he's been ridden twice. Once for 85 by Dakota Buttar in Moose Jaw and an 81.5 by Lonnie West at the Ranchman's in early July. Marks has had opportunities to move to No. 1, but has been blanked at the past three Canadian events. This might be a tough bull to ride, but if he wants the title bad enough I bet he finds a way to get the whistle.
RELATED: Marks Looks to PBR Canada Title and World Finals Qualification
Jackson Scott vs. 525 Real Bad Raisin
I only found three outs on record for this Wild Hoggs bull and he's yet to be ridden. Sweet name, but with the way Scott has been riding, he can get it done. Scott has been taking this business seriously lately and the results of his work have been showing. He's been spurring bulls hard and looking very strong. His riding is technically looking great too. Currently No. 9 in Canada, he's 1,687.5 points back of No. 1.
Jake Gardner vs. 545 Timber Jam
These two matched up last back in Stavely at the Glen Keeley Memorial PBR where the bull won. I'm a fan of this Vold Rodeo bull since I've seen him since he was a futurity calf and Gardner is No. 6 in Canada. In 10 outs there have been two scores on Timber Jam, most recently by 2012 PRCA Champion Cody Teel at 85.75 points in Billings this April on the elite Unleash The Beast. An interesting stat here though is that the white-faced muley's highest-scored PBR out ever was also in Billings, checking in at 44.25 points. I hope to see the two-time All-Around champ of Canada get the whistle, it could be a big score.
Jared Parsonage vs. B39 Semi Mental
I had to ask Nansen Vold about this bovine athlete as I hadn't seen him before. Nansen said Semi Mental is a big red and white paint muley that has bucked off 2018 Canadian Pro Rodeo Champion Wacey Finkbeiner in the past and ridden by Todd Chotowetz for 87 points at a CPRA rodeo in Cranbrook, also in British Columbia. He's supposed to go to the left which should work well for Parsonage. Only 122.51 points back of No. 1, the door is open, just needs to walk through it.
Stop No. 8 of the PBR Monster Energy Tour begins at 7:00pm Pacific from the Abbotsford Centre. Limited tickets are still available at Ticketmaster.ca
Be sure to stay tuned to PBRCanada.com and follow the tour on Facebook (PBR Canada), Twitter (@PBRCanada), and Instagram (@PBRCanada) for the latest results.
Follow @TedStovin on Twitter