PBR Unleash The Beast Preview – Nampa
By: Kacie Albert Thursday, October 17, 2019 @ 10:00 AM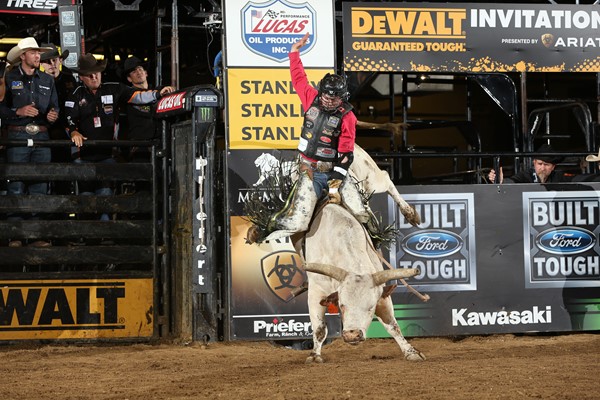 SEATTLE, Washington – While this weekend marks the return of Canada's Monster Energy Tour, it will also play host to the final regular-season PBR Unleash The Beast event prior to the World Finals in Las Vegas on Nov. 6-10.
With the tour making the 2,400-plus-mile, 35-hour trek across the United States after last stopping in Greensboro, North Carolina, the world's best bull riders and bulls will invade Nampa, Idaho and the Ford Idaho Center this Friday and Saturday, October 18-19 for the Cooper Tires Take The Money and Ride.
In Greensboro, Shay Marks was the lone athlete representing the Maple Leaf, going 0-for-2, but this weekend, three Canucks will travel stateside to compete on the elite tour.
Still with a hold on the Canadian No. 1 ranking, leading No. 2 Jared Parsonage by a slim 122.51 points, Dakota Buttar will return to the Unleash The Beast after a nagging groin injury sidelined him from last weekend's stop in the Tar Heel State.
Buttar, however, has a track record of success at the Nampa event.
In 2017, the Kindersley, Saskatchewan native captured his first premier series victory in the city, joining Tanner Byrne as the only two Canadian-born riders to have won an elite tour event since 2003.
RELATED: Buttar Wins Career-First Event in Nampa
Buttar began his weekend in 2017 with 86.75 points on Voo Doo Too in Round 1. He then followed that up with 85.25 points on Modified Clyde in Round 2 and his event-winning 86.5 points on BC Circular Insanity in the championship round.
Last season, however, the Gem State event was not as friendly as it had been in 2017.
In Round 1 while attempting Buck Owens, Buttar sustained a concussion that sidelined him for the remainder of the event when he was bucked off at the 4.04-second mark.
Entering the 2019 edition of the event, Buttar is firmly ranked inside the Top 35, currently No. 26, and on pace to qualify for the fourth PBR World Finals of his career.
When he last rode on the elite tour, the 26-year-old went 1-for-2 to finish 16th in Minneapolis, but failed to collect any world points.
Awaiting him in Round 1 of this weekend's Idaho event is fellow Canuck Blue Blood from Lindsey Carlier and X6 Ranch Bucking Cattle from Medicine Hat, Alberta.
In four attempts on record according to ProBullStats.com, all of which have come on Canadian soil, the bovine athlete is unridden.
After Blue Blood's career-first out ended in a foul in May 2018 in Swift Current, Saskatchewan with Logan Biever, the bull has been steadily improving.
In Blue Blood's next trip, he earned a 37-point score for dispatching Dayton Johnston in 4.01 seconds during July 2018's Touring Pro Division event in Calgary.
After bucking off three-time PBR Canada Champion Aaron Roy in 7.13 seconds this January during the Monster Energy Tour event in Winnipeg to earn a 41.5-point score, Blue Blood recorded his career-best marks, 45 points, six months later in July when he sent Austin Nash to the dirt in 4.53 seconds in Manor, Saskatchewan.
Blue Blood last bucked this October at the first-ever PBR event in Grande Prairie, Alberta. Extending his buckoff streak, he bested Nick Tetz in 3.25 seconds, marked 42.5 points.
X6 Ranch will also haul Cool Bricks stateside, set to be attempted by 2018 PBR World Finals event winner Marco Eguchi in Round 1.
In his one out on record, Cool Bricks was ridden by Jackson Scott for 86 points to tie for the championship round win at the October Touring Pro Division stop in Grande Prairie. The bull earned a 42.5-point score.
Action inside the Ford Idaho Center gets underway with Round 1 on Friday, October 18 at 7:45 p.m. MDT, and concludes with Round 2 and the championship round on Saturday, October 19 at 6:45 p.m. MDT.
Fans will be able to watch the action in its entirety live via PBR's new streaming digital platform RidePass. Round 1 will be broadcast exclusively on the platform beginning at 9:30 p.m. EDT on Friday, October 18. The listen live stream of Round 2 and the championship round will begin at 8:30 p.m. EDT on Saturday, October 19. 
CBS Sports Network will broadcast all the action from Championship Saturday, including Round 2 and the championship round, on Sunday, October 20 at 6:00 p.m. EDT.
Be sure to stay tuned to PBRCanada.com and follow the tour on Facebook (PBR Canada), Twitter (@PBRCanada), and Instagram (@PBRCanada) for the latest results.