Fifth Victory of 2019 Propels Buttar to No. 1 Spot in Canada
By: Ted Stovin Wednesday, September 18, 2019 @ 10:28 PM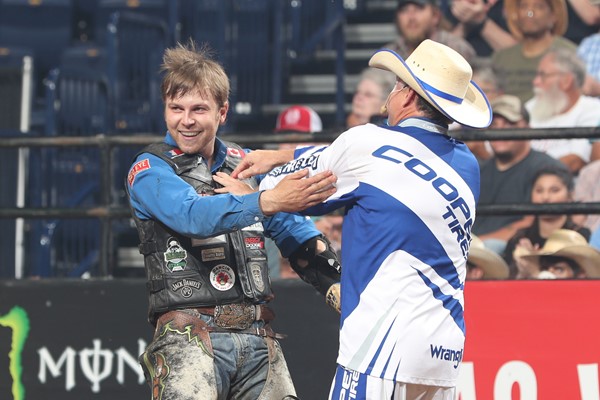 CALGARY, Alberta – Since PBR Canada was launched upwards of 13 years ago the season's Canadian Champion has earned on average four event wins.
While the least number of titles recorded by a Champion was witness in 2011 and 2018 when the season's top rider won two, in 2008, three-time Canadian Champion Aaron Roy won a record nine PBR Canada events in a single-season. In 2010 he won four on the way to the year-end title, while he logged five in 2012.
Five other riders have also notched five wins in a season alongside Roy.
Much like Roy, Scott Schiffner and Zane Lambert also logged five wins while claiming their titles in 2006 and 2013, respectively.
The outliers in this situation are Jared Parsonage when, in 2018, he won five event titles and finished fourth in the Canadian standings, and Brock Radford who won five event titles in 2017, but finished second to Lambert for the year-end title. In 2007, Nathan Roy also won five events but finished third. 
RELATED: Click here for the full list of past PBR Canada Champions.
And for Dakota Buttar, who just recorded his fifth event win of 2019, while he hopes to duplicate the championship run of Roy, Schiffner and Lambert, he stands to possibly surpass Roy in the record books.
With victories in Moose Jaw, Medicine Hat, North Battleford, Frog Lake and most recently in St. Tite, Québec, Buttar's earned the most wins of any Canadian thus far in 2019. Behind Buttar on the leaderboard are No. 4 Jordan Hansen with three, and No. 2 Parsonage who has won twice, both on the Monster Energy Tour. .
RELATED: Click here to view the latest PBR Canada National Standings.
For Buttar, also the No. 27 man in the PBR world standings, heading to St. Tite, Québec was a choice and exception made by the PBR's competition committee. As a seeded rider in the Top 30 in the world, Buttar should have been at the PBR Unleash The Beast event in Springfield, Missouri this past weekend.
"I had to do some talking with the competition committee and because of the position I am in, they gave me one exemption," Buttar said. "I mean, I wish I could go to the last ones that there are, but they're not gonna let me. I think they are gonna change some rules for next year so situations like this won't have to happen."
With the single exemption, Buttar made the most of it, winning both Round 1 and 2 propelling him to the top of the aggregate and earning him 350 Canadian and 60 world points in St. Tite.
In Round 1 he rode Vegas Fun for 87 points and followed it up with an event-best 88 points on Hookasaurus in the championship round.
"I am pretty lucky it worked out, I was excited to go, but I was kinda nervous too. I had to make the most of what I could while I can, so I was happy I drew some good bulls out there."
RELATED: Buttar Wins St. Tite, Rises to No. 1 in Canada
With just two Touring Pro Division and two regular-season Monster Energy Tour events remaining in 2019, Buttar leads No. 2 Parsonage by 205.01 points.
RELATED: Buttar Eyes 2019 Canadian Title After Pair of Wins
For a first-timer at the Festival Western in St. Tite, he hopes to be back.
"I never really wanted to go out there before, but now that I have went I am pretty happy I did. It's a pretty cool experience," Buttar explained. "I didn't really feel like travelling all the way out there and I've heard lots of stories. It's pretty cool, but something now that I have seen it, it's definitely worth the flight out there to go and see."
With the Touring Pro Division event a part of the 10-day Western Festival, more than PBR action took place in the arena. 
"It was definitely different," Buttar said. "So the day we were there, it was kinda just rough stock events; bareback, broncs, steer riding, bull riding then they had their relay racing where they hop off a horse then another guy hops on. 
"That facility is packed full. You can't fit another person in there and they go crazy over everything. It's a pretty good atmosphere to ride in."
Looking back to mid-April of this year, however, it appeared Buttar might be missing the remainder of the season after sustaining a fractured humerus and torn labrum.
After winning his first event back in Moose Jaw, he hasn't looked back since.
RELATED: Buttar Returns to Action, Shoulder "Feels Awesome" 
With the real possibility of winning the $50,000 bonus at the conclusion of the 14th PBR Monster Energy Canadian Finals, presented by Dakota Dunes Casino, at the SaskTel Centre on November 22-23, Buttar looks to add another title to his resume after claiming the Canadian Pro Rodeo titles in 2014 and 2015. 
"It would mean a lot because I haven't, I don't have a PBR Canada one," he said. "Before, I kinda prioritized the rodeos over the PBR and I don't know if I've even been in the number one in PBR Canada before, so it'd be a pretty big deal for me."
Already, this season is shaping up to be the 26-year-old's best yet. In the previous four seasons he had six event titles overall, yet three-straight World Finals Qualifications heading into this year.
In 2018 he finished No. 17 in the world, and with time still on the calendar in 2019 there's time to add a Canadian title and best that finish yet.
He may not even need to hit the biggest stops to win the title either. 
"Ranchman's is the only Monster-type event I've been to. It's all been the smaller ones," Buttar explained.
Despite holding down the No. 1 spot Buttar is humble and as kind as always to the friends he's competing against.
"It's fun, here in Canada we are buddies and we are all, we've all pretty much grown up with one another," Buttar said. "It's a lot more fun when it's that way, I think."
Follow Ted Stovin on Twitter @TedStovin