Built Ford Tough Top 50: Happy Camper Crowned 2018 PBR Canada Bull of the Year After Dominant Season
By: Kacie Albert Monday, April 20, 2020 @ 12:52 PM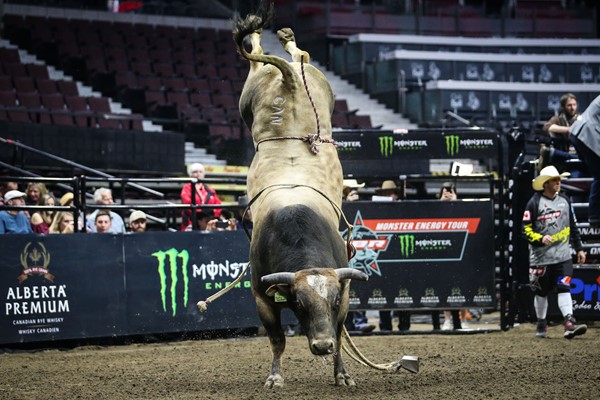 NEW YORK CITY – In 2018, there was no bull more dominant on Canadian soil than Happy Camper.
After winning the 2017 ABBI Canada Classic Championship, Happy Camper was one of just a handful of three-year-olds selected to the 2017 PBR World Finals, foreshadowing what would be a historic season for the striking bovine athlete the very next year.
Happy Camper's first outs of the season were seen just a short distance from his home, bucking inside the ENMAX Centre in Lethbridge, Alberta in March.
Then part of the Touring Pro Division, Happy Camper bucked twice at the sold-out event, earning matching 44.5-point scores for his 5.7-second buckoff of two-time PBR Canada Champion Zane Lambert and young gun Dayton Johnston.
The remarkable bull then made his first appearance of the year on the elite Monster Energy Tour, bucking at the Calgary Classic inside the Nutrien Western Event Centre.
Matched up against yet another up-and-coming sensation in Jake Gardner, Happy Camper bested the British Columbia cowboy in a swift 4.44 seconds in Calgary to earn his first bull of the event honors courtesy of his 43.5-point score.
RELATED: Happy Camper Begins Second PBR Season with Win in Calgary
"The first time we bucked that bull he was special," Josh Berezay said following the Calgary event. "I knew he'd be a great bucking bull and he's proven me right."
After recording an additional two trips on the Touring Pro Division ranks in Prince Albert, Saskatchewan, Happy Camper joined the elite contingent of bulls from the western provinces to make the journey eastward for the slate of four Monster Energy Tour events in Ottawa, Quebec, Halifax and Moncton.
"The only way I think that bull can become the bucking bull of Canada is he's got to go prove he is," Berezay added foreshadowing what was to come. "So either he goes out and proves to everyone that's where he belongs, or you leave him at home and say how great he is without bucking him."
RELATED: Eleven Canadian Bulls Selected to 2018 PBR World Finals
And not only did Happy Camper prove himself, but he took further steps in securing the PBR Canada Bull of the Year honor.
In Ottawa, for the first stop on the stretch, Happy Camper was once again the high-marked bull of the event. While Austin Richardson earned a re-ride for not nodding, Happy Camper delivered a dominant 44.5-point score to top the bull pen.
"That's a heck of a trip to go down there," Berezay said after. "It's a lot but he seems to handle it. He was pretty rank there that night."
After posting a 45.5-point score for his 6.26 seconds of work against Marcos Gloria in Quebec, Happy Camper was again the top bull of the event in Moncton, scored 43.5 points for his close 7.92-second buckoff of Brock Radford.
Happy Camper then returned home to Alberta, just in time to wow the packed grandstands of the Calgary Stampede.
Once again matched up against Gloria, Happy Camper earned the high-marked bull of the "Greatest Outdoor Show on Earth," when he dispatched the Brazilian sensation to earn a 46.5-point score.
"That was a pretty big deal, and to see that was pretty special too," Berezay reflected.
Following four additional Canadian outs, Happy Camper then travelled to the United States as one of eleven Canuck bucking bulls selected for the 2018 PBR World Finals.
RELATED: Eleven Canadian Bulls Selected to 2018 PBR World Finals
In what was a déjà vu moment for many, Happy Camper's name was once again next to Dener Barbosa's in Round 3 of the World Finals, a rematch of the 2017 PBR World Finals. Posting a 43-point trip, Happy Camper was once again ridden by Barbosa, this time for an 84.75-point score.
Then came the final event of the bovine athlete's season – the 2018 PBR Canada Finals.
Besting Canadian superstar Tanner Byrne in 3.9 seconds in the championship round, Happy Camper's 45.5-point score in Saskatoon not only earned him the Bull of the PBR Canada Finals, but also the coveted 2018 PBR Canada Bull of the Year honor.
"It was a good trip," Berezay recalled of his bull's trip in Saskatoon. "That was the best I'd seen him I think since Calgary. And I just think he's going to be a quality bull for a long time."
While Two Bit Bucking Bulls' Bucking Fantastic was the high-marked bull of the Canadian Finals in 2012, Happy Camper is the first bull from the outfit to be named Canadian Bull of the Year. He is also the first bull since Hey Jack in 2015 to earn both honors at the finals, a feat accomplished by just three other bulls: Pound The Alarm – 2013; VJV Slash – 2011; and Unabomber – 2009.
"I don't think there's anything that needs to be said, I just think he does the talking," Berezay said. "Pretty awesome accomplishment.  
Fans can relive all the action from the 2018 PBR Canada Monster Energy Tour on RidePass, at RidePass.com or via the mobile app.