Rank Reports: VJV Whiskey Hand
By: Covy Moore Wednesday, April 22, 2020 @ 4:52 PM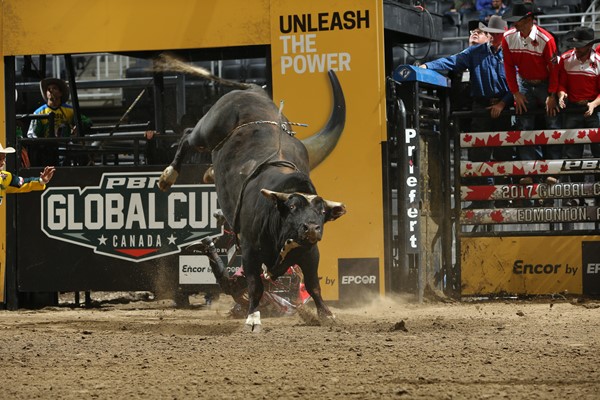 AIRDRIE, Alberta – It is undeniable that Canada is ripe with talented PBR bucking bulls.
And while each possesses their own unique story, few can rival the one of how Nansen Vold came to owning VJV Whiskey Hand.
"We purchased the bull as a two-year-old," Vold explained. "He wasn't anything special, I got him for basically nothing in a bull trade with a few other ones. He was the weakest one by far."
"When that bull turned four, he really picked it up, and I suppose the rest is history. He has always showed some athleticism, but he never really turned back at the start. We got some rider trips on him and he really turned into a bucking bull."
Having a bucking bull go from less than average to standout is always pleasing to those in the business, but Vold says there was something special about Whiskey Hand once he began to turn up the heat.
"It's a feeling of being surprised," Vold said. "You see lots of bulls start off really strong and not end up very good, then you have the complete opposite. It's just genetics. You have to know what you are looking for with a young bull."
"His nature is the best part about him," Vold added further about Whisky Hand. "He loves his job and it's really fun to watch them when they are good natured like that."
That good natured aspect of Whiskey Hand that Vold eluded to is his easy of handling.
"He is a calm and laid back kind of bull that you can scratch back in the pens. He is one you really want to have on the ranch."
"That doesn't come around often," Vold said of the rare personality trait. "We are working with these bulls a lot more at a younger age, so you are seeing them slow down attitude wise, but still bucking as hard as they ever have.
"That has been a major change in the bucking bull business in the last 20-25 years. You used to pull one out of the bush and bring it to an event and that was just how it was. Now we buck them as yearlings and that's how things have changed so much."
Whiskey Hand made his PBR debut in June 2017 on the Touring Pro Division in Calgary, Alberta. After delivering an impressive rookie season, the bovine athlete was selected to perform at the inaugural PBR Global Cup in Edmonton, Alberta that November.
Prior to the event, the bull's surging star power not only caught the eye of western sports insiders, but also drew the attention of Global News who profiled his pending out at the "Olympics of bull riding."
However, one unique element to Whisky Hand's pending trip at the Global Cup was that instead of bucking side-by-side with a pen exclusively comprised of Canadian bulls, he was set to be joined by a large contingent of bovine athletes from the United States.
 "Chad Berger was up at that event with a liner full of short-rounders and Canada was kind of sitting back and watching what he was bringing," Vold remembered.
"We had tons of Canadian bulls at another event that weekend. The bull power was just a little shy from Canada. I spoke to Jason [Davidson] and told him I thought Whiskey hand would fit in with the pen of Chad's best bulls. He didn't believe me, but that first day Coy [Robbins] got on him and he turned some heads."
The aforementioned trip was during the bonus round following the first round of competition for the Global Cup. Sending 2017 PBR Canada Rookie of the Year Tetz to the ground in a quick 3.72 seconds, Whisky Hand was marked 43 points.
"It wasn't the greatest trip ever, and it didn't end great for Coy as he got knocked out, but he turned some heads," Vold added.
"We put him back in the final round. I thought Edgar [Durazo] was going to be a pile on him, he was going to be like 92, one of the best rides I had seen from him, but he bucked off at 7.96 seconds."
The out was a renewal of a match-up that had been seen in Whisky Hand's debut out.
As his first PBR Canada trip, Durazo covered the bull for 84 points in June 2017.
However, the rivalry didn't end in Edmonton. Less than two years later, the two met at the Ponoka Stampede, part of the CPRA.
Durazo rode Whiskey Hand for 90 points in the finals of the event, which marks the home rodeo event for the Vold pen of bulls, collecting nearly $18,000. A few months later, Durazo would find his name matched up next to Whiskey Hand again at the Canadian Finals Rodeo. Covering him for 89.5 points, the qualified ride earned him his third consecutive CFR go-round victory en route to winning the 2019 CPRA Bull Riding Championship.
"That is really exciting stuff," Vold said of the pair's rivalry. "He is a very emotional guy, and it's so good to see him do well. He had a great year last year winning the Canadian title. There is nothing better than seeing your bull's name behind his name. He is a great asset to the sport. I love that matchup, I hope we get to see that in 2020."
And that emotion displayed by riders such as Durazo at every level of competition is a crucial element in keeping guys like Vold going down the road each and every year -- especially when guys are winning and showing that much appreciation for the bulls they ride to those victories.
"It's great, it makes you feel good about the job you are doing for these guys, and for the bulls they get on every weekend," Vold said. "It's not easy raising these bulls and pounding the pavement week in and week out. A little appreciation from these guys is great. When it does go right it's sweet to have that kick back from the boys. We have the greatest guys going here in Canada."
With the 2020 season currently amidst an unprecedented pause, Vold is eager to see what is next for Whisky Hand.
"You need your best bulls on the truck and you have to work with them. I am really proud of that animal with what he has accomplished, and not even having a bull of the year title."