Appreciative Radford Hones in on Canadian No. 1 Ranking with Event Win in Lethbridge
By: Covy Moore Tuesday, August 4, 2020 @ 5:50 PM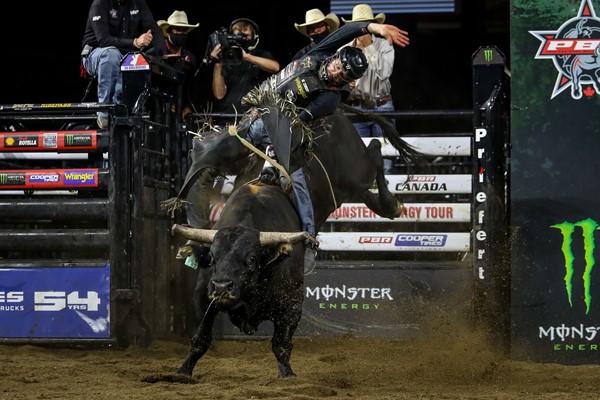 AIRDRIE, Alberta – Rolling into the unprecedented one-day, two-event production in Lethbridge, Alberta, last week, perennial PBR Canada favourite Brock Radford had his motor running.
After a 138-day off hiatus from PBR competition, which included finding himself a day job, Radford didn't exactly have the day he wanted, despite splitting the win in the PBR Canada Monster Energy Tour Cooper Tires Invitational early in the day.
Despite being bucked off by Off the Grid in the first round, Radford was drawn back to the championship round via the stopwatch. With only three bulls remaining in the pen as it became his turn in the bull draft, the Alberta native opted for Wild Hogg's Stuntman Hank.
"I mixed him up. I had a different bull in my head. I totally mixed them up," Radford laughed.
"I had in my head that he was a muley and around to the left. They ran him in and he had horns and I was like, 'Okay, this isn't the bull I thought it was.' Lonnie West was laughing at me. I asked Logan Biever about him and I should've known him. I have seen him before. He told me he is good. He told me he would be wellie and have a hole to him, and he was sure right. If that whistle was 8.1 seconds I don't think I'd have made it."
Reached the 8-second whistle, and marked 86 points, Radford split the win of the Monster Energy Tour's Cooper Tires Invitational with Saskatchewan's Ty Ellis.  
RELATED: Brock Radford and Ty Ellis Tie for Win at PBR Canada's Historic Return to Competition in Lethbridge
Collecting cheque for $2,688.98, in addition to 58.5 Canadian and 11.5 world points, Radford, gained ground in the national standings, despite remaining No. 2 to Dakota Buttar. After beginning the event 100.5 points behind, Radford inched within 67.5 points of the top spot.
With only eight qualified rides in the first event in the double-header, Radford said that being off for the length of time the sport has been on hiatus simply made competitors just a little rusty.
"Your moves might not be 100 per cent," Radford began. "Stuff can be going a little fast for you at the start. I should have rode that first bull in my sleep."
"When you are going every weekend, getting on three or four bulls a weekend and doing it like we normally do, you're sharp. You are on point. Not saying that having time off will make guys forget how to ride, but having time off you are just not as sharp as you should be. Bull riding is bull riding, it's the same, and we all know how to do it. It's just whether or not the time off had an effect on reactions or not."
Radford doesn't downplay the luck side for himself and Ellis, but says the season is a marathon and with Buttar ending his streak of qualified rides at 11, it's time to step up to the plate and get back to earning points and aiming for a Canadian title.
RELATED: Buttar's Canadian Record Streak Ends at 11, but Pursuit of a Championship Continues
"Me any Ty got lucky. Everyone was so fresh. It was pretty obvious guys rode pretty poor that first event. It just sort of worked out for Ty and I that our bottom picks were good enough to hold out, because that pen of bull riders normally we are seeing three, four, five guys riding two at these events. Definitely just showed that the time off kind had its effect on everybody. Happy to get a win and gain some ground on Dakota."
The second performance of the day, the PBR Canada Monster Energy Tour Built Ford Tough Invitational, was one to forget for the De Winton native, bucked off by Jappy Feeling Dangerous in a swift 2.22 seconds in Round 1.
"I had a really good draw," Radford said of the Wild Hoggs bovine athlete. "I had seen a couple videos of that bull, was excited to get on him. He is a good bull. I don't feel it was my time off or anything. I feel like he is a pretty good bull, had a good trip and plain and simple beat my ass out of there. Frick I barely made it out of the bucking chute on him."
"I will get him again one day, or pick him one day and get my revenge on him," Radford continued.
"It's frustrating for sure. I probably should have left that day No. 1, or at least gained more ground on Dakota. But I let it slip, but he did too. I should have used that bull for good, I could have had a long round win on him, but he definitely got me down.
"The Wild Hoggs got me again. I didn't leave with him. I probably made him look a bit better than he is too. It was all rider error on my side. It's shitty to get thrown off one that fast. Plain and simple I nodded when I shouldn't have because he had me beat."
With only a handful of events remaining on the PBR Canada schedule, all dependent on local and provincial health and safety guidelines, the 25-year-old days he will be ready for anything, focused on overtaking the No. 1 ranking in the nation, currently occupied by Buttar after his stellar start to the season.  
"You have to be as good as him," Radford stated. "You have to be better than him."
"What he is doing is exactly what everyone else has to do to compete. Buttar is the one setting the bar and setting the pace. You know how many times I have finished second to him? I hate that. Buttar is my friend, I like when he does good, and he has been beating me a lot lately. That is my motivation to."
"That is why I think Buttar and I do good. I don't get pissed off or sour about it when he does good, but it's driving me to be better and get to that next event and win and not let him put me in that second position.
"It's a marathon, not a race," Radford added. "It's not just about who rides the most bulls, it's a long season, so you have to try to be tough too. You have to stick it out through a lot of shit. I have proved throughout my career that I will be there at the end of the year with my name in the hat for that gold buckle. That's all I am doing, trying to put myself in the best position to take home that buckle at the end of the year."
Radford made sure to give props to Jason Davidson and Blaine Fyson, along with the entire PBR Canada production team, for their tireless efforts to hold the two recent events in Lethbridge.
The event, which was made-for-TV and boasted a drive-in viewing experience at the later PBR Built Ford Tough Invitational made professional bull riding the first professional sport to be back in competition in Canada.
"The bull riders are definitely the most grateful ones," Radford said. "Our prize money went down a bit, but we are still getting paid and getting the chance to win awesome amounts of money and we know that there are a lot of people that are taking a hit just to see us back riding.
"I know that everyone of us in that dressing room are grateful for everyone else involved that got Lethbridge going and are working to get us back riding and contending for those titles that we all dream about.
"We kind of take it for granted, but it's really all those people that give us the chance to go for those gold buckles."
Fans can relive all the action from the PBR Cooper Tires Invitational and PBR Built Ford Touch Invitational today on at RidePass.com or via the RidePass app available on iOS, Android and Roku.