Parsonage Ascends to Leadership Role for Team Canada at 2020 PBR Global Cup USA
By: Kacie Albert Saturday, February 22, 2020 @ 9:54 AM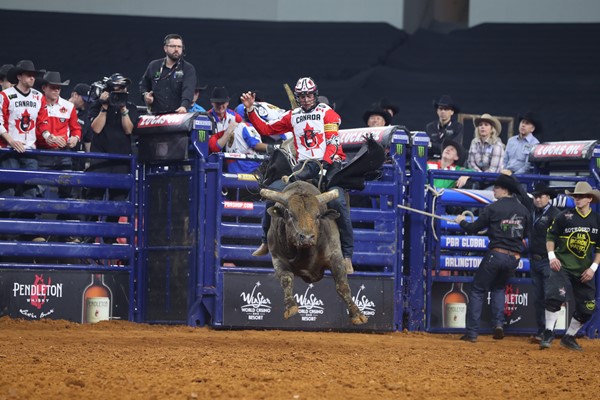 CALGARY, Alberta – While the 2020 edition of the PBR Global Cup USA saw Team Canada under the new leadership of head coach Scott Schiffner and assistant coach Tanner Girletz, the contingent also competed with a captain selected amongst one of the seven competing riders.
That rider was Maple Creek Saskatchewan's Jared Parsonage who wore the 'C' for Team Canada during its fourth-place effort at AT&T Stadium, a role that Schiffner says is important in any team environment. 
"There is a reason Jared Parsonage was wearing the C on his arm," Schiffner explained.  "He is a captain and a leader through and through. When he got bucked off, he shook it off. He wasn't a momentum swing guy, he was the guy coming back and kept everybody up." 
"Both Tanner and I are former riders, but we are just that, former riders" Schiffner said further.
"Sometimes you need a captain in a room to talk bull riding cause it might be easy for guys to look at Tanner and I and go, 'just cause you used to ride, doesn't mean you ride now.'"
"You need a captain that is going and playing the game too. We are going to make calls and support, but we aren't tying our hands in the rope anymore. We have no doubt he is the right call. We felt like that because Jared is the full package not only as a bull rider, but in those situations.
"Win, lose, or draw, he keeps his composure. Whether he is losing it inside or not, he keeps his composure. He keeps a team's feet grounded."
Parsonage, who was riding in his third PBR Global Cup, said he was honoured to be chosen for the role. 
"It is a big honour to be able to do that," Parsonage explained. "We don't see that stuff happen in bull riding much. I appreciate that those guys have confidence in me." 
When asked what he felt he brought to the role, Parsonage echoed Schiffner's sentiments. 
"I am a pretty level headed kind of guy," Parsonage said. "I hold a crew together pretty well, keep things tapped in the middle. Momentum doesn't swing me too much and I like to think I can lead by example in those situations."
"I like to think that these guys have respect for me, and I think that is a big thing. I get along with everybody on this team really good."
While the performance was far from what the team wanted, ending on a 3-for-16 record, besting only Team Mexico and Team USA Wolves in their efforts, Parsonage said the team had a completely different complexion with a complete coaching staff and an emphasis on team building.
"Having two coaches there who were actively coaching you the whole time felt like we had a complete team this time around. We had the players all along, but we were lacking that coaching staff in a way. They made the important decisions. They damn sure asked our input, but at the end of the day they were the coaches," Parsonage said. 
"Tanner brings so much knowledge on the bulls to the table and Scott isn't afraid to call a spade a spade," Parsonage continued. "He tells you how it is, but he is respectful when he says it and I think guys respect him for that. That is a key thing to leadership, is guys respecting the things you have to say."
"Being able to say what needs to be said and not beat around the bush. It completed the team. Aaron [Roy] did a great job when he was doing it, but he was also having to get on and that is tough."
The format of the Global Cup was a topic of discussion with Parsonage after the event, as he wholeheartedly feels that the team format and the way the events progress round-by-round, bull-by-bull for each team is an incredible way to ingest the sport.
"It brings so many different things to our sport that I could talk at length about it," Parsonage said.
"It is the most fun format we have all year. A guys look forward to being a part of that, every ride counts. The nerves you get for yourself are completely different from the rest when you're riding for yourself. You can't let the other guys down, you have to hold your end of the bargain, and it's fun riding for your country and these other guys." 
The team and coaching aspect of the format doesn't only bring new eyes to the sport of bull riding, but gives riders a chance to have legitimate coaches looking at their performance, tendencies and career as a whole, something Parsonage thinks should help any rider involved beyond the individual event. 
"That is another conversation that I could go on about and kill the battery of your recorder. I think it is huge," Parsonage said. 
"Make a team, have leadership, get everyone treated like an athlete. The guys love it. I think it's huge for the sport. It is one way the sport can grow leaps and bounds."