Radford Looking to Become First Canadian to Win PBR Major
By: Justin Felisko Saturday, February 8, 2020 @ 4:42 PM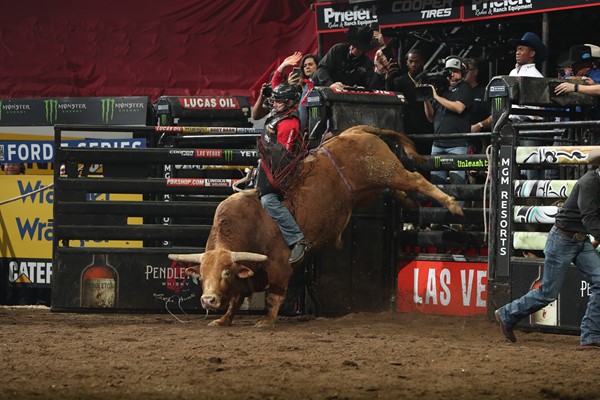 LOS ANGELES – STAPLES Center has hosted multiple historical moments in sports history since the venue first opened in 1999.
The late Kobe Bryant famously scored a career-high 81 points for the Los Angeles Lakers against the Toronto Raptors on January 22, 2006, and the Lakers won the 2000 and 2010 NBA Finals on home court in downtown Los Angeles.
The Los Angeles Kings became the first NHL team since 2007 to win the Stanley Cup Finals when they won Game 6 of a Best-of-Seven series against the New Jersey Devils 6-1 at STAPLES Center on June 11, 2012.
Will February 8, 2020, became the first time a Canadian has won a PBR Major?
Brock Radford is hoping that is the case Saturday night when Iron Cowboy, presented by Ariat, concludes at STAPLES Center.
"I'd love to be the first one to do that," Radford said. "Any time your name's involved in history, it's pretty cool."
Radford is one of 25 riders that advanced out of Round 1 of Iron Cowboy Friday night. Radford rode Powerstroke for 86.75 points to tie for fourth-place on the first night of competition with Luciano de Castro (86.75 points on Gangster of Love).
The 24-year-old is riding at STAPLES Center for the first time since the PBR moved Iron Cowboy to downtown Los Angeles last season.
"You know I'm a big hockey fan, so obviously every arena we're at, I'm checking out the hockey dressing rooms and stuff," Radford said. "It's really cool. It's an iconic venue, just like Madison Square Garden, so it's always cool to ride in these well-established arenas."
Radford earned 11.5 points toward the world standings to move to No. 31 in the world standings.
Radford and 24 other riders return to the house that Kobe built Saturday, and he will take on Red Dawn in Round 2 (9:45 p.m. ET).
The Top 8 riders via aggregate score following the second round will then advance to Round 3 on Saturday night.
Round 4 will then consist of the Top 4 riders in the aggregate based upon the previous three rounds.
Round 5 will feature every rider that posted a qualified ride in Round 4. A minimum of two riders will compete in Round 5. If only one rider covers in Round 4, then the PBR will bring back one rider (based on aggregate scores following the completion of Round 4).
The rider with the highest score in Round 5 will win the title of Iron Cowboy. If all riders buck off in Round 5, then the Iron Cowboy crown will go to the rider with the highest aggregate score among those that attempted a bull in Round 5.
"Yeah, just keep riding what they run under me," Radford said. "And the guy who rides the most bulls wins a hundred grand, and that ain't bad. So just keep riding what they run under me."
GLOBAL CUP A WEEK AWAY
Radford also added that a victory at Iron Cowboy would be another example that Team Canada will be that much more prepared for the 2020 WinStar World Casino and Resort Global Cup USA, presented by Monster Energy, compared to its dismal 3-for-18 showing a year ago.
Radford was unavailable for Team Canada last year because of a knee surgery.
"Getting on these rank bulls so we're ready, and nothing hits us like a brick wall coming to Arlington," Radford said. "The whole Team Canada, they're riding rank bulls right now. They're claiming the big names up in Canada. They're riding all the dragons that nobody rides up there."
Follow Justin Felisko on Twitter @jfelisko