The Morning Line – Calgary – Day 1
By: Ted Stovin Friday, January 24, 2020 @ 9:03 AM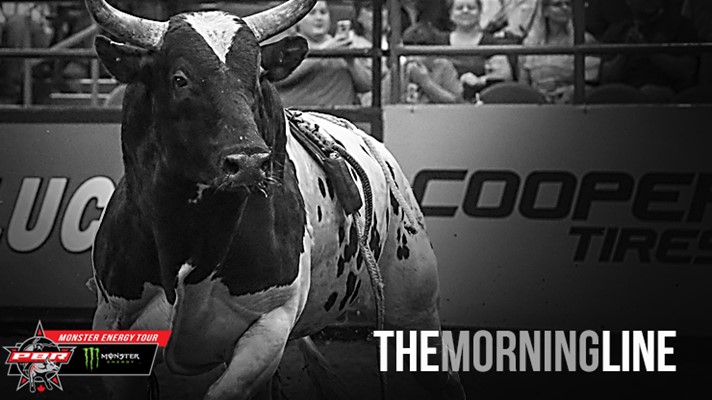 CALGARY, Alberta – Here we are in 2020, year five of the Monster Energy Tour on Canadian soil.
What a five-years it's been. A ton of miles, new cities in this country and most of all, a ton of great bull rides.
New this year are the points, first here in Calgary will give a man 30 world points which could give him a shot at the PBR's elite Unleash The Beast. Second is worth 20, third is 10, fourth is six and fifth is four.
Also new this year is the 5 v. 5 Showdown on Friday night. At all two-day, regular-season Monster Energy Tour events we'll see the Top 5 in the nation in a special round against some of the top bulls in the country, reminiscent of the 15/15 Bucking Battle seen in the United States.  
Tonight we see the likes of the Top 5 from last year who are in Calgary. They are: No. 8 Garrett Green, No. 6 Brock Radford, No. 5 Aaron Roy, No. 3 Jared Parsonage and No. 2 Dakota Buttar. Both 2019 PBR Canada Champion Daylon Swearingen and Team Canada's Shay Marks, who finished 2019 No. 4 in the nation, ride this weekend in Sacramento on the premier Unleash The Beast.  
On the bull side of things we see VJV Whiskey Hand, Hanna Motors Homeboy, Uptown Funk, Kubota's Summer Warrior and Cool Bricks in the special round.  
Let us know your thoughts and your picks for Calgary on twitter by tagging @PBRCanada.
RELATED: Click here for the full Friday daysheet
Jared Parsonage vs. 40 Snap Shot
Getting married later this year, we might see an even higher level of competition from Jared. He's improved in each of his seasons and I see that happening again in 2020. Snap Shot from the Skori's has been ridden six times in 14 outs. Most recently, Brazil's Marcos Gloria took this red, horned bull to a score of 86.5 points in Saskatoon in Round 3 of the Canadian Finals. Swearingen put up an 85-point ride to win the Monster Tour Event in Edmonton on this same bovine as well this past fall. The fall before the bull went left in one video I watched against Radford and went right the prior trip with a right-handed rider in Kache Moosman.
Riley Gagnon vs. 7-513 Preacher Man
Gagnon hasn't had much luck with injuries yet in his young career. He's been beat up, but keeps coming back. At 20 years old, he will look to his first full PBR season in 2020. His latest recovery included shoulder surgery which he underwent this past July. Right here in Calgary, however, last year the then 19-year-old made a huge ride on the previous season's PBR Canada Bull of the Year, Happy Camper, for one of the highest marks of the year. Preacher Man has been ridden five times in eight outs. Back in October Radford put up an 83.5-point ride on the red, horned X6 bull, but they haven't been more than 85 points on him yet. 
Dakota Buttar vs. 9-637 Scarecrow
I talked to Lindsay Carlier from the X6 crew about Scarecrow as I couldn't remember much about him. Carlier told me this red, brockle-faced bull is a Cry Baby son that's got some size to him. At four years old, he only had a couple trips last season. On record, he bucked off Cody Casper in Abbotsford and was rode at the Ranchman's PBR for an 82 by Cole Skender. Buttar is taking the week off from the PBR's elite Unleash The Beast to be here in Calgary and looking to make it count as the No. 17 man on the planet. After missing out on the Canadian title last year, Buttar, who is the current No. 1 man in Canada, is looking to make a statement this season in his home nation, starting right here in Calgary.
Jake Gardner vs. 55 OMB Legal Issues
Just like Gagnon's return to competition, this is another one matchup that jumped out at me. Origin Malting and Brewing (OMB) Legal Issues has been ridden six times in 11 outs on ProBullStats.com. In his last trip, he bucked off Parsonage in off trip in Saskatoon. Garrett Green won the 2019 Monster Energy Tour event in Abbotsford on this bull from Slim Wilson, marked 87.5 points, while Aaron Roy rode him to an 86.5-point score on the Touring Pro Division in Magrath. They've been as high as 89 on this bull. This bull is great more often than not and usually goes left. Jake is one of the best guys going down the road right now, this could win the round on Friday.
Brock Radford vs. 597 Dirty Business
Like Scarecrow, I didn't know much about Dirty Business from the Wild Hoggs. He's only got one ride in five outs on ProBullStats.com. That qualified ride was for a score of 71 points by Buttar last July in Manor. Radford won't mind either way though, he's on a mission to be one of the best in the world. He rides a ton of bulls and this big paint should be a stepping stone along the way. The best guys are supposed to ride these ones all day. Radford enters Calgary No. 4 in Canada and No. 28 in the broader world standings.
Action for the season-launch PBR Canada Monster Energy Tour event in Calgary at the Nutrien Western Event Centre gets underway at 7:30 p.m. MST on Friday, January 24 and Saturday, January 25.
Tickets are available at Ticketmaster.ca and fans can watch LIVE, nightly at RidePass.com sstarting at 7:30pm MST.
Follow @TedStovin on Twitter