Buttar's Canadian Record Streak Ends at 11, But Pursuit of a Championship Continues
By: Justin Felisko Thursday, July 23, 2020 @ 7:09 PM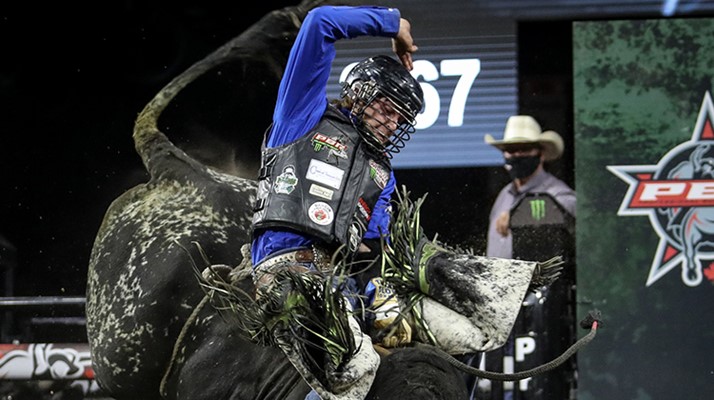 PUEBLO, Colo. – It was close but no cigar for Dakota Buttar Thursday afternoon at the PBR Cooper Tires Invitational, part of the PBR Canada Monster Energy Tour, inside ENMAX Centre.
The No. 1 rider in Canada's pursuit of PBR history came up just short when Blow Me Away bucked him off in 7.83 seconds during the championship round, ending Buttar's consecutive ride streak at 11.
Buttar nearly made the 8-second mark as he tried to fight and hang on in the final seconds with nothing but his fingertips. However, history would not be in Buttar's corner.
The 27-year-old has now ridden a PBR Canada record 11 consecutive bulls in back-to-back seasons, and for a few seconds it felt like maybe he was going to indeed make it 12 in a row Thursday.
Buttar, though, said earlier in the day as part of a Cooper Tires video feature on RidePass that the streak has been secondary to what he hopes to accomplish in 2020.
"Coming into this weekend, I honestly haven't really worried about keeping the streak going," Buttar said. "I only found out about in Lethbridge (in March). It is pretty neat to have a record like that and you want to keep the streak going as long as you can, but when it comes down to it, I want to get as much points as I can for the year (and a championship). That is what I am shooting for every week."
Buttar started 2020 a perfect 10-for-10 before the PBR Canada season went on pause the second week of March because of the COVID-19 pandemic.
Four months later, and Buttar did not look too rusty with PBR Canada resuming for the first time in 138 day as he rode Trippy Hippy for 83.5 points in Round 1 and an 11th consecutive ride.
"That break came at a crappy time for me because I had all of that momentum going, but we are all in the same boat here," Buttar told Scott Byrne on RidePass. "Everybody has been off the same amount of time and everybody is ready to go and I am too."
2006 PBR Canada champion Scott Schiffner has noticed this year just how confident Buttar is in his abilities.
"Not surprising," Schiffner told host Brett Gardiner. "Somebody asked me earlier, 'What has changed about Dakota this year? And why he is doing so incredible?' It is 100% confidence. This man believes in himself right now and he is having fun. That break made no difference."
The Cooper Tires Invitational was the first of two PBR Canada events taking place Thursday in Lethbridge, Alberta.
Buttar finished the Cooper Tires Invitational in fourth-place, and he leads No. 2 Brock Radford, who split the win with Tim Ellis, by 67 points in the PBR Canada national standings.
PBR Canada competition continues Thursday night at 7 p.m. MT on RidePass with the second half of the doubleheader – the PBR Built Ford Tough Invitational.
The PBR Built Ford Tough Invitational is the first fan-attended professional sporting event in Canada since the onset of the COVID-19 (coronavirus) pandemic.
RELATED: Health guidelines for the PBR Built Ford Tough Invitational
The fan-attended PBR Canada Monster Energy Tour LIVE: Drive-In Spectacular will welcome back fans by bringing the high-adrenaline action from inside the closed arena to fans via a suspended 23-foot big screen. More than 200 parking stalls will be available to the public for purchase in the West Parking lot of the ENMAX Centre to watch all the action from the comfort of their own vehicles.
"This pandemic has been pretty strange," Buttar, who actually broke fingers on his riding hand early in the pandemic cowboy protecting in the practice pen, said. "I have never witnessed anything like this in my life. When I heard about the drive-in spectacular for Lethbridge, I was pretty excited. Four months, and we finally get to go back to riding. I like the idea of a drive-in. At least people can still come out and watch and not have them in the building. So at least the fans get a little bit of action to and not just us."
Buttar expressed his gratitude for PBR Canada GM Jason Davidson and the rest of the PBR for helping get Canadian riders back to work.
PBR Canada is the first international PBR property to host events since the worldwide pandemic began to shutdown live events globally.
"For the PBR to be putting this event on during such a crisis in the world means a lot to me personally, and everyone, because we have bills to pay and this is how we pay our bills," Buttar said. "If we ain't riding, we aren't making money and we are not paying for stuff.  I am pretty thankful they are able to do this in a safely matter and keep us going and trying to make money."
Buttar has qualified for the PBR World Finals the last four seasons after competing primarily in the United States. Even before the pandemic, Buttar said he was willing to sacrifice his Unleash The Beast spot so that he could pursue his first PBR Canada championship.
The Kindersley, Saskatchewan, bull rider lost out on the 2019 title on the final night of the 2019 PBR Canada Finals.
"The rest of the season my goal is to win PBR Canada," Buttar said. "It slipped away from me last year so that has been my goal. I am pushing for it hard this year and I am sticking to it. Just take it one weekend at a time."