Ellis Excels at History-Making PBR Canada Events in Lethbridge
By: Covy Moore Thursday, July 30, 2020 @ 1:04 PM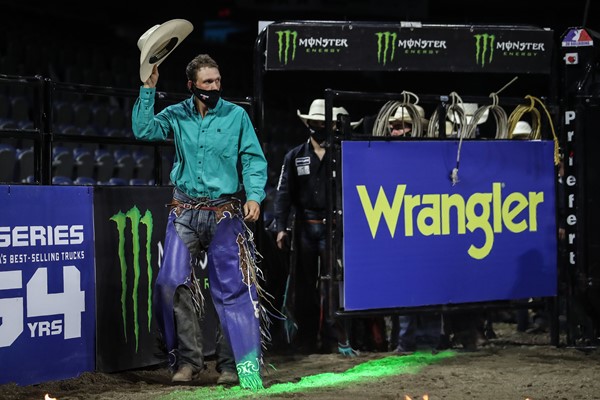 AIRDRIE, Alberta – Sonningdale, Saskatchewan's Ty Ellis left a mark at the PBR Canada Monster Energy Tour Cooper Tires Invitational and Built Ford Tough Invitational, going a head-turning 3-for-4 across the two events.
Coming into the event as a relative newcomer to the PBR Canada ranks, as the 25-year-old bull rider typically focuses on the rodeo side of the sport, Ellis says that his plan for 2020 was to hit the PBR trail hard and aim to a berth to the PBR Canada Finals Saskatoon, Saskatchewan.
When the unprecedented hiatus hit, caused by the COVID-19 pandemic, Ellis wasn't sure what to expect, but still had his eyes on the PBR.
"I was really on the edge of not knowing what to do cause you don't know what the next move is. Whatever comes up I will be going too," said Ellis.
"Before it was cancelled, I was planning on going to some PBRs for a change and getting that under my belt. I started losing a bit of optimism half way through. But it's been ok, I have been so busy at home you don't get a lot of time to think about it, which has been a saving grace.
"I'm not just sitting at home waiting for things to come. I know there is a lot of guys that don't have the luxury of living on a ranch and being busy the whole damn day. I was sure excited to get off the ranch and go to a bull riding."
And ride bulls he did.
Ellis split the win at the PBR Cooper Tires Invitational with De Winton, Alberta's Brock Radford, riding Carlier Cartel for 86 points in the championship round, after drawing back on time.
For Ellis, he said it sucks not getting the job done on his first bull, Family Feud from Shay Marks, but added that being the last guy drawn into the championship round on time played into his favour, as he was the only guy whose bull was chosen for him in the PBR Monster Energy "pick your poison" championship round format.
"You don't really have a lot of pressure when you come back on time because you don't necessarily think you have a chance at the money anyways," Ellis explained. "But it turned out really good for me. I didn't get a choice of my own bull in that round. But I don't really like having to pick my own bulls. So it was nice to have it decided for me."
"I can never just decide, I either like them all or don't like any of them. I just prefer them drawing for me, then I don't have the stress of picking something that I might suit."
Ellis was one of the first riders out on the day, which made for a long wait between rounds, but he says being able to slow down between his outs is helpful for him.
"It was nice being out so early. I completely changed and felt like I was restarting again. I had my boots off and bag packed, but then I got a fresh start. Getting a second chance like that. If there is not much time in between, I just try to loosen off and make it feel like I am doing it again," Ellis said.
"Just making sure you can set your routine up the same way between each one. You get mind boggled if you get rushing around like that."
In the Built Ford Tough Invitational, Ellis saw Wild Hoggs' Bobby in Round 1, and made quick work of his opponent for 81.5 points. Again out in the first section, Ellis was confident he would be picking a bull in the championship round and went with series standout Grey Tower III from Nansen Vold.
"I have seen that bull a few times," Ellis said.
"Jared Parsonage was second on him in the Final Four of Calgary. I knew about that one the most, and I was lucky enough that nobody picked him until it was time for me to pick. I have wanted to get on that bull for a while. He suites me and is right there into my hand." 
"Nothing should be able to go wrong with that pick."
And nothing went wrong as Ellis made the whistle for 83.5 points, briefly surging to the event lead.
"I don't get too excited very often, but it sure felt good to get back on after not riding for so long. You kind of forget how much of an adrenaline rush it really is. It's pretty exciting, You really remember why you compete in this sport," he said.
Being one of the bigger statured competitors, Ellis says what he has learned throughout his career that staying loose and cool are keys to success.
"I try to not let myself clamp down. Getting on a little bull it feels pretty comfy, I can squeeze the heck out of them and not get thrown around a lot," Ellis said.
"But that seems to be not the case on the little ones, I got to stay loose and keep some knee bend on them. Just keep moving. Same goes for the big ones. It seems to work better for me that way. When I get clamped down it never seems to work for me."
Ellis now ranked No. 5 in the PBR Canada national standings and plans on hitting each and every event that pays Canadian points that comes up.
"I am sitting pretty good so I may as well keep my head down and keep going,"
Ellis applauded PBR Canada and its production team for its efforts in finding a way to be able to compete with the health regulations in place and building events that work for the business structure of the sport.
"It is incredible how much the PBR does. It's so professional around there compared to, hate to say it, but most rodeos are out in a field half the time and it's not near as professional as this is," he said. 
"It's crazy how much everybody really acts the part and does their part. Everyone keeping masks on the best they could. Everybody was very good about it. It's crazy how much work the production team went through for this on more or less a gamble."