Gardner Sharpens Skills at Flying Four Practice Pen
By: Covy Moore Sunday, June 7, 2020 @ 2:36 PM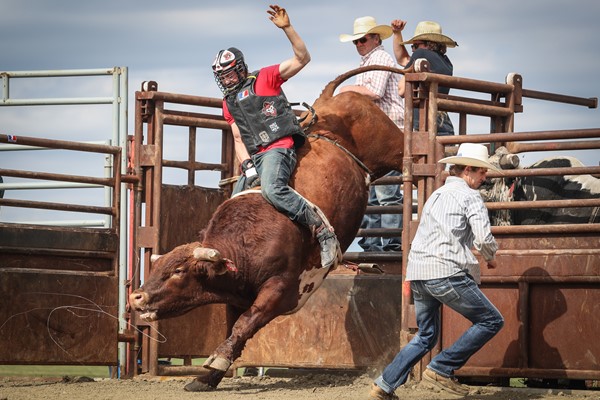 AIRDIRE, Alberta – Another professional who took to the highway last weekend and made his way to Prince Albert, Saskatchewan for the Flying Four Bucking Bull practice pen was Fort St. John's, British Columbia's Jake Gardner.
Taking a little time off of the day job to head out and get on a trio of rank bovine athletes, Gardner doubled up, spending a night at the Ashbacher Ranch in Arrowwood, Alberta two days prior to the Saskatchewan stop.
"I was down in Strathmore visiting my girlfriend and Ty Prescott, I didn't know Kole [Ashbacher] was bucking bulls until the day before," Gardner said.
"I wanted to knock off the rust before heading to the Byrne ranch. He has some good ones and I made a couple good rides over there."
From there, almost as if the season was in full swing, Gardner made a quick stop in Ponoka to pick up two-time PBR Canada Champion Zane Lambert before the final trek to Prince Albert.
RELATED: Lambert Hones Skills and Mentors at Flying Four Practice Pen
Gardner says that there are practice pens back home but nothing of the calibre that is on offer at the Byrne property.
"It worked out pretty good, there are a few practice pens that go on up here, but they are only every couple weeks," Gardner explained.
"When you get sitting around it's nice to get the feeling of the road trip and being on the road with your buddies, blow off some steam and get on a few."
As one of the season's top contenders for the 2020 PBR Canada Championship, along with being one of the most driven bull riders on tour, Gardner took the opportunity to travel with Lambert and spend time around the Byrne family for more than a good time.
"Tanner [Byrne] and Zane are some of the most experienced we have," Gardner added. "They are the best guys in Canada. So to go hang out with them for the weekend and gain some knowledge was amazing. For me it was like a bull riding clinic. It was a good opportunity to learn from them."  
"With any professional sport or anything that someone really loves, you spend a lot of time trying to be the best that you can be. Listening to past World Champions and some of the Canadian greats, you are always learning."
"Zane was saying he was learning from me too," Gardner continued.
"The whole time you are riding bulls you are trying to learn and get better. You can hit a peak physical performance, and the rest is learning. You have to adjust and adapt to so much in this sport."
"For me, when I am done riding bulls I want to make sure I did whatever I could possibly do to be the best I could possibly be."
And those goals include much of what any rodeo or bull riding competitor in Canada would want to achieve in the sport -- a berth to the Calgary Stampede and a chance at that $100,000 cheque.
With two All-Around Rodeo titles behind him, Gardner is also aiming for the top wanting to make the National Finals Rodeo and the PBR World Finals in his career.
While Gardner came up short for the grand prize of a YETI Cooler at the Byrne family's practice pen, he did get on the Flying four's JB Muley, Turn Back Time and another young calf.
As a result, Gardner had nothing but great things to say about the outfit's pen of bulls, in particular JB Muley.
"When I drew that little muley, he is pretty cute, that is one a guy wants to get on every single day," Gardner said.
"He goes out there and goes left, he had me shook out there, but gave me a chance to get back to it. He is just a good little bull."
Gardner reminded fans that staying positive through this hiatus is important and to keep an eye on the PBR Canada ranks, as he thinks things will get rolling sooner rather than later.
"You have to be positive in these times, and stay hopeful. The cowboy way says that you get bucked off, you get right back on. We will have bull ridings soon, stay with us and keep positive."