Johnston Eager to Continue Career-Best Season When Competition Resumes
By: Covy Moore Friday, June 12, 2020 @ 9:17 PM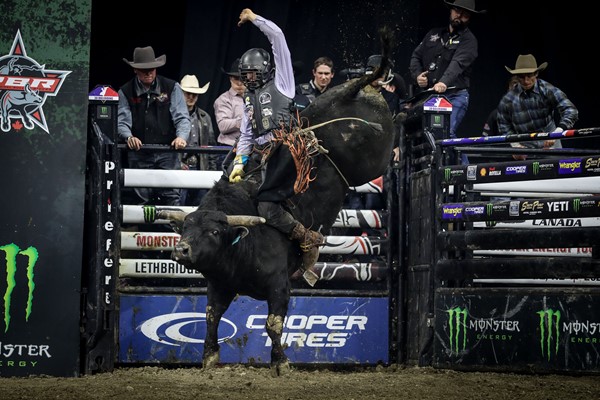 AIRDRIE, Alberta – Dayton Johnston kicked off the 2020 season on a great note, turning a rough 2019 PBR Canada Finals into a Top-10 spot in the national standings front of his home crowd in Lethbridge, Alberta in March.
At the season-launch Monster Energy Tour event in Calgary, the Milk River-native recorded an eighth-place effort after going 2-for-3.
Less than two months later, Johnston continued his climb inside the ENMAX Centre.
Delivering a 1-for-2 performance, including an 85-point ride on Playing Chicken, Johnston finished eighth, marking his second consecutive Top-10 finish.
 "The end of the season there wasn't super solid for me. I had a crappy finals," Johnston recalled.
"I started 2020 off good with a couple Top 10s. I could be doing better, but for me it was getting the ball rolling. It was looking like the start of a good year then coronavirus put the halt on all that.
"I have always loved Lethbridge,' Johnston said further of the most recent PBR Canada event prior to the shutdown. "It's basically a hometown for me, I am living there right now. The fans are behind me, family is all there. It's all there. I took a little knock and busted my nose, but I was good for Regina and looking for build off of that momentum from Lethbridge."
With the hiatus giving all riders time to focus on getting in competition ready forms, Johnston says he feels his biggest challenge at times during competition is the mental aspect of riding the bull.
"That is the most important part," Johnston said. "If you believe you can ride these bulls you can. You need to refocus mentally after tough times and try 110 per cent. It doesn't matter if you are the most talented guy or not, it's a very mental game. When things are going well for me, I like to keep things the same."
"If I eat more and drink an energy drink, then do good, then I am doing those same things the next week. Sometimes I just need to get relaxed and do what I know I can do."
Johnston is currently spending some time "filling his pockets" to be ready to hit the PBR trail hard when the season resumes. While he currently finds himself working with an electric company, Johnston says his plan once the word comes out to be ready to ride will be to find a practice pen or two and shake off the rust.
But instead of just knocking off the rust with an 80-pointer, Johnston says his practice attitude is to get on the same caliber of bulls he will see at PBR Canada events.
"I usually go out to the X6 Ranch, Lindsay, Vinee and Tristan Carlier," Johnston said. 
"Our long round bulls, it's rare to see an 80-pointer. They will be 85-86 points. I want to ride bulls with just a bit more jam. If you can ride them in the practice pen you can ride them at the big shows."
And the young bull rider doesn't doubt his abilities whatsoever, winning in his second-ever outing at a PBR Canada Touring Pro event in Teepee Creek in 2017.
"The biggest one for sure is winning Teepee Creek which was my second ever PBR event," Johnston said of the hallmark moment in his career. "I was nervous as all hell there, but to be able to take that out of the picture, come up clutch and get that short-go bull rode in your second ever event, that was big for me, and big for getting my confidence going." 
"I noticed some of the guys showed a bit more respect to you after that," Johnston continued.
"I was the new guy on the block. I knew them all, but some might look at you like the young guy who bought your PBR card and think you can compete with the big guys. Maybe it's in my own head, but you feel like you have to prove to those guys that you can compete with the big dogs, and to get that done early in my career was huge."
Continuing to navigate the early years of his bull riding career, Johnston says he is confident he has plenty of successes coming in the future. At only 23 years old, Johnston says that he values having role models like two-time PBR Canada Champion Zane Lambert on tour.
"I look up to Zane Lambert, because he is a calm, cool and collected guy. Right before he gets on he is 100 per cent focused on that. If you try to talk to him sometimes, you can see he is focused on the game and might not want to have that conversation that doesn't have to do with bull riding right then."
"Out of the arena, he is always willing to help a guy, teach you new things, always say hi to someone and is never too good to talk to somebody."
And while his continued successes may have been delayed, Johnston, as well as the rest of the PBR Canada fraternity is chomping at the bit to get competing again.
"I think I can speak for everybody, but me alone, I am ready to get back at it. I have taken my little break and done some work and whatnot, but my mind is still thinking about bull riding. Everybody else is the same way."