Lazy P Rodeo Company Aims to Trailblaze a Path of Success Amongst PBR Ranks
By: Covy Moore Tuesday, June 23, 2020 @ 4:22 PM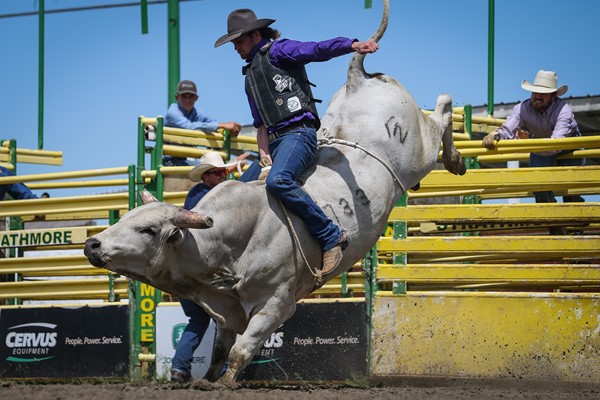 AIRDRIE, Alberta – Over the past few years, the Canadian bucking bull industry has been on the rise, with many stock contracting groups growing and producing incredibly talented animal athletes.
And now, there is a new player in town.
Established in March of 2020, Lazy P Rodeo Company is operated by Olds College Agricultural Management graduate Cale Pribyl and his partner Triefen Pesaruk. Backed by another seven friends and investors, Lazy P began with the acquisition of a very established herd of bulls.
Purchasing much of PBR Global Cup Team Canada Assistant Coach Tanner Girletz' herd of bucking bulls and cows, Pribyl and his team have a solid set of athletes to begin operations with.
"Tanner told me with having a young family he was looking to pull back from the bulls raising part of the sport a bit, and that it could be a perfect opportunity to get involved and buy out his herd of young bulls and his cows," Pribyl said.
That herd, which is a mix of Girletz raised bulls and Ty Pozzobon, Rafter Z, partnered bulls, is an ideal place for anyone to begin in the stock contracting business. And that position is made even better knowing that both the Girletz and Pozzobon strings have not only raised champions in the sport, but the duo had a long standing partnership prior to Pozzobon's passing in 2017.
"I feel so honoured to have some of Ty's bulls, there are a couple that were born when he was still around too," Pribyl said.
"We want to keep that Rafter Z bloodline going. It's just an honour to have some of his bulls and his cows in this herd."
The Lazy P Rodeo Company has two Alberta locations, one in Langdon and the other in Mundare.
Originally interested in the bull riding aspect of the sport, Pribyl says he caught the bug in a big way when Girletz became the rough stock rodeo coach at Olds College.
"I was mentored by Tanner, he gave the tips and tricks to this game," Pribyl said. "I rode bulls right from that first year there. I kept riding and made College Finals in 2019. I had some injuries stacking up, I had a few concussions back-to-back that second year. I rode FCA, CRA and CCA in the summer of last year."
"With the Ty Pozzobon Foundation and Tanner's connection with it, I thought I should worry about my mental health and my brain. It's the most important organ in your body. So I hung up the rope. It's not always about being a tough guy all the time, you have to do what is right for yourself.
"It was time to hang up the rope. But I also thought let's keep supporting the sport and keep it growing."
This past Saturday, the Lazy P Rodeo Company held its first unofficial event bringing out a handful of riders for a well-organized practice pen in Strathmore, Alberta.
"With not a ton going on this summer I figured that we should give those bulls some practice, get some rider trips with them and keep them fresh," Pribyl said.
"Hopefully things can open up here soon and get some rodeos and bull ridings going."
The goals for Lazy P Rodeo Company, as with any stock contracting business, is to grow and make enough connections to be able to make a living within the sport.
But for Pribyl and his team, they are aiming for the top, no matter how long that will take.
"It's always shooting for the stars, hitting the NFR, PBR Finals and the CFR," Pribyl explained. "Especially the CFR, being in Canada. We could have family come around and watch some of our bulls, have everyone who is supporting us along the way there would be huge."  
"Any of the three big finals would be a blessing for us one day."
En route to their goals, Pribyl and his team are working with Girletz, and building a partnership with Curtis Sawyer and Sawyer Rodeo, with the hope of gaining experience with that established firm. Lazy P Rodeo has also purchased some World Champion calibre semen from Matt Scharping and Phenom Genetics who spent some time on the phone instilling a little bit of guidance for the young group.
"We bought some Airtime straws off Matt Scharping. He gave me lots of good advice, but said if I am going to do this to go all in. Quality over quantity for sure," Pribyl said.
"He is a lot like us, sort of came out of nowhere, bought some cows and bred some superstars. He is super successful with that. He has been kicking butt down there in the states."
With the top bulls in Canada spending a lot of time on the PBR Canada trail in both the Touring Pro and Monster Energy Tour divisions, Pribyl said that getting to haul bulls to those events would be a dream come true one day. He also added that if they could pick and choose what events they were to become a part of on the PBR Canada schedule, they would be looking in their backyard.
"The Calgary events, because it's where our bulls are, in our backyard. Or Edmonton, one of the two big apples of Alberta. It would be awesome to be at one of those one day, be under the lights and with the big crowds, amazing fans, would be awesome," Pribyl concluded.
At the end of the day for Pribyl, who spent the entirety of the Strathmore practice pen with a wide smile on his face, he said he is blessed to be on this journey with a great groups of friends and partners and admitted that this project is a lot bigger than just him.
"I have the greatest group of guys who are equally as passionate and invested in this deal as I am," he said.
"Lazy P would be nothing without this group of eight of us, and I am excited to see where we will all be in five years from now."