NHL Stanley Cup Champion Leschyshyn Celebrates ABBI Heritage Futurity Co-Champion Bull Beyond Frustrating
By: Covy Moore Thursday, June 18, 2020 @ 3:56 PM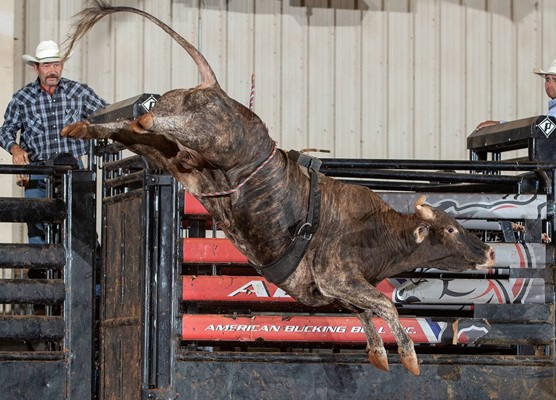 AIRDRIE, Alberta – While most may know Curtis Leschyshyn as part of the 1996 Stanley Cup Champion Colorado Avalanche, he is a member of the Monster Energy Tour production team, filling multiple roles during its cross-Canada route.
This past weekend, Leschyshyn's love for the bull riding industry, which also includes raising bucking bulls, came to the forefront as his bull 848 Beyond Frustrating, owned in partnership with 4G Bucking Bulls and the Griggs Family, was crowned the ABBI Heritage Futurity Co-Champion Bucking Bull.
RELATED: Former Ottawa Senator Trades Skates for Boots in His Return to Canada's Capital
Marked 93 points, Beyond Frustrating shared the top marks with fellow 4G bovine athlete Quick Wick, each collecting a check for $49,584.44 USD.
For Leschyshyn, who has been hooked on bucking bulls since the first time he attended a Bull Riders Only (BRO) event in Denver, Colorado when he was still playing in the NHL, getting involved in the bull business was his way of staying involved in something competitive beyond hockey.
"I always loved rodeo when I was growing up and while I was playing hockey," Leschyshyn said. "I had a chance to be at a BRO event in Denver when the team moved to Denver, that's how I really got hooked on bucking bulls.
"I researched that I could own some bulls and compete with them. After I bought my first one, I was hooked. I saw a little success, not much, but enough to make me say let's keep doing it, this is a lot of fun.
"I am dabbling to a little lesser extent than I was 5 or 6 years ago. I have a really good partnership with 4G Ranch, the Griggs Family down in Texas. I have stayed involved with them."
While one would think that going from the top level of professional hockey to bucking bulls is an interesting transition, Leschyshyn says the early days and comparisons to hockey athletes were easy for him.
"It's the athleticism I think. As an older generation hockey player, I look at some of these kids and it's the same thing, you can see the potential in them as an athlete," Leschyshyn said.
"You hope that the training and the nutrition help them get to that next level. In any athletes, there are similarities be it young athletes or young bulls. Sometimes they take some time to develop and turn into a superstar, then there are some that develop early and fade off a bit quicker. They are athletes and you have to treat them that way.
"Looking at pedigrees and following some online sales," Leschyshyn continued, discussing how he came to own his first bulls. "I watched as much video as I could. If I found something I liked I would contact the owner and see if they were interested in selling them. Sometimes they would, sometimes they wouldn't. That is how my partnership with the Griggs started."
In an interesting turn of fate, Quick Wick, the other bull who topped the field at the ABBI event, is the son of Quick Shot, the bull that first connected Leschyshyn to the Griggs family.
"We ended up making a deal. That calf ended up being 013 Quick Shot, which was very successful for us as a Futurity bull, yearling bull and rider bull. I own the sire to the other American Heritage bull as well. It's pretty cool to say I have my fingers in both sides of the winning bulls. It has been great for us."
Working with the Griggs and 4G Ranch has been nothing but a pleasure according to Leschyshyn and he is excited for what the future holds.
"Just real honest and down to earth people," Leschyshyn said. "I have had a chance to visit their ranch in Cairns, Texas. Smaller operation, but they are so passionate about it.
"They have raised a lot of good bulls. A small family that I appreciate their honesty and their friendship, they are really good people and that's what attracted me to them. They are people that you can talk to."
Forward looking, Leschyshyn says he wants to one day own a World Champion Bucking Bull, knowing that in addition to the significance it will hold for him, it would also be very meaningful to the Griggs family who works tirelessly for their prized bovine athletes.
"I have always said I want to have a world champion bucking bull. Obviously winning the American Heritage Futurity is right next to that. The prestige that goes with this is huge. For me it's an honour. I am very excited," Leschyshyn said. 
"When I look at all the work that John, his dad Bill and his brother Jake put into the program at 4G, the countless hours they put in is so rewarding for them. As happy as I am to be a part of this, I am so excited for their family to have two champions in the same year is incredible. Most of it is the excitement I see and feel for their family."
Leschyshyn said that being involved in the PBR Canada ranks lets him keep an eye on the Canadian bucking bull industry, and while he might not be directly involved in the operations in his home nation, he is impressed with how fast the animal athletes are getting stronger and stronger.
"The bulls in Canada are getting really good," he said. "You see lots of what Nansen Vold raises ends up down in the states. The Flying Four group is sending bulls down to the states as well. I don't know if there is just one bull that I would say I want to be a part of for sure, but every year there is something that pops up and is better than the last.
"Like anything the athletes get better each and every year. Seeing them go down to the states is big for the programs up here."
While PBR Canada continues to be amid the unprecedented hiatus, Leschyshyn added that he is looking forward to getting back to the "family" that is the PBR Canada production team in his various roles from chute boss to commentating and speaking directly to the fan base.
RELATED: Behind The Chutes - Jason Davidson
"I look at it as a big gamily," Leschyshyn said. "It is exciting when I get to be around all the production crew and everybody involved that puts these events on. They are all great people, there isn't anything bad to say about anyone."
"Jason [Davidson] has been a friend of mine for quite a while now. I appreciate his honesty and is a guy that makes sure that when he does something and his name is on it, he does it professionally.
"If he is involved things are going to be done first class and very professionally."