Fast Start to 2020 Leaves Nick Tetz Eager to Return to Competition
By: Covy Moore Tuesday, March 24, 2020 @ 5:47 PM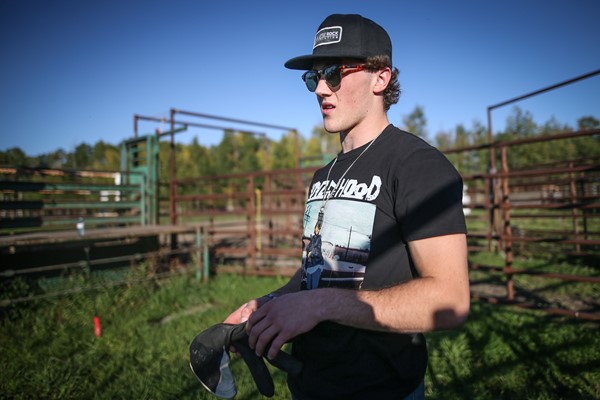 AIRDRIE, Alberta – In 2018, Nick Tetz earned the coveted honor of the season's PBR Canada Rookie of the Year title.
Then injury struck, with the young, up-and-coming bull rider from the heart of Stampede city, sent to the sidelines for months as he recovered from reconstructive shoulder surgery.
And while he returned for the second half of the 2019 season with mixed success, Tetz's title contending form has once again been evident in 2020.  
The young, Calgary native his season in fine style, going a strong 2-for-3 at both the Monster Energy Tour event in Calgary and Lethbridge.
At the most recent event in Lethbridge, Tetz entered the championship round inside the ENMAX Centre as a top contender to win the event title, one of just three riders to go a perfect 2-for-2 through the opening rounds of action.  
With the third pick in the championship round bull draft, Tetz selected 2018 PBR Canada Bull of the Year Happy Camper, a formidable opponent, yet one that could propel him to his first-ever Monster Energy Tour victory.
Tetz, however, finally met his match on the weekend, bested by the renowned bucker, who he says he wanted to get on for upwards of three years, in a quick 2.16 seconds.
"You don't get a lot of chances to pick that bull with the bull draft system now," Tetz explained.  "He always goes really high in the draft so [I thought] I'd better take a chance and give it a go."
"Since I was 17, [and saw him at a semi-pro event], I have wanted to get on him, and never had the chance. He bucks really hard, you are going to be in the high 80s, and you can be 90 on him. I knew I was a little behind in the numbers so I needed something big to win."
Earlier in the weekend, Tetz rode Skori Bucking Bulls' Hanna Motors Full Throttle for 86 points and a share of the Round 1 win.
"I didn't have any clue about him, so I looked up some video," Tetz said of his first draw as he reflected upon the weekend. "I didn't want his playbook, I just wanted to know what sort of intensity level to expect. I talked to Lane [Skori] and he said he will go any way, and I like when a guy says that so I can't have too much of a game plan on him."
Next up on the docket for Tetz was Nansen Vold's Mish Mash in Round 2, a draw any rider in the field of 27 guys at that event would have liked to have drawn.
While Mish Mash didn't have his perfect day, Tetz took advantage and learned something about his riding style in the process.
"He had me tipped me into my hand there for a moment. Tanner Eno was helping me on, and said that I tensed up and clamped down, but then I found a way to let loose and rode him again instead of clamping down. I had a bad tendency to do that on a run at some [Velocity Tour events] down in the states earlier this year," Tetz said.
"You just tighten up and you're not moving anymore. Your feet stay in the same spot. You get into a bad spot and then just get holding on with what you've got instead of going back and riding and trying to fight and get out of the spot you're stuck in."
And while Tetz's buck off in the championship round would cost him three spots in the final tally, ending his weekend sixth overall, in a sport characterized by ups and downs, the round win and a solid placing were more than enough for Tetz to start riding a wave.
"Bull riding is a confidence game," Tetz said.
"Sometimes you go through dry spells, but you also have the highs too. You have to ride the wave and not let that momentum end. You want to remember the good ones and not remember the bad ones."
"I was pretty excited to head to Regina," Tetz continued.  
"I have been to a lot of practice pens lately, which I haven't had the chance before to do. You're not able to get the confidence you want when you can only get on a few bulls, you are still questioning yourself a little bit."
Tetz grew up in Calgary, Alberta playing hockey at a high level. He said that his association with local stock contractor, and rodeo family the Ashbacher's, located just south east of Calgary in Wildwood, Alberta is what ignited his love of bull riding.
"I would go out there a couple weeks every summer to hang out and help out. Dad picked me up and asked me if I wanted to get on a steer. He really wanted me to try it, and I was pretty nervous. I wanted to say no, I didn't want to disappoint him, so I said ok," Tetz admitted.
"That was the first one I got on, and then I entered a few after that."
"People ask me where around Calgary I live, expecting me to be just outside of town. I'm right in Calgary, a school across the street, a daycare around the corner. I grew up playing high level hockey. Bull riding was always on my mind, there wasn't a day I didn't think about it. When I was playing hockey, I was thinking about bull riding. But when I'd be on the bull riding trail, I wasn't thinking about hockey. Bull riding crept into my mind at just about any time. I wasn't ever focused on anything else because it wasn't what I wanted to do."
And while the competition schedule may be currently paused, Tetz says his eyes are on the prize for when things get going again.
"I ride my Buckrite quite a bit. I will watch bull riding from an exercise ball. I don't find myself sitting around much, I am always moving forward. It sucks right now, but you've got to do what you've got to do," he said.
"If you thought bull riding was good a couple weeks ago, wait till we come back and everyone is craving it."