Snap Shot: Unabomber
By: Covy Moore Tuesday, March 10, 2020 @ 4:12 PM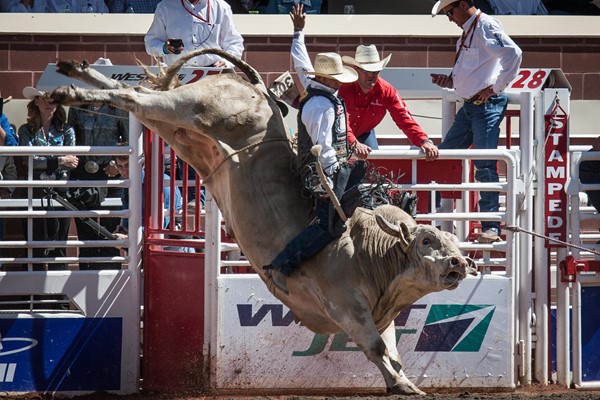 AIRDRIE, Alberta – Going through my photo archives last week, I was quickly struck by a photo from the 2008 Calgary Stampede that was miles better than the images I was producing then.
It was a charismatic grey bull, outstretched and bucking hard. 
Then I found my note on the bull -- 341 Unabomber – a bull from the Eno family that anyone familiar with the sport in Canada recognizes in an instant.
Having heard the name here and there for years, I wanted to get to the bottom of what made this bull so special. 
"He was just wild as shit and he bucked really hard," said former champion bull rider and PBR producer Chad Besplug. 
"He is a cool bull to remember. He never had a weak trip. You always knew what to expect with him and he never disappointed."
After a quick scan of ProBullStats, it became pretty evident that the consistency of Unabomber was what put him on the map – a consistency to the tune of a frequent 45-plus-point bull score in each of his trips.
Currently ranked No. 95 on ProBullStats' list of all time buckers, Unabomber took the PBR world by storm winning the PBR Rookie Bull of the World in 2008, the same year he made his Unleash The Beast debut with Eno in Nampa, Idaho. 
"It was the first event I had ever gone to. I had seen them on TV, but never had been to one," said owner Darin Eno. 
"He bucked off Tony Mendes the first day, then they brought him back and he threw off Adriano Moraes the second day pretty handily."
The following weekend the PBR invited him back in Billing's where Valdiron de Oliveira was 88.25 points on him before bucking off Ned Cross the following day. 
"Those were the only two events I went to that year on the (Unleash The Beast). They called to take him to finals. He really bucked there. Back then it was 8 rounds over two weekends. He was right in the rank pen from the get go."
Eno said that he had absolutely no clue that the bull was even in the running for Rookie Bull of the World, and it wasn't until more than a full week following the PBR Canada Finals, where Unabomber was the top-marked bovine, that he found out his bull won that huge title. 
"When I got home a couple days later, Derek Adams phoned me and congratulated me on my bull," Eno explained. "He asked if the buckle was nice, and I was confused because they wouldn't have made the buckle for Bull of the Finals in Canada yet.
"He informed me that [Unabomber] won Rookie Bucking Bull of the World. I thought they were bullshitting me. Until I talked to guys at the office, they confirmed I won it. It was pretty shocking actually.
"I knew he was a good bull, but to enter that company is pretty special."
PBR Canada Champion turned bullfighter Tanner Byrne was someone I had to reach out to for this.
According to the stats, Byrne seemed to match up with that bull throughout his early years in PBR competition in 2011 and 2012, finally winning the matchup after three tries, going 90 points in Kinsella in 2012. 
"For that bull to do what he did it is like a bull rider going down and winning Rookie of the Year, and that has never happened for a Canadian," Byrne said. 
"We had pick your poison short rounds back then in PBR Canada when I was coming around, he was always the one that was first picked, and if not first, second. He bucked and not too many guys would get by him.
"You were gonna win if you got by him."
Despite getting on him towards the end of his career, Byrne said that Unabomber barely slowed down during his 5 years competing. 
"I was pretty lucky to ride him towards the end of his career, where he was slowing down just a bit, but still got 90 on him. It goes to show how good that bull was. He was great until the day they retired him."
But not every Canadian bull rider had the same outcome as Byrne did.
Three-time PBR Canada Champion Aaron Roy would get on him a total of five times throughout his years, but was only able to best him once. That trip just so happened to be the last time he got on him at the PBR Canada Finals in 2011, marked a monstrous 91 points.
When I asked Eno about specific guys that would have good stories to tell about this bull, he admitted I might want to avoid talking to Roy. 
That 91 in 2011 likely wouldn't take the sting away from bucking off Unabomber in back-to-back weekends on the PBR Unleash The Beast in Nampa, Idaho and Billings, Montana in 2009, the later of which being a short-round draft that could have won the Saskatchewan bull rider the event. 
"I would hate to sit down and see how much money that bull cost Aaron. It might just be enough to buy a house, or at least a really nice shack nowadays," Darin said. 
Eno turned down "a lot of money" for this bull, but says he is more than happy with his decision to haul him to events across Canada and into the states for the time he did. 
"When I looked at the big picture, I'd take that money and probably go buy something I don't really need, and six months down the road I won't have the bull that is taking me down the road and taking me to the places I want to go and what I enjoy doing," Eno said. 
"Sometimes money shouldn't float your boat. Being happy is more important."
Eno purchased Unabomber from Eastern Canadian stock contracted Wayne Chausse, early in his stock contracting days. Eno credited Unabomber with really kicking off his love for that side of the sport and teaching him the lessons any bucking bull contractor might need more time to learn.
"You treat them right, you give them all the opportunities you can to be successful, and they will give you what they got," he said.
In 2012, Eno got the call to bring Unabomber down to the PBR World Finals for what would have been his fifth consecutive trip to the marquee event.
However, the decision was made already that Unabomber would be retired and live out his days at the Eno home. However, the PBR had other ideas, informing Eno that Unabomber had earned a retirement fit for a champion.
"They had me bring him down and before one of the performances they let him out into the arena, played a little documentary about him and we officially got to retire him down at the South Point later that night," Eno said. 
"That year they retired him and (Jeff Robinson's) Chicken on a Chain. A guy was pretty honoured to know they thought that highly of the bull also."
Unabomber passed away in 2012. Eno told me that day wasn't exactly the easiest to remember, as Unabomber had become more to his family than just a bull out in the yard. 
"He was a part of the family. If I could teach him to use the bathroom he would have lived in the house," Eno said. 
Laid to rest right at home in Coronation, Alberta, Unabomber spurred on Eno's love of the job of raising, hauling and caring for these animals. I might not have the authority to say so, but I would imagine without 341 Unabomber, we might not have gotten to see 07 Homegrown take home the 2019 PBR Canada Bull of the Year honors with Eno last season.
"Bulls that that only come along once in a lifetime if a guy is lucky."