Built Ford Tough Top 50: Shay Marks Returns to Competition in 2019 with Banner Season
By: Kacie Albert Friday, May 1, 2020 @ 1:36 PM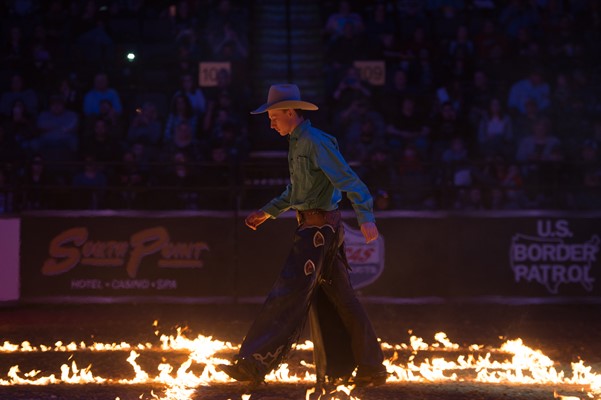 NEW YORK CITY – In 2017, Shay Marks underwent shoulder surgery to repair an injury he sustained to his right (riding arm) shoulder.
As a result, he was out of competition for upwards of two years, absent from PBR draws between April 2017 and January 2019.
"I had trouble getting in to good doctors, I had to wait for a long time," Marks said prior to his official return to PBR competition. "But it feels really good. I've probably been on 25 bulls, 30 or so."
"I took some extra time, by the time I was coming back, there's no point." 
All of that changed, however, on January 26, 2019, when the Alberta rider made his triumphant return to competition at the season-launch Monster Energy Tour event in Winnipeg, Manitoba.
And he didn't disappoint.
As the first man to erupt from the chutes in the home of the NHL's Winnipeg Jets, Marks covered Tom Petty for 84.5 points to tie for the Round 1 victory and advance to the championship round.
"Nice little Skori Bull, felt real good," Marks said following the event. "He usually goes around to the left, but luckily he went left and came back into my hand which was an advantage to me. He felt pretty good, but I almost buggered him up at the end."
The now 24-year-old then punctuated his flawless performance with an 86.5 point, championship round-winning ride aboard Baja Midnight in the final round, propelling him to the event win in his return to PBR competition.
RELATED: Marks Wins Career-First PBR Canada Monster Energy Tour Event in Winnipeg
As a result, not only did Marks' perfect performance propel him to the event victory, but it also instantaneously established him as a top contender for the season's PBR Canada Championship.
Earning 510 Canadian points Marks left the event as the No. 1-ranked rider in Canada, 150 points in front of No. 2 Jordan Hansen.
Additionally, the win also Marks off on the right foot to actualize his dreams on the global stage.
"I'd like to hit the PBR pretty hard, hopefully get on tour, but keep strong in PBR Canada," Marks said. "I'll be going to lots of these."
RELATED: Marks Looks to Unleash The Beast After Winnipeg Victory
Following the Winnipeg event, Marks travelled stateside to compete on the Pendleton Whisky Velocity Tour at three stops before returning to home soil. Beginning his push with a 17th-place result in Knoxville, Tennessee, he capped his run with a seventh-place finish in Worcester, Massachusetts.
Returning home, Marks remained nearly exclusively in Canada until August when he accomplished yet another goal – returning to the elite Unleash The Beast.
As the No. 43-ranked bull rider in the world, the Albertan was tapped to compete at the fourth, and final, Major of the season in Nashville, Tennessee.
Despite his event being short-lived, eliminated in Round 1 after he bucked off Red Snapper in 4.81 seconds, Marks remained optimistic that not only would he return to the premier series, but that he could also reach the World Finals.
"That is what I am hoping for, that'd be a dream come true," Marks said. "But, yeah just keep going at it that's the plan. It's right there, just gotta keep pickin' away."
As the season progressed, Marks made one additional appearance on the elite Unleash The Beast in Greensboro, North Carolina, while simultaneously competing in Canada, allowing him to continue to inch towards his dream of being in Vegas at season's end.
"That's where I've wanted to be since I was a little kid. If I could do that, it would mean a whole lot and it would set up next year pretty good where I would get them first however many events and really try and push off that to get where a guy could be on tour full time."
RELATED: Marks Looks to PBR Canada Title and World Finals Qualification
Recording 17 Top-10 finishes on Canadian soil in 2019, Marks concluded the regular-season No. 3 in the national standings and earned the Canadian invite to the PBR Pendleton Whisky Velocity Tour Finals.
RELATED: Vegas Bound Marks Eyes Berth to Career-First PBR World Finals
"It's super exciting," Marks said of the opportunity in front of him.
Entering the event No. 47 in the world, Marks was in need of 385 points to reach the World Finals as a Top 35-ranked rider, or conclude the Velocity Finals as the top-finishing international invite.
While Marks was unable to qualify directly, going 0-for-2 at the Vegas event, his World Finals debut was not out of the question as he remained in Vegas as an alternate for the prestigious event.
Attending Rounds 1-3 of the World Finals as a spectator, Marks received the call for Round 4, slated to compete as an alternate.
After bucking off Foghorn Leghorn in 2.3 seconds in his first trip, Marks nearly recorded a qualified ride in Round 5, but was bested by Soup in a Group in 7.07 seconds.
The Canuck then returned home for the final event of the season – the PBR Canada Finals where a $50,000 bonus was up for grabs to the season's Champion.
Going 2-for-4 at the finals, Marks finished short of the national title, however finished an admirable No. 4 in the national standings.
Returning with a fire in 2020, eager to continue the momentum, Marks now finds himself at home as the western sports world is amidst an unprecedented hiatus.
Marks, however, remains fully immersed in the world, using the time to focus on his growing stock contracting business.
RELATED: Shay Marks Aims for Monster Energy Tour Debut with Growing Stock Contracting Business
"I am a bull rider first, and stock contractor second right now. I want to get my foot in the door and set myself up for later in life. I really enjoy all this."
Relive Marks' 2019 season today at RidePass. Catch-up on all the Canadian Monster Energy Tour, PBR Unleash The Beast and Pendleton Whisky Velocity Tour action at RidePass.com or via the mobile app.