Wild Hoggs Focuses on Their Future Buckers During Abnormal 2020 Season
By: Covy Moore Tuesday, September 29, 2020 @ 3:57 PM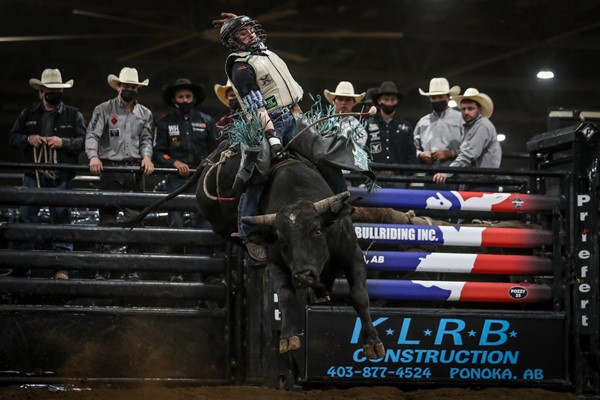 AIRDRIE, Alberta – From the perspective of stock contractors in the Canadian professional bull riding game, the COVID-19 (coronavirus) pandemic was a worst case scenario. Some with a dozen bovine athletes, others with 100-plus bucking bulls in their program, the inability to haul to the paying events has been tough.
But for Wild Hoggs Bucking Bulls' Jake Wilson, he says the firm, run by Justin Volz, alongside Ty and Lon Streeter, has looked to the future and used the slow time to develop their younger bulls, faster.
The basics of bucking bull stock contracting is as follows: You breed your best bucking stock to the best bucking cows in your operation. You then raise the offspring until they are about two years old and then begin training them with a bull riding dummy to see what sort of bucking style and intensity they might show.
You raise them, feed them and keep them in excellent physical shape. When they turn 3 years old, you can begin putting riders on them. At that age, you will haul them to some events to see how they respond, and by about 4 years old they will be chosen to attend the biggest PBR Canada events.
For many stock contractors, they have been forced to cull some of their herds to ensure they can keep the best of the best, but for Wilson, he says 2020 has made choosing which bucking bulls have promise versus those who might not have the heart for the sport a lot easier than a typical year.
"With COVID-19 going on, you try to look at culling some of your young bulls, but the problem is there have just been so many little jackpots people are putting on," Wilson said.
"I don't want to take anything away from the guys who have been going to those, but there are some good guys, some greener guys, and none of them have been getting on a lot of bulls either. So there have been a lot of great chances to get trips on the three- and four-year-olds to see what the atmosphere is like and see what they are like, to really see what we have got. We really focused on the young bulls coming up and bringing them to these jackpots. In a normal year, your three-year-olds might be lucky to get three trips. But this year we have been able to put some miles on them and they have had eight to 10 trips and see what they have really got."
That process of training a bucking bull with a rider is typically more muddied with events that have a strict bull drawing process. During a lot of these informal jackpots that have been happening throughout Alberta and Saskatchewan, you can ensure that you match rider with bull.
"When you enter a bull at a bull riding, you have no control of the draw. With these open jackpots, you are flexible. When I send bull lists, I say this is A Pen, B Pen, C Pen. We match riders up with bulls. If a guy gets a bull rode, that is awesome. But no matter what, the bulls getting tested enough to what you are going to see out of a bull, but you also aren't going to one jump a greener rider," Wilson continued.
"The better guys that were going, Jake Gardner for example, he went everywhere. He will be matched up with the A Pen because he rides really good. And that bull is going to be tested as well, and you will really get a read out of what he can do, if he is going to be good or not. Plenty of times you can see a bull be rank for 4 seconds, and buck off 5 guys in a row in 4 seconds. And then after that 5-6 seconds and you can see that bull cut a track and run, and they just might not have a heart of prowess for it. This gives us the opportunity to have our hand in each step of the process at these jackpots and test what we need to test with these bucking bulls."
Two bulls that Wild Hoggs brought to the PBR Canada Lockdown Bull Bash, presented by Vold Rodeo, held on Sept. 26 in Ponoka, are perfect examples of how this season is helping mature their young bucking bulls quicker.
"There were some up and coming four-year-olds there that we have been able to put some trips on. 623, we call him Kubota Tuff. The Ponoka event was his sixth rider trip, he is four years old and every trip he is getting better and better. There is another black bull with a star on his head, he is four. 640, we call him Tractorland CA. And he is at six rider trips. Last year those bulls were not mature enough. They showed a little bit of promise with the dummy, but they really weren't very rank by any means and now getting a bunch of riders on them they are really bucking.
"When we go to the three year olds, it unusual because we are putting more trips on them and we are seeing them mature a lot quicker," Wilson continued.
"They are actually doing something instead of seeing a trip every two months, they are seeing three trips a month and they are really showing their bucking prowess."
Both Tractorland CA and Kubota Tuff showed their skills in Ponoka, getting the better of Brock Radford, who sits second in the PBR Canada national standings, and Wade Marshall, respectivley.
For the older bulls in the Wild Hoggs' pen of buckers, consistent exercise at home coupled with a few PBR Canada Touring Pro events has kept the juice, like Tykro Pound Sand, in shape and ready to take on any challenge. The concern there is as soon you simply send a bull to pasture for an entire year, they may take that as a gesture of retirement.
"Those older bulls, I am exercising them once or twice a week. Nothing like if we were going like a normal year, but keeping them in performance shape. Most of our older bulls, they have had enough trips they know what's up," Wilson said.
"On average our bulls had 23 trips each last year. Pound Sand had 29 trips last year. Most of the older bulls have had enough trips they know what's going on. So you just need to keep them in good shape because they already know when they go to an event what they are there for."
Making the best of a tough situation is on the mind of the entire Wild Hoggs team, and with the prospect of a 2021 schedule that could match what 2019 saw, Wilson is excited for the future.
"I think looking for positives out of all this, I think the best part of this is everyone has been able to go through their pen and only keep and work on the straight buckers. you are bringing the best set of bulls you can."