The Morning Line – Lethbridge – Round 1
By: Tanner Byrne Friday, August 27, 2021 @ 8:09 AM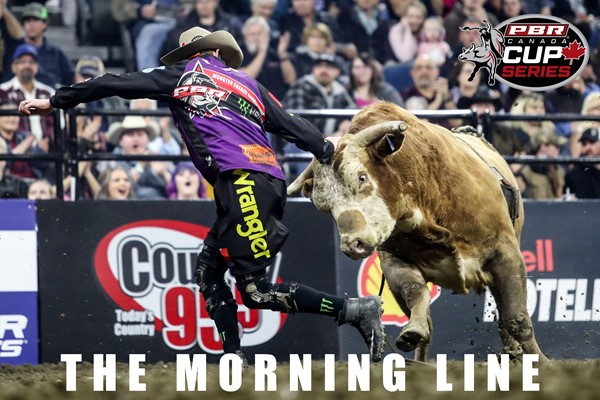 LETHBRIDGE, Alberta – It has been more than nine months since PBR Canada has held an elite Cup Series event, and to say we're excited to be back is an understatement!
For the first time in league history, the nation's elite tour will begin the year in Lethbridge, Alberta, at ENMAX Centre for the PBR South Country Co-op Showdown, presented by VisitLethbridge.com, Aug. 27-28.
Tickets are still available and can be purchased online at ENMAXCentre.ca, or by phone at (403) 329-7328.
This season, we're taking our Morning Line up a notch, with rider turned bullfighter Tanner Byrne joining PBRCanada.com to make his guest picks.
Below are Byrne's bets for Round 1 of the event from Lethbridge and let us know your thoughts and your picks for Lethbridge by tagging @PBRCanada on Twitter.
RELATED: Click here for the full Friday daysheet.
Dakota Buttar vs Black List
From the X6 Ranch, this bull was raised by Bobby Stevens in Saskatchewan, and he's supposed to be a good one! He'll be out and around to the right, away from Buttar's hand. The reigning Canadian Champion is fired up to get back, and look for him to keep going from right where he left off. He'll be ready to win everything he can. Be on the lookout for an 85-point ride when these two team up in the long round.
Aaron Roy vs Freaked Out
This bull is also from the X6, and Aaron has actually been on this bull in practice pen. He bucked Aaron off last time, but Aaron knows what he feels like now, and in talking with him he thinks he can be a big score. This bull should fit Aaron's style, and he knows what he is getting into with this bull, he knows his tracks. Look for Aaron to stay on and start the year off on the right foot. I expect a qualified ride, and possibly the round win as Aaron looks for his fourth national championship.
Blake Smith vs. Just a Vertigo
Blake Smith is an up-and-coming rookie that I have seen at a few events. He looks like he has all the tools to have a successful career. He has some things to line out, get past the nerves of the big lights and big tour, but I think he will be one to keep an eye on this year, and future years as one of the top Canadians going down the road. Just Like a Vertigo looks like he really bucks. Around to the left and may go the other way. Blake can ride him, but he will need to have all of his ducks in a row to stay on. If he does, it could be a round win.
Zane Lambert vs. Gandy
Gandy's a big, strong, black, white-faced bull from the Skori Ranch. This bull is out of the right and should be right in the door to the right. I have seen Aaron Roy stay on him for 86 points. Gandy looks like one that should fit Zane's style -- into his hand and really bucks. He's a flashy, big bull that Zane will fit well. I expect a qualified ride in that 86-point area. This is one that Zane can kick off his 2021 Canada Cup Series with right.
Dayton Johnston on Blue North
Blue North of the Two Bit Nation was in Magrath a couple weeks ago and was one of the high marked bulls. He's one that bucks, and you could see him in the short round. He bucked off Aaron Roy in Magrath. Blue North is supposed to be around to the right, although in Magrath he went out a couple and went to the left. He's out of a bull called Blue Stone, raised by Lorne High, who you see on Unleash The Beast tour, and is a rider favorite. Blue North's bucking style looks similar to his dad's. This could be a good matchup where Dayton could be a whole pile of points. But, if you stub your toe, he'll put you in the dirt. But look for Dayton to have the hometown advantage and to come out with a score.
Stay tuned in to PBRCanada.com and follow the tour on Facebook (PBR Canada), Twitter (@PBRCanada), and Instagram (@PBRCanada) for the latest results, news, stats and more.