The Morning Line – Lethbridge – Round 2
By: Tanner Byrne Saturday, August 28, 2021 @ 8:00 AM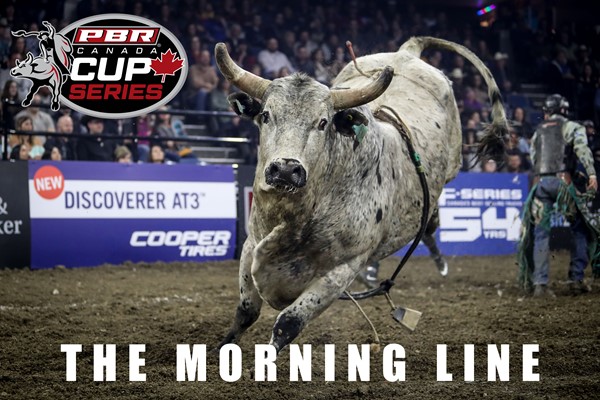 LETHBRIDGE, Alta. – On Friday night, the 2021 PBR Canada Cup Series got underway, and the wait was worth it!
In addition to a three-way tie atop the leaderboard in Round 1, there was an electric battle in the 5/5 Bucking Battle -- and there was no rider more dominant than Callum Miller.
RELATED: Australian Sensation Callum Miller Sweeps Round 1 and 5/5 Bucking Battle at Season-Launch PBR Canada Cup Series Event in Lethbridge
Tonight, the PBR South Country Co-op Showdown, presented by VisitLethbridge.com, will come to a close, and Canada's finest won't disappoint.
This season, we're taking our Morning Line up a notch, with rider turned bullfighter Tanner Byrne joining PBRCanada.com to make his guest picks.
Below are Byrne's bets for Round 2 of the event from Lethbridge. Let us know your thoughts and your picks for Lethbridge by tagging @PBRCanada on Twitter.
RELATED: Click here for the full Saturday daysheet.
Brock Radford vs. Grey Tower III
Grey Tower III is honest as the day is long. One that all the guys want to get on. Big grey bull, right in the door to the left, little bit of back up under him. Brock has had success in the past on this bull, look for nothing different in Lethbridge. I see them being 86-88 points, and possibly the round win. Should be a walk in the park for Brock. 
Dakota Buttar vs. Alberta Prime Union Jack
He's a Kessler bull, brindle, and I've seen him at a few rodeos earlier this year. Lots of up and down, around to the left -- looks like one the guys should ride. Should fit Dakota well, into his hand, open up and get as many points as he can. Get another down to come back in a good spot for the short round. 
Griffin Smeltzer vs. Duke Ka Boom
This bull is from the Flying Four and is a big, long, tall, black, white-faced bull with a lot of up and down. He can have different trips. Last time we saw him, he had his normal trip, couple of jumps, to the right. Griffin rode a really good bull at the Glen Keeley that not many guys stay on, and this bull is similar. But the way Griffin rides, he seems to fit these bulls best. Look for Griffin to step out, challenge for 88-89 points. He could be the round win, but if he gets out of time with this bull's up and down kick, there's no room for error. You have to do everything right and stay in the middle. 
Jared Parsonage vs. Norse God
I don't know anything about his bull on hand, I've probably seen him somewhere, but it doesn't matter for Jared. He has been one of the hottest riders this season, and the past 5-6 years. He's risen to the top as one of the best in Canada. He has that consistency and stays on anything you run under him. Look for this to be no different for Jared. He's third in the Canadian standings and probably pissed off he lost the first-place spot. Look for him to come in with a chip on his shoulder, wanting to take over that spot. Look out Norse God, Jared Parsonage is coming to get it. 
Logan Biever vs Hot Tamale
Logan Biever has been stateside pretty much all year riding against the top guys in the world at the Velocity Tour events, making a name for himself stateside. Had string of events on the Unleash The Beast and has given him the confidence that he is not just one of the best in Canada, but in the world. I think you'll see that from him the rest of the year riding with a lot of confidence, that he can ride anything there is. Hot Tamale is one that stands out in the lockeroom. He's a little mean when you come down, but that's what us bullfighters are there for. Logan just needs to worry about staying on. He should be around to the right, away from his hand. Look for about an 86-87-point ride. Lots of action to finish long round.
Stay tuned in to PBRCanada.com and follow the tour on Facebook (PBR Canada), Twitter (@PBRCanada), and Instagram (@PBRCanada) for the latest results, news, stats and more.