Riders Applaud Elite Bucker Happy Camper for Historic Second PBR Canada Bull of the Year Honor in 2021
By: Covy Moore Wednesday, December 15, 2021 @ 10:31 AM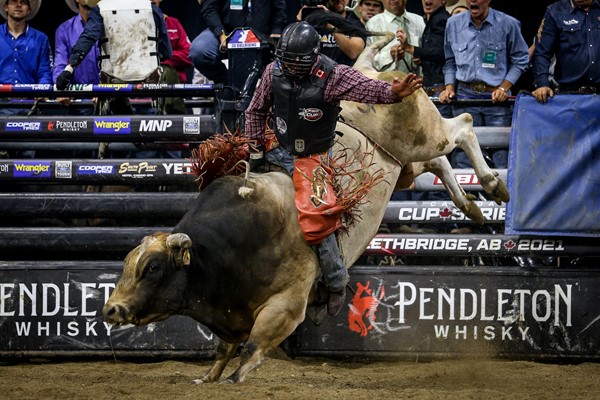 AIRDRIE, Alta. –  For the first time in PBR Canada history, a bucking bull has twice been crowned the Global Canadian PBR Canada Bull of the Year.
Two Bit Bucking Bulls' Happy Camper bested the rest of the field of buckers in Canada in 2021, with a 45-point season average and 66.67% buckoff average across all levels of competition.
This is the third PBR Canada Bull of the Year title for the Two Bit Bucking Bull operation in four years, claiming the title with Happy Camper in 2018 and 2021, and with Catch My Drift in 2020.
The "Bucking Sensation from the Two Bit Nation," who first led the bull pen in 2018, out bucked the likes of Eno Bucking Bulls' Gaume Farms Stickin' "n" Movin' (-0.125 points), Nansen Vold's Unkle Kranky (-0.625 points) and Skori Bucking Bulls' Hanna Motors Winston Bruce (0.75 points) to claim the title for a second year in 2021.
Josh Berezay, the proud owner of Happy Camper, said leading up to the 2021 PBR Canada National Finals that just being in the running each year is special.
"He has had an exceptional year," Berezay said. "What people tend to forget about that bull is that in 2019 he came back off an injury and finished second, getting beat by just a slim margin. It wasn't much he lost to Homegrown by. Then he was runner up in 2020 to Catch My Drift. If he is there again this year, I am just happy he is there."
And he was there and then some.
Combining with eventual Finals event winner Daylon Swearingen for 91.5 points, Happy Camper was marked 44.5 points to clinch his second title.
Throughout 2021, Happy Camper matched up with nine different competitors on Canadian soil, and even boasted two impressive trips at the PBR World Finals in Las Vegas.
But two riders stood out this season as traveling partners Griffin Smeltzer and Callum Miller would come to know both sides of that bucking bull.
In Lethbridge, Alberta, in August, Smeltzer picked Happy Camper as his championship round opponent for the PBR Canada Cup Series event at ENMAX Centre. While he found himself a little behind early in his out, Smeltzer made the prerequisite 8 to nab his first 90-point ride in PBR competition.
A few short weeks later, Australian sensation Miller matched up with the striking bovine athlete at the Touring Pro Division event in Prince Albert, Saskatchewan. This time Happy Camper emerged the dominant athlete, dispatching Miller in 5.33 seconds.
With the outcome was different, both riders agree on what makes Happy Camper one of the world's best.
"He has a lot of up and down, gets underneath himself with lots of timing," Smeltzer said. "He is the one you want to win the round."
"He kind of got caught up in the front and I thought he was going to go right and then he really blew out of there and went left and left me a little behind," Smeltzer said specifically of his trip. "I was able to catch up with him about that fourth of fifth jump and after that he just felt super cool, popping around there. He was hitting really hard and in those last couple of seconds I was just hanging on by my fingertips, trying to not let go."
Miller echoed Smeltzer's comments, adding that Happy Camper is the bull you want to win.
"I had seen him a bunch, always one that you want to get on," Miller said. "I always wanted to get on him at least. He looks so up and down, has such good timing to him. This year I watched my traveling partner get on him and he was right there and away from Griffin's hand. He was as cool as you could ask for from a bull."
"Then I got my chance at Prince Alberta, and shoot he was a lot wider and lot stouter in those chutes than I thought," Miller said specifically of his matchup with the bull. "He filled out those little chutes pretty good. He really bucks, he bucks really hard."
Miller said that the trick to Happy Camper is that you have to work to stay square, cause the moment he has you out of shape, it's tough to get back centered.
"He rides heavy, when he hits the ground he hits the ground hard," Miller explained. "When you get him rode you are going to be high 80s, 90s all day on him, that's what makes him a Bull of Canada. He will buck you off in an instant, but if you ride him you are going to win it."
As for the family who raised the now two-time PBR Canada Bull of the Year, Smeltzer and Miller agree on that as well.
"Unreal people," Miller said of the Berezay family. "Absolutely unreal people. They treat you so good. They deserve every award they have gotten."
"Josh and Tammy are always at our events with a smile on. Josh is one of the most excited guys when you ride one of his bulls more so than when you buck off one of his."
"Oh they are great people, always taking care of me and rooting for me," Smeltzer added. "I have had the chance to practice there a few times, they are just outstanding people."