Reigning Canadian Champion Dakota Buttar Reflects on Historic 2020 Season
By: Covy Moore Wednesday, January 6, 2021 @ 2:40 PM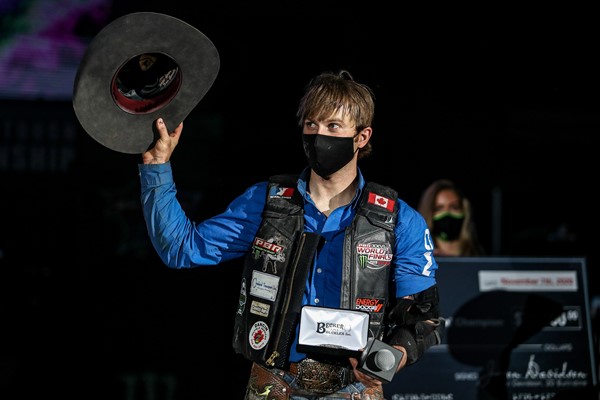 AIRDRIE, Alberta – Standing on the back of the chutes on the second night of the 2020 PBR Canada Finals Week in Grande Prairie, Alberta, eventual champion Dakota Buttar decided to pack his glove with a little extra rosin.
The 27-year-old Saskatchewan cowboy, who was also celebrating his birthday, had crunched the numbers and knew that he would lock up the national title if he could win that day's event.
However, Buttar's narrow defeat from 2019 was still fresh on his mind. He lost the year's PBR Canada Championship after letting one bull get past him at the national finals and surpassed by eventual champion Daylon Swearingen.
"As long as we could have finals, I was going to be pushing for a PBR Canada title," Buttar explained. "I just let one bull get away from me and that's all it took in 2019."
RELATED: Dakota Buttar Dominates Second Night of Competition for the 2020 PBR Canada Monster Energy Tour Finals Week
"I wasn't bucking off of him," Buttar said of his matchup with Stuntman Hank, which cemented his national title. "My goal was pretty much the same as the year before where I got beat out at finals, and I stuck to that goal."
"This year we were pretty limited, only so many bulls, so they all really counted," Buttar added. "When there are not as many events in a year as normal, one bull can make a big change, so I tried not to let any bull get away from me. I wanted to use every draw and get the most out of every one of them."
Buttar began the season on a high note.
Winning his first three events on Canadian soil, Buttar also rode a record-tying 11 consecutive bulls to grab an early stronghold on the nation's No. 1 ranking.
RELATED: Buttar's Canadian Record Streak Ends at 11, But Pursuit of a Championship Continues
And while Buttar was in the midst of the record-tying run, the COVID-19 (coronavirus) pandemic put the world on pause. However, despite the difficulties of working towards a goal during a season with an ever-fluctuating schedule, Buttar said it just came down to being ready and healthy whenever sanctioned events would pop up.
"I was never too worried about it," Buttar said. "I was trying to make each bull count as much as I could. Looking back it's a pretty cool feeling to have a streak like that, and then to find out I was tying my own streak.
"It did help push me a little bit. Deep down, I wanted to push that streak as long as I could. I think everyone would. No one likes bucking off. But for me, it was about getting those points and placing high."
"For riding, the breaks didn't bother me too much," Buttar added. "I am the guy that likes to take breaks, and I think I ride stronger after a break. I went in healthy and feeling good. I had that confidence going into each event."
One major talking point on Buttar's championship season was the frequency he selected Wild Hoggs Bucking Bulls' Tykro Pound Sand in the championship round drafts.
Winning five regular-season events, Buttar covered Tykro Pound Sand four times, scoring a season-best 90.5 points in Stavely, Alberta, and winning a total of $12,488.13 on that bull alone.
RELATED: Dakota Buttar Crowned 2020 PBR Canada Champion
"I owe a lot to that bull, especially for this year," Buttar said.
"I got a fair amount of my wins on that bull this year and won a lot of money. Not saying there weren't other good bulls I couldn't have done the same on, but he definitely pulled through every time I got on him. He was always his honest self."
With 2021 beginning to take shape later in the calendar year, Buttar said that he will weigh his goals out for this coming season soon.
Depending on the ability to travel, Buttar says with the PBR Canada title and a couple of Canadian Rodeo titles in the bag, he is thinking about making a run at the National Finals Rodeo.
"My next big goal is an NFR run," Buttar said. "Not too sure when that will happen with everything that is going on. The plan was to make enough this year to qualify for the big rodeos and make a winter run in the states."
"I will be happy to go for another PBR Canada title," he concluded. "The next big goal is that NFR though. If it's not an option, I will be going hard for another PBR Canada title."