Rookie Tanner Eno Eager to Continue Momentum into 2021
By: Covy Moore Friday, January 15, 2021 @ 12:03 PM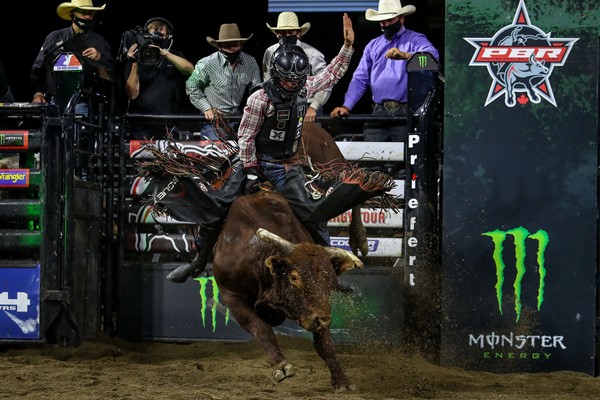 AIRDRIE, Alberta – While 2020 may have been a season unlike any other for all athletes, for Tanner Eno, it bore extra significance. It was the year he elected to begin his PBR career.  
The second-year carpentry student from Coronation, Alberta, is a bull rider at heart.
After first competing with the league in November 2019 on the Touring Pro Division in Dawson Creek, British Columbia, Eno points to his Canadian Cup Series debut as a career highlight.
"The big thing I will remember from 2020 was Lethbridge," Eno said. "And not even singling out riding Whiskey Hand, but the whole day. It was a day that didn't go perfect, it could have went better, but it was a day that will stick out for me for a long time cause I showed up."
"It did help for the fact that I had been going to those with the family on the bull side so much," he continued. "To be honest, there were probably more cameras because there were no fans, but it was more just like having fun."
The July event in Lethbridge marked the first Canadian PBR event since the onset of the COVID-19 (coronavirus) pandemic in March. Additionally, the event championed the return of fan-attended professional sporting events in Canada, with fans watching from the drive-in outside ENMAX Centre.
RELATED: Professional Sports Return to Canada with Back-to-Back PBR Events in Lethbridge
A double-header, Eno covered his first premier series bull, riding Muddy Water for 83.5 points, to finish the first installment of the event fourth. The Alberta replicated that finish in the second event later that day, where after advancing to the championship round on time, he made a massive 87.5-point ride on VJV Whiskey Hand.
Qualifying to his first PBR Canada Finals, Eno registered one fourth-place finish at the quartet of events, going 2-for-5 and matching up against Bull of the Year Catch My Drift.
"I wasn't happy, but I wasn't completely down on myself. It went alright, but I don't want to just do alright," Eno said of the Canadian Finals.
"I fell off three bulls that I shouldn't have. I should stay on them all. That aspect of it I was a little unpleased with. On the other hand, I made a bit of money, and I was glad to be going to a bull riding.
"You always have to be getting better, no matter what," Eno continued. The big lesson I am going to take from it is the mental side of it. I fell off three bulls and rode two, that isn't good enough, but it was the simple fact that I wanted it too bad.
"Talking to friends and family, everyone just kept telling me to relax. The two I rode wasn't pretty, but I got there. I might have been putting too much pressure on myself instead of just staying on. No matter how it looks, just stay on. That's why you put all the training in, don't put so much thought outside the arena into it."
With the 2021 PBR Canada Cup Series on the distant horizon, Eno says his goal is to finish inside the nation's Top 5 at year-end and plans to head south to keep the tools sharp before the season begins.
"I am going to head south here in March or April or whenever works best and try to get to some bull ridings and whatever is going on," Eno explained. "I am not committing down there 110 percent. If I am doing good down there I will stick around, but I will be coming here and going hard on the PBR Canada side. My goal is to be riding every bull I get on. The big goal is to be in the Top 5 in Canada instead of the Top 15 like this year."
"I just want to get on bulls," Eno added. "If I can get into some of those Velocity events, I will see about that. I just want to get on bulls every day. That's the goal. If I have to drive all over hell to get on them, I don't care. I don't want to sit around and wait for things to get going again. If you want it bad enough, you can just figure it out."
And while Eno has many takeaways from 2020, a season which was characterized by him building his own wooden bucking chutes at his home, purchasing three practice bulls, and traveling to practice pens and jackpots all over the countryside for next to no money, Eno says the biggest lesson learned was the love for the sport.
"All my buddies and everyone just went back to loving bull riding," Eno reflected. "We went to Shay (Marks') to get on bulls, wherever to get on bulls, and just hung out and did it cause we love it. It wasn't for the money, there wasn't any money. No one cared. We just got to do what we loved doing. We were just riding bulls because we love riding bulls."