Dakota Buttar Bringing Vold Bloodlines to Bucking Bull Operation
By: Covy Moore Thursday, June 24, 2021 @ 8:28 AM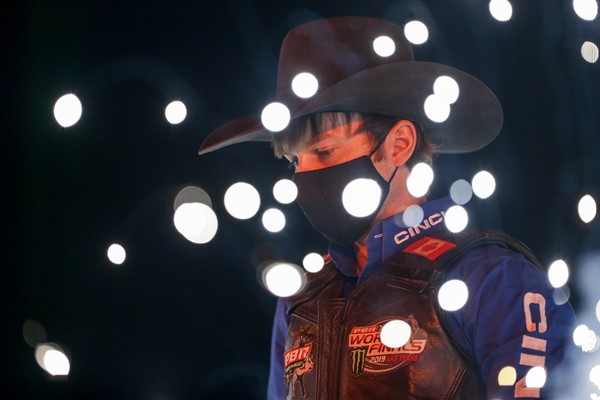 AIRDRIE, Alberta – Defending PBR Canada Champion Dakota Buttar has been excited lately. Not just for the upcoming return of PBR Canada Cup events, but for the animal athletes being born into his bucking bull operation.
With many of Canada's top bulls being able to breed in 2020 due to the limited competition opportunities, Buttar set out to lease a proven bucker from one of the nation's top stock contractors.
And eventually, he settled on a little deal with Nansen Vold.
"Normally I use what I can," Buttar began. "I have a [Cord] McCoy bull I bought that I was going to put out on cows last year. The good bulls are at home so I thought it would be a good year to use a proven, really good bucking bull that isn't being hauled."
"I called Nansen, I have always like the look of that Uptown Funk. I have watched him since he was a calf and he has always bucked hard. I spoke to Nansen about it, and he agreed to lease him to me for the summer. I am pretty excited about how his calves look, I wish there was a few more bull calves though, pretty nice looking heifers out there so far too."
Buttar said that while there are bulls that are statistically better than Uptown Funk, and he certainly pursued some, being able to strike a deal with the Vold Rodeo operation, with their decades of successes and incredible bloodlines, was not only a privilege, but an incredible valuable for the future of his operation.
And with three bull calves so far, he is excited for that future.
"I have always been a big fan of Nansen. I don't have anything bad to say about anyone else really, but when those big rodeos roll around, I definitely try and enter in Nansen's pen. He just has so many good ones and has raised so many good ones. Those bloodlines have a lot of years of work into them."
"I would say that is one of the longest running bucking stock bloodlines in the rodeo business," Buttar continued. "He raises so many good ones of his own, that is a big draw. And when you look down south at the PBR Unleash the Beast there are so many of the best bulls down there that he raised as well. It's a no brainer."
It will take time to tell what the infusion of a proven bloodline like those of Nansen Vold's Uptown Funk offers his program, but Buttar says partnering in this way pushes smaller operations years ahead.
"It can really jump you ahead quite a few years when you can get good bloodlines going off the hop," Buttar explained. "With how last year went, it gives a guy a chance to advance his herd really well with all those good bulls at home the you normally wouldn't be able to breed with."
"I think there is a pretty good chance that in three or four years we are going to have one heck of a class of bulls. Everyone used a good bull last year. I would say we are in for a pretty rank bull pen in Canada three or four years from now."
With the PBR Canada Cup Series events beginning to take shape, including the October 29-30 event slated for Saskatoon, Buttar said he is excited to get back to competition, especially infront of a home crowd.
"I still feel as confident in myself as I did going into Grande Prairie," Buttar said. "Just because I haven't gotten on a bull this long doesn't mean I didn't end on a good note. The body is healthy, so I am just ready to go whenever."
"I always like riding close to home, I don't get to do it very often. I try to take advantage of it when I have family and friends around. It's not every day you get to ride in person for all those folks. It's just fun to ride in front of everyone. I feel more confident in myself when there are more people I know there. Some might get a little nerved up when they have that audience, I love it though. I love to show off a little bit for them."