Flashback Friday – PBR Canada's Best Eager to Return as February is Marked by Throwbacks, Celebrations and More
By: Kacie Albert Friday, March 5, 2021 @ 9:52 AM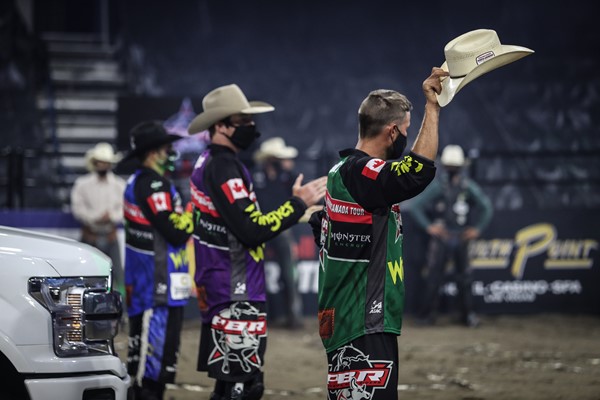 NEW YORK CITY – While PBR Canada's finest are still awaiting the start of competition on home soil for the 2021 season, February was not an idle month!
RELATED: Wedding Bells, Baby Fever and More Take Center Stage for PRB Canada's Finest in January
Throwbacks, celebrations and more headlined the month, but one sentiment rung true. Summer can not come soon enough, not just for the return of PBR action, but for the forthcoming sunshine and warmer temperatures!
Today we take a look back at the highlights from February as told by the riders themselves.
BRR IT'S COLD
Is it summer yet? While we all may be craving warmer weather, Jared Parsonage is thankful for his Wrangler's when duty calls.
And Wyatt Gleeson, well, both him and ranch cat Brownie are both missing the sunshine.
Snow aside, Shay Marks wouldn't trade his way of life for anything.
THROWING IT BACK
Tanner Byrne may now be a bullfighter, but this February he threw it back to 2018 when he won the third Unleash The Beast event of his career in St. Louis, Missouri.
WELCOME TO THE FAMILY
On February 16, the PBR Canada family added its newest member as Chelsey and Wacey Finkbeiner welcomed their first child, Ledger Laine Finkbeiner!
TIME TO GET BACK TO WORK
Is a third PBR Canada title in the works for Zane Lambert in 2021? We may not be able to tell the future, but the two-time national champion is ready to get the season underway!
Brock Radford hopes the forthcoming season will finally be his year, Nick Tetz is eager to hit the road again with his travelling crew, and simply enough, Jordan Hansen is ready to ride.
And while Canadian action may have yet to get underway, Albertan Logan Biever has travelled stateside in search of the action!
LOVE IS IN THE AIR
On February 14 Canada's finest, including Lonnie West, Tetz, Jackson Scott, Byrne and more, celebrated Valentine's Day with their special someone!
For Fabian Dueck and new bride Seneca, they had extra reason to celebrate this Valentine's Day, announcing their expecting their first baby in August!
AGRICULTURE DAY
Just as much as we love love, we also appreciate all those involved in agriculture! February 23 was Canada's Agriculture Day, an occasion recognized by Parsonage, Todd Chotowetz and more.