Flashback Friday – Practice Pens, Stateside Excursions and More Headline a Busy April for Canada's Best
By: Kacie Albert Friday, May 7, 2021 @ 12:31 PM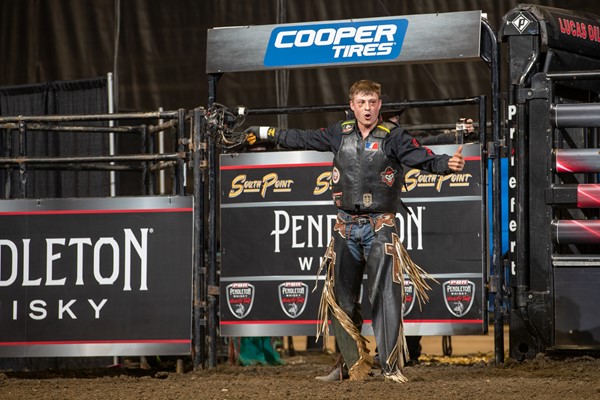 NEW YORK CITY – With winter now fully in the rearview mirror, and the temperatures slowly starting to climb, the itch to get back to PBR competition is undeniable!
With the return of events on the near horizon, and some already partaking in competition stateside, Canada's best were hard at work throughout the month of April.
Today we take a look back at the highlights from April as told by the month's can't-miss social moments!
LET'S GET DOWN TO BUSINESS
It's time to buck! And no one is more ready than the rank pen of bovine athletes from seven-time PBR Canada Stock Contractor of the Year Nansen Vold.
Don't miss Vold's talented pen in action May 14-16 when they get back to work at the Unleash The Beast event in Billings, Montana. You can catch all the action LIVE on RidePass!
RELATED: Five Vold Rodeo Bulls Ready for Trip Stateside to Buck on the Elite Unleash The Beast
Bullfighter Greg Loring Jr. also took a stroll down memory lane this past month. Missing the heat of event season, Jr. threw it back to some busier, albeit harrier, times.
THE NEXT GENERATION
When action resumes in Canada, we're bound to see some new bovine and rider talent! While his debut on the league's elite tour may be a few years off, this Flying High youngster, videoed by Wacey Finkbeiner, is a star in the making!
And let's pause to appreciate just how adorable Finkbeiner's son Ledger is – a bull rider in the making for sure.
PRACTICE MAKES PERFECT
Aussie Callum Miller has made himself right at home in the Great White North. And if he can replicate his success in the practice pen come the start of the 2021 season … he may just make history.
Nick Tetz, PBR Canada's 2018 Rookie of the Year, also turned to the practice pen to knock off some rust! Going 2-for-2, Tetz won the local jackpot he entered in flawless form.
SUCCESS STATESIDE
With a quintet of Canadians now competing stateside, their successes are beginning to mount!
Among their Top-10 finishes, Tanner Eno was ninth at the Lebanon, Missouri Touring Pro Division event courtesy of this 85-point ride on Midnight Mystery.
For Jake Gardner, after finishing ninth on the Pendleton Whisky Velocity Tour in College Station, he tied for 10th on the Touring Pro Division in Clovis, California.
These are some of the rides that earned him those Top 10 finishes!
HOME SWEET HOME
More time at home, means its time for a home of your own! Join us in congratulating Dayton Johnston who recently purchased his first house!
On April 22, we celebrated Earth Day! And Jesse Byrne graced our feeds with this photo of him and his dad Ryan fishing in one of nature's great hideaways!
Jackson Scott also took a moment to appreciate the beauty of Canada's great outdoors.
Bull rider, handyman, or both? Tim Lipsett is a man of many skills, and this damaged grain bin was no match for his expert repair skills!
TUNE-IN ALERT
In the month of April, Tanner Byrne and the talented team behind the can't miss NFP Podcast brought us several can't-miss episodes.
While you can catch every episode here, we would be remiss if we told you not to tune-in for the electric chat with two-time PBR World Champion Jess Lockwood.