#InCaseYouMissedIt: Davis Earns First Win of 2021, Leme Regains World No. 1 Ranking and More
By: Darci Miller Monday, May 3, 2021 @ 4:24 PM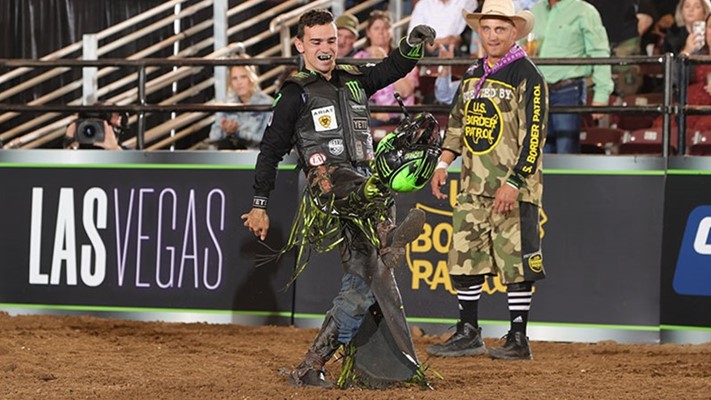 COLORADO SPRINGS, Colo. – Cooper Davis has been a perennial world title contender since winning the 2015 PBR World Finals, and in Omaha, he reminded us why that is. Plus, Jose Vitor Leme did exactly what you expect Jose Vitor Leme to do, and some heavy hitters kept the sports medicine team busy. Miss a moment of the action this weekend? Here's what happened around the PBR.
On the Unleash The Beast…
Cooper Davis: still got it. The 2016 World Champion earned his first premier series event win of the season in Omaha to improve to No. 3 in the world standings.
Hope you didn't think reigning World Champion Jose Vitor Leme was resting on his laurels, though, because he won Round 1…
…before his 10th 90-point ride of the season secured him second place overall. Oh, and he took over the world No. 1 ranking for the first time since winning the world title.
Derek Kolbaba came out strong in Omaha, tying for second place in Round 1 to regain some confidence and momentum.
On the injury front, World Finals event winners Marco Eguchi and Boudreaux Campbell doctored out of Championship Sunday, while two-time World Champion Jess Lockwood looks to return from injury in Billings on May 14-16.
If you're a PBR fan in Brazil, you're in luck! PBR and Rede Globo de Televisão have signed a partnership to broadcast bull riding events held in Brazil and the U.S. in 2021.
Meanwhile, on the Pendleton Whisky Velocity Tour…
Manoelito de Souza Jr. and Hunter Ball split the Round 1 win at the Buc Days PBR Chute Out, presented by Coastal Bend Chevy Dealers…
…but it was Caic Cassio Carvalho going a perfect 3-for-3 to take the first Pendleton Whisky Velocity Tour event win of his career.
Through the lens with Andy Watson and BullStockMedia
Check out the best photos from day one and day two in Omaha.
Social spotlight
Some #MondayMotivation courtesy of Daylon Swearingen. 
We'll never be as cool as Jagger Mauney, let's be real. 
The sports med crew is the real MVP. 
Looking ahead
The WCRA Triple Crown of Rodeo takes center stage for its first event of 2021 at Rodeo Corpus Christi in Corpus Christi, Texas, on May 3-9 (RidePass on May 4-5 at 10 a.m. ET, May 6-8 at 8 p.m. ET and May 9 at 4 p.m. ET).
After a one-week break, the Unleash The Beast rolls into Billings, Montana, for the PBR Wrangler Invitational, presented by Cooper Tires, on May 14-16 (RidePass on May 14 at 9:45 p.m. ET, May 15 at 8:45 p.m. ET and May 16 at 2:45 p.m. ET; CBS Sports Network on May 14 at 10 p.m. ET, May 15 at 10 p.m. ET and May 16 at 4 p.m. ET; CBS on May 16 at 1 p.m. ET).