#InCaseYouMissedIt: Davis is Back in Business in Jacksonville, Pacheco Takes Over World No. 1 and More
By: Darci Miller Monday, May 24, 2021 @ 3:54 PM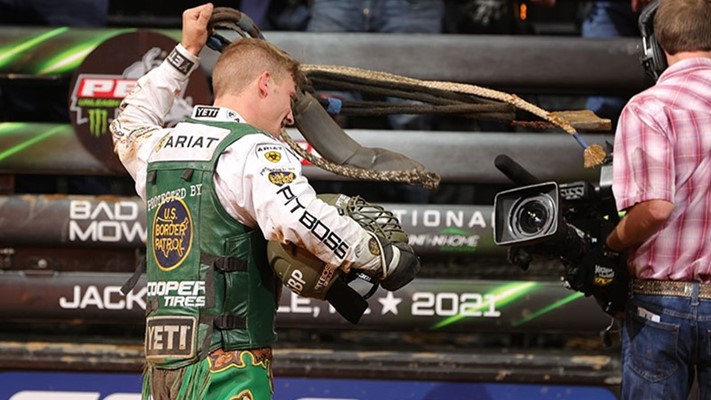 COLORADO SPRINGS, Colo. – Cooper Davis may have missed one event due to injury, but he didn't miss a beat. Plus, there was some more world title race drama, some fresh faces earned round victories and a two-time World Champion provides an injury update. Miss a moment of the action this weekend? Here's what happened around the PBR.
On the Unleash The Beast…
When Jose Vitor Leme bucked off in Round 1 in Jacksonville, 2016 World Champion Cooper Davis and 2018 World Champion Kaique Pacheco took advantage of the opportunity to gain ground on the No. 1 rider in the world.
And when the dust settled at the end of the event, Davis walked away with the victory while Pacheco reclaimed the world No. 1 ranking.
But it wasn't just World Champions showing out in Jacksonville – Joao Henrique Lucas won Round 1 with the highest-scoring ride of his career…
…and Jesse Petri, who was injured at his debut premier-series event in March, won Round 2 with his highest-scoring ride.
It's been a rough 2021 season for two-time World Champion Jess Lockwood, and now we know why: he will undergo surgery for a nagging injury to his pelvis.
Meanwhile, on the Pendleton Whisky Velocity Tour…
Manoelito de Souza Jr. continued his PWVT hot streak with a Round 1 victory…
…but it was Conner Halverson claiming his first Velocity Tour win with a 2-for-3 performance.
Through the lens with Andy Watson and BullStockMedia
Check out the best photos from day one and day two in Jacksonville.
Social spotlight
We're not crying, we swear.
Everyone's ready for this comeback! 
"A bit wild" is an understatement. 
Looking ahead
The Unleash The Beast will be off for several weeks, but next heads to Las Vegas for the PBR Las Vegas Invitational on June 11-12 (RidePass on June 11 at 9:45 p.m. ET and June 12 at 8:45 p.m. ET; CBS Sports Network on June 11 at 10 p.m. ET and June 12 at 9 p.m. ET). Tune into RidePass on June 13 at 3:45 p.m. ET for the Bill Pickett Invitational Rodeo Showdown in Vegas.