Unleash The Beast Preview – Biever to Debut in Billings, Three Canuck Stock Contractors Travel South
By: Kacie Albert Thursday, May 13, 2021 @ 11:08 AM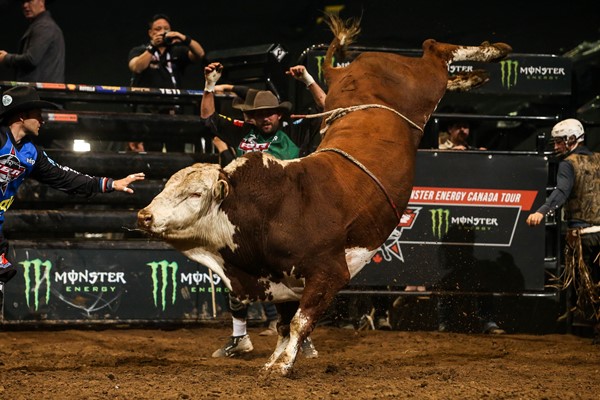 NEW YORK CITY – For the first time in 2021, this weekend's PBR Unleash The Beast (UTB) event will feature a Canadian flare.
With the tour preparing to travel to Billings, Montana, for the PBR Wrangler Invitational, presented by Cooper Tires, May 14-16, not only will Albertan Logan Biever make his premier series debut, but he will be joined in the draw by 10 bovine athletes from the nation, hailing from Vold Rodeo, Eno Bucking Bulls and X6 Ranch.
"I was really excited about getting the call to come," Biever told PBRCanada.com. "I was like a little kid on Christmas morning when I got it. I am excited to let it all hang out this weekend, but I still have a big mountain to climb if I want to be riding at that level consistently."
Fans can watch all the action from Big Sky Country on CBS Sports Network and LIVE on RidePass.
CBS Sports Network will air Round on Friday, May 14 at 9:00 p.m. MDT, followed by the LIVE telecasts of Round 2 on Saturday, May 15 at 7:00 p.m. MDT, and Round 3 and the championship round on Sunday, May 16 at 2:00 p.m. MDT.
RidePass' coverage will begin with the listen LIVE stream of Round 1 on Friday, May 14 at 7:45 p.m. MDT, followed by Round 2 on Saturday, May 15 at 8:45 p.m. MDT, and concluding with Round 3 and the championship round on Sunday, May 16 at 12:45 p.m. MDT.
Biever Readies for Elite Tour Debut
With limited competition opportunities in Canada following the onset of the COVID-19 (coronavirus) pandemic, Biever travelled stateside at the conclusion of 2020, making his 2021 PBR season debut in the United States on January 1.
Despite the 23-year-old being shutout on New Years Day at the Touring Pro Division (TPD) event in Fort Worth, Texas, he was quick to find his groove, finishing eighth two weeks later on the Pendleton Whisky Velocity Tour (PWVT) in Cedar Park, Texas.
Biever's momentum then continued to roll, as the Claresholm-native rode to back-to-back Top-10 finishes in his subsequent events, concluding the late-January Greenville, South Carolina, PWVT event 10th and the mid-February TPD stop in Lebanon, Missouri, sixth.
While Biever then became embroiled in a 10-out buckoff streak, he rebounded in career-defining fashion in early April.
Delivering his first flawless finish since July 2020, Biever went a perfect 3-for-3 at the Pendleton Whisky Velocity Tour stop in College Station, Texas, to finish a career-best second, concluding the event just 2.5 points shy of his first event win.
"It doesn't seem real," Biever told PBRCanada.com at the time. "I don't usually like to win second, but when I got off I couldn't hardly believe it happened that way. I was shaking, I was pumped right up. It was sweet." 
"The last three four weeks, I have been pretty cold. I was starting to stress about things, money or making points or whatever. Missing things. I forgot about why I am down here riding bulls, it's fun."
RELATED: Biever Sets Sights on the Big Lights After Second-Place Finish in Texas
Biever earned 35.5 world points and surged 31 positions in the world standings, catapulted from No. 77 to No. 46.
Following of his breakthrough moment, Biever has ridden at four events, going 1-for-6, headlined by at 10th-place finish at the PWVT event in Wichita, Kansas.
With several UTB riders sidelined by injury, Biever will make his elite tour debut this weekend as an alternate, ranked No. 56 in the world. He trails the Top 30, and a seeded position on tour, by 53.67 points.
"I thought I would be more nervous about going," Biever added of his upcoming debut. "But I am actually a lot more laid back because the pressure of getting to that next level is gone."
"That doesn't mean a guy can in any way just be content with being there and not worry about winning. It just means the pressure of earning that spot to ride against the best in the world is gone and I can just go and have fun and take in the whole experience, make as many rides and as many points as I can."
Biever has drawn Weber Bucking Bulls' Spotted Snake in Round 1, as the third man out inside MetraPark.
The bovine athlete has registered seven outs across all levels of PBR competition since making his league debut in November 2018 at the PWVT Finals in Las Vegas, ridden twice.
After Cannon Cravens became the first rider to cover the bull, marked 85 points during Round 2 of the 2018 premier series event in Billings, Dylan Smith was the latest rider to cover the bull, making the 8 for 89.5 points in Spotted Snake's most recent out during Round 4 of the 2019 PBR World Finals.
While Spotted Snake has not bucked at a PBR event in over a year, in his most recent out, he posted what tied for his career-best bull score, marked 44 points when he was covered by Smith. Spotted Snake was also marked 44 points in September 2019 when he bucked of 2019 PBR Canada Champion Daylon Swearingen in 5.48 seconds.
Given the formatting changes announced at the start of the season, as an alternate, Biever must cover in Round 1 to advance to the tour stops subsequent rounds later in the weekend.
Here is a snapshot of Biever's season:
Rides: 7
Outs: 28
Riding Percentage: 25%
High-Marked Ride: 87.5 points on RIP on 4/10/2021 on the PWVT in College Station, Texas // 87.5 points on Wired Up on 1/15/2021 on the PWVT in Cedar Park, Texas
Top-10 Finishes: 4
Top Finish: 2nd on 4/10/2021 on the PWVT in College, Station Texas
Canada's Best Bovine Athletes Set to Buck in Billings
Biever may be the only Canadian rider in the draw, but he will not be the lone Canuck in Montana, set to be joined by three stock contractors from the nation.
Ponoka, Alberta outfit Vold Rodeo leads the trio with six bulls tapped to buck in Big Sky Country.
The pen includes:
Kalit Karma – Round 1 vs. Rafael Henrique dos Santos
Timber Jam – Round 1 vs. Marcelo Procopio Pereira
Trapped – Round 1 vs. Kyle Jones
Diamond Show – Round 1 vs. Derek Kolbaba
Midnight Flyer – Round 1 vs. Hunter Ball
Hard Not to Get – Round 1 vs. Rodrigo Melgar
For both Timber Jam and Trapped, they lead the pen having previously bucked on the premier series.
RELATED: Vold Rodeo Bulls Ready for Trip Stateside to Buck on the Elite Unleash The Beast
"Trapped is the most consistent one," Nansen Vold said. "He stays in shape really well, never really gets fat. He got to go last time before COVID stuff came into play."
"They are all in their prime. Those bulls will perform well, they have been there before I am not worried about them at all. We are just excited to get to an event and see what we can do."
Timber Jam was last on the elite Unleash The Beast in April 2019, earning two trips at that season's event in Billings. After bucking off Bryan Titman in 4.01 seconds in Round 1, marked 44.25 points, Timber Jam was ridden by Cody Teel for 85.75 points in Round 3, marked 41.75 points.
With 19 outs across all levels of PBR competition, Timber Jam has been ridden just three times.  The bovine athlete last bucked in November 20 in Grande Prairie at the PBR Canada Finals, dispatching Jake Gardner in 4.62 seconds to earn a 44-point bull score. Bucking once prior at the season-culminating event, Timber Jam also registered his career-best out in Grande Prairie, marked 45 points when he bucked off Shay Marks in 3.43 seconds.
For Trapped he last earned a bid to the elite tour in September 2020, also in Billings. Marking just the second and third outs of his career, Trapped first bucked off Cody Nance in Round 1 in 4.25 seconds, marked 42.75 points, improving in Round 3 when he dispatched two-time PBR World Champion Jess Lockwood in 7.79 seconds to earn a 43.25-point score.
The Vold Rodeo bull has been ridden just once in five attempts across all levels of competition. Jordan Hansen, who has drawn Trapped in his three most recent trips, is the lone rider to cover him, marked 87 points in their first meeting in September 2020 in Ponoka, Alberta.
Kalit Karma (6-1), Diamond Show (2-0) and Diamond Show (0-2) will all make their elite tour debut in Billings, while Hard Not To Get will make his league debut.
The Billings event will also include several bulls who now call the United States home, yet were raised by Vold Rodeo.
All now competing for Hart Cattle Co., that contingent of bulls includes: Oz (Round 2), Vertigo Spy (Round 2), Jayded (Round 2), CopperPoint Swagger (Championship Round), Fig Jama (Round 1 vs. Manoelito de Souza Junior), and Wicked Dreams (Round 2).
Eno Bucking Bulls' lone representative will be 2019 PBR Canada Bull of the Year Homegrown who will buck in Round 1, drawn by Caic Cassio Carvalho.
No stranger to the premier series, World Finals qualifier Homegrown has competed at five previous events on the premier series, including his two trips at the 2019 PBR World Finals.
Homegrown last bucked in March 2020 when he was ridden by Jared Parsonage for 89.5 points during the Canadian Cup Series event in Lethbridge, Alberta.
For X6 Ranch, they will have three bulls competing in the event, all out in Round 2: Carlier Cartel, Muzzle Blast and Off The Grid. 
Carlier Cartel is the veteran bucker in the trio, selected to compete at the April 2018 Unleash The Beast stop in Billings, marked 41.5 points when he bucked off Ueberson Duarte in 7.69 seconds. With 10 outs on record across all levels of PBR competition, Carlier Cartel has been ridden just once, covered by Ty Ellis for 86 points in Lethbridge in July 2020.
Muzzle Blast (3-0) and Off The Grid (1-2) will both be making their premier series debuts.
For a complete look at the matchups for Round 1 of the PBR Wrangler Invitational, presented by Cooper Tires, visit PBR.com/daysheet.