Dakota Buttar Competing Through Injury to Contend for 2021 PBR Canada Championship
By: Covy Moore Wednesday, November 10, 2021 @ 5:51 AM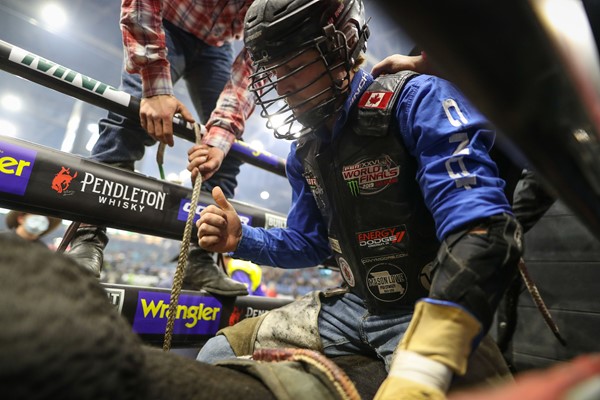 AIRDRIE, Alta. – The 2021 PBR Canada season has been historic for many reasons – one of which is the potentially record-breaking season of reigning PBR Canada Champion Dakota Buttar who is attempting to accomplish a feat never before actualized on home soil. Should Buttar maintain his position atop the national standings after the final bull bucks inside Rogers Place on Nov. 13 for the 2021 PBR Canada National Finals, presented by Command Tubular Products, he'll become the first back-to-back, and third multi-time national Champion in league history.
Fresh off a dominant 2020 season which bore witness to Buttar earning the 2020 title in dominating fashion, riding the first 11 bulls of the season, matching his own PBR Canada record in the process, his championship contending form was unblemished as the 2021 season got underway more than seven months later.
On the back of four event wins to date, including the PBR Canada Cup Series event in Calgary, Alberta, Buttar has had a stronghold on the No. 1 position in the heated race for the 2021 PBR Canada Championship, and accompanying $50,000 bonus, for the majority of the season. He currently holds a 53.66-point lead over 2018 PBR Canada Champion and No. 2 Cody Coverchuk and 68.66-point lead over No. 3 Jordan Hansen. 
With one rider capable of earning 180 points up at the debut PBR Canada National Finals in Edmonton, Alberta, at the state-of-the-art Rogers Place, there are nine competitors in contention for the year's national title – No. 2 Coverchuk, No. 3 Hansen, No. 4 Zane Lambert (-100.16 points), No. 5 Lonnie West (-141.16 points), No. 6 Callum Miller (-143.66 points), No. 7 Jake Gardner (-150.83 points), No. 8 Aaron Roy (-163.83 points) and No. 9 Griffin Smeltzer (178.66 points). 
However, for Buttar, the past two weeks have consisted of working on a groin injury sustained on the second day of competition at the PBR Canada Cup Series stop in Saskatoon, Saskatchewan in late October.  
Choosing to prioritize the PBR Canada Championship over his qualification for last week's Canadian Finals Rodeo, the Saskatchewan native says he is feeling good and ready to take on this weekend's title bid. 
"In Saskatoon two weeks ago during the second round, the first jump out, I felt something pop and tear," Buttar recalled. "It was the worst pain I have felt through everything. It was so painful I needed help out of bed. It was the worst time for it to happen, no questions."
"I have been going to Saskatoon every day seeing a trainer. A week ago, I didn't have a hope to get on. After today even, leaving the trainer, I am feeling really confident that I can be getting on and be strong in there."
"I know a lot can change that first jump out of the chutes, they are live animals after all, but I have been busting my ass every day, at the gym for 3-4 hours a day, then working on it at home for another couple hours."
Buttar, who has two Canadian championships in rodeo competition, as well as his 2020 PBR Canada Championship on his lengthy resume of accomplishments, says with as many points as there are up for grabs at the PBR Canada National Finals it is almost anyone's game, but he just has to take things one bull at a time. 
"I have to, it is do or die now coming into Finals," Buttar continued. "I want to be feeling the best I can coming in." 
Throughout the 2021 season, the theme of being the first back-to-back champion in league history has been brought up repeatedly, but the incredibly focused cowboy has kept his head down, remaining humble, and working week-to-week, which has afforded him a slight lead into the season finale. 
"I think it has to be the same I have been doing the last two years," Buttar said of his strategy for the year-end event. "Go in and try to win first every day. I can't worry about what everyone else is doing. I just have to do my job. One jump at a time." 
Buttar has competed at Rogers Place in Edmonton once before, riding for Team Canada at the inaugural PBR Global Cup in November 2017. Knowing the aura that comes with a building of Rogers Place's prestige, he says that fans are in for a treat with PBR Canada coming to showcase the best bulls and bull riders the country has on offer. 
"All of us riders are super pumped to go back there," Buttar said. "Any of us that were a part of the Global Cup that went there a few years ago know it was an absolute blast. I love that building. It is second to none. Maybe only second to T-Mobile Arena in Vegas. We are all fired up to ride there again. I know Jason [Davidson] and the whole crew are going to be putting on a big show." 
"The professional atmosphere being in a big NHL building, everybody is coming to ride, and are going to be trying their heart out in front of that crowd."
The bull riding action for 2021 PBR Canada National Finals, presented by Command Tubular Products, begins at 7:30 p.m. MDT on Friday, November 12 and Saturday, November 13 at Rogers Place, home of the NHL's Edmonton Oilers.
Tickets for the event are on sale now, and start at $30, standard fees may apply. They can be purchased online at Ticketmaster.ca. 
Stay tuned in to PBRCanada.com and follow the tour on Facebook (PBR Canada), Twitter (@PBRCanada), and Instagram (@PBRCanada) for the latest results, news, stats and more.