The Morning Line – Edmonton – Round 1
By: Tanner Byrne Friday, November 12, 2021 @ 1:28 PM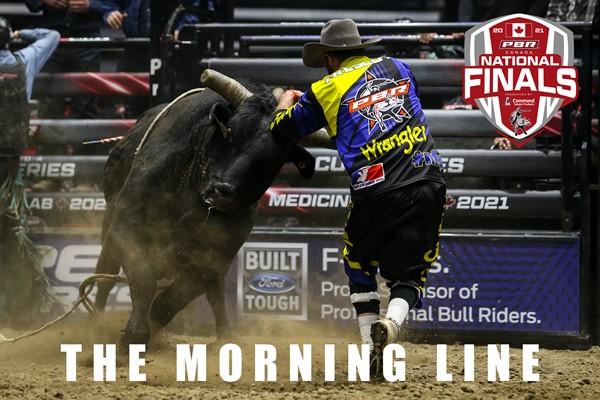 EDMONTON, Alta. – The day we have all been waiting for is finally here – the start of the first-ever PBR Canada National Finals in Edmonton, Alberta, at the state-of-the-art Rogers Place.
Not only is the event debuting inside the home of the NHL's Edmonton Oilers, but it is doing so in historic fashion. The 2021 PBR Canada National Finals, presented by Command Tubular Products, will award more than $175,000 in prize money, making the tour stop the richest year-end event in PBR Canada history.
While the 2021 PBR Canada Champion will earn a $50,000 bonus, the event winner is guaranteed to take home more than $30,000.
RELATED: Click here for the full Friday daysheet.
You won't want to miss this historic event. Tickets are still available and can be purchased online at Ticketmaster.ca. Before you go, be sure to check out the fan guide, here, of what to expect once you arrive at Rogers Place.
Below are PBR Canada bullfighter Tanner Byrne's bets for Round 1 of the event from Edmonton.
Let us know your thoughts and your picks for Saskatoon by tagging @PBRCanada on Twitter.
Nick Tetz vs. Eski Time
Nick's battled through a lot of injuries this year, but came back strong at the last regular-season event in Saskatoon looking like the old Nick that we all know. Eski Time is a great bull from the Wild Hoggs, should be around to the left. Great way to start the PBR Canada Finals. We could see an 88 to kick things off right off the hop.
Dakota Buttar vs. Look Alive
Dakota Buttar is coming in No. 1. He's dealing with a big injury that occurred in Saskatoon that he's going to have to overcome to win the title this weekend in Edmonton. He's got a perfect bull to take a round win on, Look Alive from Flying Four Bucking Bulls. He is a white bull, with no horns. A lot of kick, a lot of action. Should be around to the left but could go either way. He's one that should fit Dakota really well that could vie for a round win.
Zane Lambert vs. Kool Aid
Zane Lambert is trying to win his third Canadian Championship, and this is the perfect bull to do it on. All the bulls in this round are ones that the guys want to get on. This bull Kool Aid from R Saga Ranch has been around for a long time. He's a veteran in the game, just like Zane Lambert. These will be the two veterans matching head-to-head for an 85-point score.
Callum Miller vs. Twisted Soul
Twisted Soul looked really good last weekend in Saskatoon, he bucked off Zane Lambert into his hand. So you know he's a good bull, a strong bull, and one that I Callum will match up with really well. He should be into Callum's hand. As long as Callum keeps pumping, and moving, and kicking like he does this could be a great score in that 86-87 mark.
Daylon Swearingen vs. Bob Rock
Daylon Swearingen comes in as a Canadian Champion exemption. He's a guy that's dealt with injury this year but looked really strong at the end of the year South of the border. Coming off the PBR World Finals, look for Daylon to keep rolling and take off right from where he left off when he left Canada as the Canadian Champion in 2019. This bull Bob Rock should be into Daylon's hand, a lot of action, a lot of movement. Look for Daylon to kick loose with that outside foot and get all the points he can out of Bob Rock for an 85-86-point score.
Stay tuned in to PBRCanada.com and follow the tour on Facebook (PBR Canada), Twitter (@PBRCanada), and Instagram (@PBRCanada) for the latest results, news, stats and more.