Two Bit Bucking Bulls' Happy Camper Seeking History in Edmonton
By: Covy Moore Wednesday, November 10, 2021 @ 9:29 PM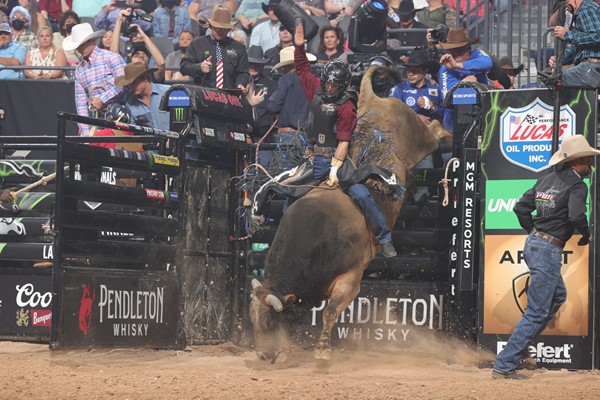 AIRDIRE, Alta – Less than a week ago, Two Bit Bucking Bulls' standout Happy Camper was basking in the warm air of Las Vegas, Nevada, readying to buck at the fourth PBR World Finals of his career.
After impressing inside T-Mobile Arena with two trips, the Bucking Sensation from the Two Bit Nation is now back home in Canada, eager to punctuate his formidable season with a historic trip at Rogers Place for the first-ever PBR Canada National Finals in Edmonton, Alberta.
As the No. 1-ranked bull on Canadian soil, should 2018 PBR Canada Bull of the Year Happy Camper earn the title again in 2021, he would become the first bovine athlete to win the award in multiple years. Johnny Ringo was named the Bull of the Year in 2016/2017, however the honor was for his performance over both seasons.
The 2021 Global Canadian PBR Canada Bull of the Year will be determined by what bull has the best average from his Top 3 outs across all levels of Canadian competition during the regular-season, and top trip at the PBR Canada National Finals, presented by Command Tubular Product.
With a 45.17-point season average, Happy Camper is tied for the regular-season No. 1 rank alongside Eno Bucking Bulls' Gaume Farms Stickin "n" Movin. The duo is followed closely by Vold Rodeo newcomer and No. 3 Unkle Kranky, who with a 44.83-point average is just 0.34 points back.
Two Bit Bucking Bull's headman Josh Berezay, who won the 2020 PBR Canada Bull of the Year title with Catch My Drift, says he is simply excited to be raising and hauling bulls who consistently rise to the top in competition.
"I darn sure hope he can clinch it, he has had an exceptional year," Berezay said of Happy Camper. "What people tend to forget about that bull is that in 2019 he came back off an injury and finished second, getting beat by just a slim margin. It wasn't by much he lost to Homegrown. Then he was runner up in 2020 to Catch My Drift. If he is there again this year, I am just happy he is there."
"To be in the top two in the last three years and going on four years is pretty exceptional for us," Berezay added. "Especially bucking under these kinds of guys. The guys who tie their hands in are serious about it. You aren't showing up at some po-dunk bull riding somewhere and some kid is getting on him and making him look good. He is proving year after year, after year, that he is one of the best bulls this country has seen."
Happy Camper has bucked nine times in Canadian competition in 2021, covered just once when he was ridden by Griffin Smeltzer in Lethbridge, Alberta for a monstrous 90-point score.
The striking bovine athlete's top scores were registered in Prince Albert, Saskatchewan in June when he was marked 45.5 points for his 4.13-second buckoff of three-time PBR Canada Champion Aaron Roy, in Cluny, Alberta in July when he was scored 45 points for his 3.09-second trip with 2018 PBR Canada Rookie of the Year Nick Tetz, and in October at the elite Cup Series event in Medicine Hat when Happy Camper bucked to a 45-point score for his 6.09 second of work against Jordan Hansen.
"With Jordan, every time that bull turned back he was getting at it harder and harder," Berezay said of Happy Camper's out in Medicine Hat. "He must have been gaining half a point in his score every corner."
"It was a great trip and it capped off his season before he headed to World Finals."
Berezay, who admitted that just about any of the top bulls could end up as Champion with the standings so tight, says he hopes each and every animal athlete is able to show off their prowess, give each rider a chance to win and have safe outs.
Fresh off his fourth PBR World Finals appearance, Barezay said he is proud of the longevity of Happy Camper, but even more happy about his efforts in Las Vegas. Earning two outs at the sport's most prestigious event, Happy Camper was marked 44 points in Round 3 and 43 points in Round 5 when he was covered by Dener Barbosa for 89.75 points and Mauricio Moreira for 88.25 points, respectively.
"I thought his first trip was really good," Berezay detailed. "The second trip he gave himself a little stinger leaving there, kicked the chutes just a little bit, but he really tried his guts out. You can't ask for more than that."
The 2021 season has seen excellent competition and crowds across the PBR Canada Cup Series schedule. Berezay said that this weekend's event at the state-of-the-art Rogers Place is going to be something special for everyone in attendance.
"I think they are going to see a lot of great bulls, and it is going to come down to the last minute. These bulls that are going to be there competing for this title, they would work anywhere in the world. They are great bulls."
"I hope that place has people freaking people hanging from the rafters cause it's going to be a hell of a show."
The bull riding action for 2021 PBR Canada National Finals, presented by Command Tubular Products, begins at 7:30 p.m. MDT on Friday, November 12 and Saturday, November 13 at Rogers Place, home of the NHL's Edmonton Oilers.
Tickets for the event are on sale now, and start at $30, standard fees may apply. They can be purchased online at Ticketmaster.ca. 
Stay tuned in to PBRCanada.com and follow the tour on Facebook (PBR Canada), Twitter (@PBRCanada), and Instagram (@PBRCanada) for the latest results, news, stats and more.