Lambert Preparing for Marathon End to 2021 Season
By: Covy Moore Tuesday, October 19, 2021 @ 9:01 PM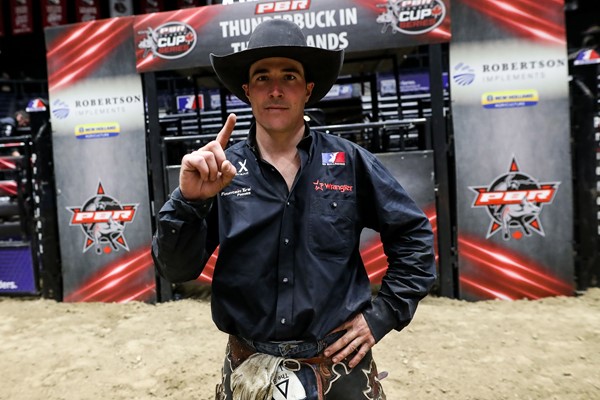 AIRDRIE, Alberta – Fresh off his second PBR Canada Cup Series win of 2021, Ponoka, Alberta's Zane Lambert is preparing for a jam-packed hustle to the 2021 PBR Canada National Finals, presented by Command Tubular Products, in Edmonton, Alberta on Nov. 12-13.
Lambert led three other riders who also went a perfect 2-for-2 in Medicine Hat this past weekend, beating out Todd Chotowetz, Ashton Sahli and PBR Canada standings Leader Dakota Buttar. The win propelled Lambert to the No. 2 spot in race for the 2021 PBR Canada Championship and accompanying national standings, now within a mere 23.66 points of the No. 1 rank.
RELATED: Zane Lambert Wins PBR Canada Cup Series Event in Medicine Hat, Alberta
"The win was awesome, but I was kind of surprised to get that one though," Lambert said. "I try so hard to make sure to get one win in a season, and you are happy with that, so to get two or three it's pretty special."
"I drew the bulls that fit me," the two-time title holder added. "I was able to ride consistently and it worked out."
One of those bulls was his championship round foe Lil Hooch, who Lambert hand picked after attempting the Flying High Rodeo Co. bovine athlete earlier in the season.
"Be ready for the first two jumps, and he is really hair trigger," Lambert said of the bull. "The hardest part both times I have rode him are those first two jumps. After that he gets levelled out a bit and I can get with him timing.
"Those first couple jumps are all there. You really have to be ready for that."
With three more Cup Series events on the horizon, including the 2021 PBR Canada National Finals, as well as a weeklong stint at the Canadian Finals Rodeo, Lambert is preparing for a very busy month. One of those things he ensures he has in his corner during any stretch of competition is family and friends.
"What I do in a season, especially now at this time with all the events coming up, I like to keep the best company around, be comfortable, don't get down if you buck off one. And having the right people around is key."
"At these Cup events now we have lots of friends and family," Lambert continued. "The people you surround yourself with is important and you need to keep that attitude positive for it all to be clicking. Having my family there and traveling with them, but still be doing my own thing, keeping that consistency is key."
While surrounding oneself with those that keep your spirits high and your eyes on the prize is important, the two-time Canadian Champion says he has learned you have to keep your body in the best shape you can for periods of "battle" like this.
"Throughout the years, I have had different routines through the week," Lambert began. "But a lot of it as this point is making sure I prevent injuries I have had before or stretching things out that usually bother me. I have had professionals work with me to be able to pinpoint those things, I have been doing some work with Acumen Performance, I have a home routine to stay in shape and things I need to work on."
"With this many bulls, nutrition is key, keeping those trouble areas figured out. It's going to be a battle here the next few weeks. Trying to keep aware of all that, keep it in the back of your mind because you know it helps you once it comes to crunch time like this."
While Lambert's name is already firmly etched in the league record books, he is chasing further history in 2021. Should he be crowned the year's PBR Canada Champion on Nov. 12 inside Rogers Place, his third, he would tie Aaron Roy for most year-end honors won by one rider.
"Rogers Place is a top-notch facility and we are going to have a great event there," Lambert said. "I am really looking forward to going there, into that building, and putting on our Finals. This is a huge thing for us, it will give that top quality feel to our finals."
"It gives us a bit more hype for us in Canada. We have some cool things planned for opening ceremonies to the prize money is huge. This is going to be a very special event for us. Edmonton loved it four years ago for the Global Cup, and I expect we will have similar fans and a similar atmosphere to last time."