#InCaseYouMissedIt: Pacheco Capitalizes on Opportunity with Fifth Win of the Season
By: Darci Miller Tuesday, September 28, 2021 @ 9:49 AM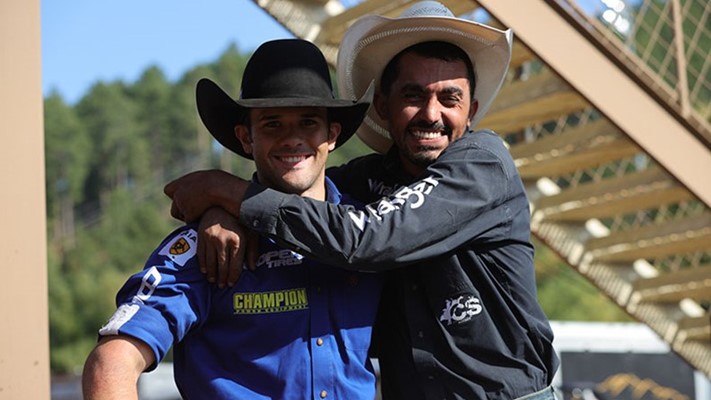 COLORADO SPRINGS, Colo. – World No. 1 Jose Vitor Leme's groin injury meant the door was cracked open for No. 2 Kaique Pacheco to make up ground in the world title race, and, well, he did the damn thing. Plus, Daylon Swearingen did himself a favor, there were some home-state heroics on the Velocity Tour, and more. Miss a moment of the action this weekend? Here's what happened around the PBR.
On the Unleash The Beast…
We have the makings of an interesting end-of-season world title race on our hands, folks. 2018 World Champion Kaique Pacheco won his fifth event of the season this past weekend in Deadwood, South Dakota, doing what he had to do to start closing the gap on No. 1 Leme.
Daylon Swearingen headed to Deadwood looking to get back into the Top 35 of the world standings, and a Round 1 victory helped him do just that.
Pacheco's victory – and Leme's 726.5-point lead in the world standings – begs the question: how many points would previous World Finals event winners have pocketed in the current points system?
The latest update on Leme's injury status is that he's week-to-week with a Grade 2 sprain in his right groin.
Meanwhile, on the Pendleton Whisky Velocity Tour…
Dalton Krantz and Quentin Vaught tied for the Round 1 win at the Fairfax Invitational…
…but Carlos Garcia won his first event in four years in front of a home-state crowd in Virginia.
Through the lens with Andy Watson and BullStockMedia
Check out the best photos from day one and day two in Deadwood.
Social spotlight
Colten Jesse is out there living his best life! 
Surfing in a cowboy hat is its own skill entirely. 
Behold, the cutest thing you'll see all week: 
Looking ahead
The Unleash The Beast rolls into San Antonio, Texas, for the PBR U.S. Border Patrol Invitational, presented by Ariat, on Oct. 2-3 (RidePass on Pluto TV on Oct. 2 at 7:45 p.m. ET; CBS Sports Network on Oct. 3 at 8 p.m. ET).
The Pendleton Whisky Velocity Tour next heads to Hampton, Virginia, for the Hampton Classic on Oct. 2.