Griffin Smeltzer Riding High into Unleash The Beast Event in Billings Followed by Velocity Tour Finals
By: Covy Moore Wednesday, April 27, 2022 @ 10:34 AM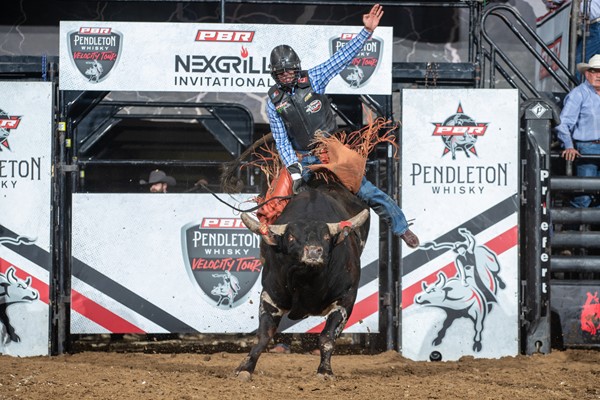 AIRDRIE, Alta. – Griffin Smeltzer is no stranger to the winner's circle.
Having broken through in 2021 in Canada at a Touring Pro Division event in Calgary, Alberta, last weekend, Smeltzer stamped his passport as an international PBR victor.
RELATED: Canadian Young Gun Griffin Smeltzer Wins Career-First PBR Pendleton Whisky Velocity Tour Event in Wichita, Kansas
Wichita, Kansas will forever hold a special place in the Claresholm, Alberta, native's heart.
Winning the PBR Pendleton Whisky Velocity Tour's Nexgrill Invitational inside the INTRUST Bank Arena, the young Canadian shot to No. 5 in the Velocity Tour standings and No. 51 in the broader PBR world Standings.
Smeltzer said that he didn't feel any different rolling into Wichita, but knew his first-round draw, Jingle and Go, was one that could send him to the top of the championship round.
"I got on a few practice bulls during the week, I was feeling good," Smeltzer said.  "Coming into the short round I had one of Aaron Halpain's bulls, whom I had the pleasure of meeting a couple weeks before, getting on a few bulls for him. I just went out there and let my body do it."
After riding Jingle and Go for 86 points in Round 1, an 86.5-point effort atop Axel Surgeon not only earned Smeltzer the championship round win, but also a victory in the overall event.
The normally very reserved and level rider admitted he was able to whoop and holler not too long after the TV cameras turned off.
"Right after I had my interview, my traveling partner and a few other guys I have gotten to know down here really good decided to tackle me in the arena, got a little bit of celebration in there."
"Then we just went out to dinner and had some fun there," Smeltzer added. "Everyone down here with me is having a great time, riding a lot of bulls. I don't really know what else there is to say about it, things are going great."
Continuing to travel with Abbey, Saskatchewan's Blake Smith, who has been seeing a fair amount of success on the Pendleton Whisky Velocity Tour himself, has been integral to Smeltzer's good fortunes.
"He has been riding just as good as I have," Smeltzer explained. "Things are working really good, getting on a lot, we get along well."
"He is a little younger than me, so he is always trying to beat me, and I am always trying to put him in his place. Whoever is winning, the other guy wants to beat him. So, in that sense we get along good, always competing. Neither one of us likes losing, and we both really like winning."
As for the standings, Smeltzer admitted he hasn't been paying too close attention until just recently.
With the win, Smeltzer will be competing at the final regular-season Unleash The Beast event in Billings, Montana, scheduled for April 29-May1, and has one more Velocity event to get things set for a hopeful run to a World Finals qualification.
"As of right now, I think I am up there in the Velocity Standings," Smeltzer said. "I hadn't focused on standings really, hadn't looked until just after this last event."
"As long as we get the points racked up there, we should be good for both the Velocity Finals and the World Finals."
Smeltzer said he isn't changing anything about how he is approaching the sport, having made an adjustment a month ago about trying to be more relaxed around competition, but making sure riding bulls continues to be fun.
"This last month, I have tried to relax a little. My body knows how to do this stuff, I have been doing it for a long time now. I feel comfortable with my riding abilities, and I am trying to keep it fun."
"As long as bull riding is fun, it's all pretty simple."