Cauy Schmidt Looks to Translate Win in Coronation to Career-First PBR Canada National Finals Berth
By: Covy Moore Wednesday, August 10, 2022 @ 2:23 PM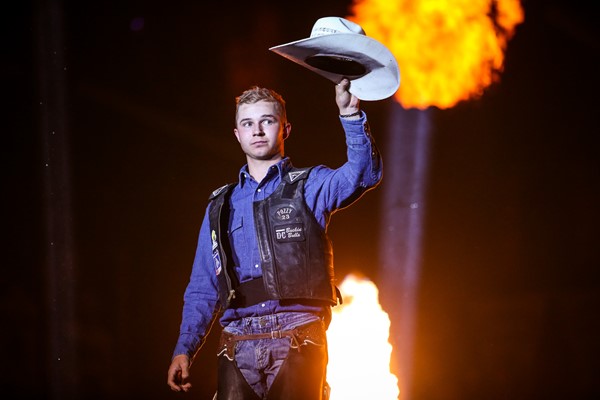 AIRDRIE, Alta. – There is a new kid on the block in the PBR Canada ranks in Coronation, Alberta's Cauy Schmidt.
And he is eager for his rookie season to conclude with the chance to ride this November inside Roger's Place in Edmonton, Alberta, for the PBR Canada National Finals.
A mere four months after making his PBR Canada debut in Camrose, Alberta, Schmidt went a perfect 2-for-2 in his hometown last weekend to win his first ever PBR event. 
Having started in the sport riding steers in 2016, the now 19-year-old has his sights set on success. 
What exactly attracted him to the sport when he was 13 has long been forgotten for Schmidt, but having family involved in rodeo was certainly part of it. 
"I had always been a rough and tough sport guy, loved hockey, wanted to play football, wanted to be a boxer," Schmidt recalled. "My dad rode bulls, so when I was 12, I had some buddies from around here who were doing it. I started later than all of them, but I have caught up to them pretty quick with all the help I have had." 
While Schmidt spent 2021 stateside for school, he didn't just compete on the collegiate circuit as he continually aimed to improve his craft and keep sharp in the bull riding game.
"I tried to get into everything I could," Schmidt explained. "I went to some bull teams and was getting on 86-pointers, then entered some PRCA rodeos and didn't do too bad, made some money. I was already riding to that level, so I made some phone calls to some guys up here and they all said I was ready for it. That helped my confidence for sure, so I thought I would give it a go." 
One of those guys was Mike Ostashek.
The long-time campaigner, Finals qualifier and event champion helped give the young Schmidt the confidence he needed to debut amongst the PBR Canada ranks.
"There were nerves for sure. Not that I didn't know I could do it. I have just known all these guys up here so long and didn't really get to know many of them guys down south. I didn't think I had anything to prove down there." 
"I feel like the first couple of events that I thought I had to ride good to prove it to these guys that I can do it," Schmidt added.
And prove it he has.
While the start of his PBR career was bumpy, he has since turned it around logging Top 5 finishes on the Touring Pro Division in Kinsella and Czar Lake and at the elite Cup Series event in Kelowna. 
His results, coupled with his recent win have slotted him into No. 19 rank in the intense race to be crowned the 2022 PBR Canada Champion.
"Those guys were helping me again. Struggling through my rookie year, I knew if I wasn't riding that maybe I shouldn't be there yet. But these guys up here kept telling me that I was starting some good 6-7 second rides, that they are going to come eventually," Schmidt said.  
"I just had to keep going," Schmidt continued. "Keep hustling and working at it. For me it was really just knowing each bull is different, I was clearing my mind every time."
Heading into his home event in Coronation, Schmidt said the confidence was there, and he treated it like any other event.
His growth throughout the year has been evident, and most in the PBR Canada community knew it was only a matter of time before he put it all together. 
"Every event, you have to go with the mindset that this bull isn't bucking me off till my head hits the ground. I only get mad if I catch myself looking off. A lot can happen, crazy stuff happens in this sport all the time. I think that mentality helps a guy a lot."
"When you are in the middle it feels good, but there are going to be times you aren't in the middle and you have to fight to get back there. That is just from watching all these good guys, and that is what makes them so good." 
"Going into Coronation I drew a bull that I had in Lea Park [CPRA rodeo] before the PBR Canada Cup Series event in Red Deer. He bucked me down at 7.5 in Lea Park. That was in the back of my head, and I knew that wasn't going to be happening again. I got him rode and I went in with the third pick in the short go. I picked a bull that had bucked me off in Wainwright earlier in the year. My confidence level is just going up, it gets better every weekend it seems."
Looking forward, Schmidt is laser focused on qualifying for the November PBR Canada National Finals.
 And once he can get that qualification under his belt, he plans to head to Edmonton to win. 
"I would say there are small goals and big goals. For a start it's about making those first rides in the long go. They get you points every time." 
"Making the Finals for sure would be cool, especially in my first year," Schmidt concluded. "And maybe once we get there I can go win the Finals too. Just keep shooting for bigger and bigger things. I have got to go with the flow."