Coy Robbins Amidst Career Best Season as He Seeks His Career-First PBR Canada Championship
By: Covy Moore Wednesday, August 17, 2022 @ 6:23 PM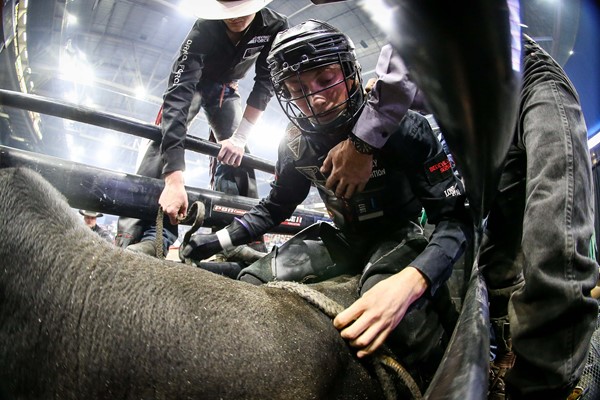 AIRDRIE, Alta. – There is arguably no one hotter in PBR Canada competition right now than 2017 PBR Canada Rookie of the year Coy Robbins.
Last weekend, the Camrose, Alberta native took home his fourth event win, victorious at the Touring Pro Division event in Marwayne, Alberta, as he looks towards earning his first PBR Canada Championship this November in Edmonton.
As the only rider to go a perfect 2-for-2 at the annual event in Marwayne, Robbins cracked into the Top 5 in the national standings, now No. 5 and 69 points back of No. 1 Brock Radford.
Having spent nearly a year on the sidelines early in his career, Robbins says his 2022 campaign is truly a team effort.
"At the beginning of the year I set some various goals with myself, and one of them being that I wanted to create a really strong team," Robbins explained. "As much as rodeo and bull riding is an individual sport, I think it's beneficial when a guy can build a team behind him, whether that is support, or trainers with Acumen Performance, I think that is a key part of my success this year. Helping with recovery time, feeling 100% showing up to events."
"In June I separated my shoulder, and I went to Acumen for nine days straight and at the end of that it felt 100%," Robbins added. "Just having them in my corner. Obviously with a good group of sponsors in my corner and then family and friends, having a great team behind me is making a huge difference."
Robbins admitted that while each year he sets himself goals, it is the little milestones that will lead him to the big goal, which is claiming both the PBR Canada Championship and CPRA Bull Riding title in the same year.
Looking to the incremental markers, Robbins began his season first looking to nab an event win.
And he has accomplished that, and then some.
"It's funny we are talking about it right now," Robbins reflected. "I set a goal right before my PBR in May that I wanted to win five PBR events in 2022. I am one away now from hitting that goal. Then creating those steps on how to achieve that, and it was to create a team around me. It is a big part of my success this year."
After finding Spring success, Robbins hit s slump in July, which began to get the 23-year-old cowboy down.
"Starting the year off with a win in my hometown, that was a very special moment for me," Robbins said. "That got the season rolling the right way. There are ups and down, peaks and valleys in this sport. I did notice for a two-week period I kind of dropped into one of those valleys and had to regroup. I was falling off some bulls I shouldn't have."
But it was a singular event win that reset Robbins to the form we see him in right now.
"With all the work I have put in, I think my mind is a bit sharper. I don't worry as much about falling off some bulls. I did let that happen though, but the turning point for me for getting out of that slump was winning North Battleford. That was a really special event. Being the Colby Cave Memorial, having his name tied to it, his family there. I felt like shit going into that event, I wasn't going to go."
"But to get there, and step up at a special event, that brought me back. It was the regroup I needed."
Thus far in 2022, Robbins has taken home wins at Touring Pro Division events in Camrose, Calgary and Marwayne, Alberta, along with North Battleford, Saskatchewan.
And he doesn't plan to stop adding to the list.
This past weekend's win, however, was made a little more special because of those he was travelling with.
Packing his father and girlfriend is always positive for Robbins, but this past weekend he was travelling with Landon Schmidt.
The 25-year-old campaigner has had a tough couple of seasons on the PBR side, but everything turned aces in Marwayne. Looking to take advantage of the two-head format, Schmidt got the monkey off his back and put up 87 points to take the event lead with only a few bulls left.
Schmidt immediately went and took of his gear, then found Robbins, fist bumped him before his second bull and said, "first and second in the truck, let's go."
Robbins says that he hasn't put too much emphasis on who he travels with but having a longtime friend and competitor who put the pressure on him to perform was the perfect amount of motivation to make sure he got the job done.
"It was really good to see Landon get that one rode, we rodeoed back in the amateur days," Robbins said. "Having him jump in and roll to Marwayne brought back a lot of memories. And then to have him jump out there in the second round and put up an 87, put the pressure on me. If I wouldn't have hung on, he would have gotten the win, which would be fine too, but I am there to win first every time."
As for the standings, Robbins says he doesn't pay that close attention to the rankings.
"I don't watch the standings too much. I remember one time while I was steer riding. Tyler Thomson told me that if you watch the standings too closely, you will watch yourself right out of them. I have hung on to that. I have noticed that I have done that in the past too."
"I am not too worried about the standings, the cards will fall where they fall," Robbins added. "I feel good, and I know that other guys aren't feeling as good as I am with soreness here and there. At the same time, I am going to be smart with where I go, so that when November rolls around I am feeling pretty well 100% and riding fit."
"With how many PBRs are on the schedule this year a guy has to be smart about it, know his body, get the right recovery in. The year-end will come when it comes, and hopefully I am at the top when it does."
"I set the goal to be a two-time Canadian Champion in one year, and I am not backing down until the last round of either Finals. I will do all I can, put all the work in, and hopefully I am standing at the top at CFR and PBR Canada Finals."