2022 PBR Canada Champion Nick Tetz Readies for Unleash The Beast Debut in Minneapolis, Minnesota
By: Covy Moore Thursday, December 8, 2022 @ 11:29 AM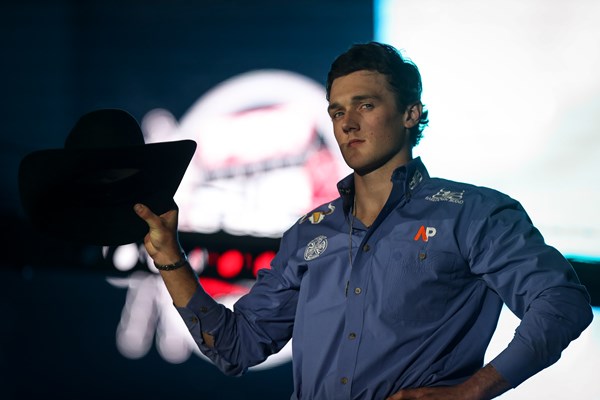 AIRDRIE, Alta. – Winning the first round of the 2022 PBR Australia Grand Finals was the highlight of a week-long trip for the newly crowned 2022 PBR Canada Champion Nick Tetz.
But coming home and getting an invite to the elite PBR Unleash The Beast is icing on the cake for the young Calgarian.
"I wasn't really expecting a shot to get on tour here," Tetz said. "I took some time and did the Australian Finals, turned one down for that. Then I was too sore to do the next one. I figured I don't know too many guys who would turn down this opportunity three times in a row, I had better take it."
"Being down there around those guys is only going to make you better. It's where a guy wants to be, you want to be around the guys who are in the dressing room making a living, not doing it halfheartedly. They are all in, eat and crave it, just like me. I am looking forward to getting down there and seeing where I stack up against the greats right now."
Days after winning the 2022 PBR Canada Championship, Tetz, alongside title runner-up Brock Radford travelled to Australia to compete in the nation's Grand Finals as part of the transcontinental rider swap.
Tetz was quick to strike, conquering Cover Up for 85 points to win Round 1. Travelling partner Radford also had quick success, topping Round 2 with his 87.5-point score atop Some Gave It All.
"Our hotel room was feeling pretty good," Tetz said. "I don't know about the rest of them that day."
"We were headed in there feeling good, no pressure just go for some money and an average title. Brock and I both said we will be back next year. We will be expecting it next year and take some more of their money from them again."
While both bucked off their subsequent draws, their opening scores earned them each Top 10 finishes, as Tetz concluded the event 9th, and Radford 5th.
Despite the less-than-ideal end to the trip Down Under, Tetz said both riders were impressed with the increasing caliber of bucking bulls in Australia.
"We discovered that their bull power has stepped up the last couple years and they have a lot of buckers now," Tetz explained. "They are loose hided bulls, so your rope tends to want to move around on them a bit more too. Big humps, scary horns. Really kind of coming up in your face. They are always moving into you or away from you. Nothing feels like it's just spinning right there. They are either really riding ahead or backwards, or side to side, and want you any which way."
"Definitely a different feeling," Tetz continued. "You can kind of see it when the Aussies come here, they adapt so well because they can stay on the bulls they have at home."
This weekend the 2022 Canadian Champion will take on the best bulls on the planet at the PBR Minneapolis Invitational.
For Tetz, an opportunity to go after the points available at the Unleash The Beast events early in the season is a crucial step towards his goals of being at the 2023 PBR World Finals.
"I thought it would be a bit of a different deal to be honest, more earning my keep, but there are a few perks to being a champion. They have you a bit higher on the alternate list at the start of a season. I figured I was going to be doing Velocity events and doing it that way, which I will still have to do, but this opportunity to get a bunch of points early on and maybe set myself up to be fully on tour by the new year is too good to pass up."
Tetz expects there to be an adjustment period to the caliber of bulls at the Unleash The Beast level, but added that his expectations are always to stay on his bulls.
"There are just so many stock contractors down there, and so many good bulls down there. We have so many rank bulls up here too, but the money is down in the United States. We see those bulls for a year, two maybe. We can't get on these bulls in Canada forever."
"Everybody down there has had a chance to be getting on those ranker bulls more consistently and things have slowed down for them.," Tetz continued. "I expect to stay on, but I know things are going to be moving a bit faster than I am used to. It won't be slowed down like it's been these last couple years for me. There will be an adjustment period for sure."