Phantom Fury Brings Wild Hoggs Bucking Bulls Back to the Spotlight
By: Covy Moore Thursday, December 15, 2022 @ 12:45 PM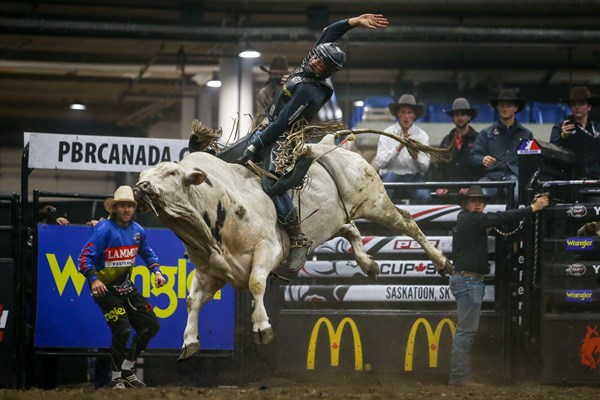 AIRDRIE, Alta. – In 2022 there was no bull better than the Wild Hoggs Bucking Bulls' Phantom Fury.
This big, white muley from the Marwayne and Claresholm, Alberta contractors concluded the 2022 season with a 44.5-point average, scored 45 points in his final trip when he bucked off Chad Hartman in 6.23 seconds.  
The out clinched Phantom Fury the coveted title of 2022 PBR Canada Bull of the Year.
"It means a lot," said the Wild Hoggs Bucking Bulls' Justin Volz about the honor. "There is a lot of work that goes into these athletes that people don't see behind the scenes. Only other contractors really know, but it's the time spent with these animals, and the care you constantly give."
"A bull like Phantom Fury, he gives his all every time you bring him to town. It's pretty special to see him get rewarded for that. It is a very tough award to win. Canada has some incredible bucking bulls and amazing stock contractors. Everyone is fairly competitive, and everyone has that one, or two superstars. A lot has to line up to come out on top."
"We were fortunate it did work out. Sometimes it's the difference between a slip or a hip or a trip or stumble or too quick a buckoff and it changes everything in a split second. When you do get them, you damn sure appreciate them."
In the fierce title race, Langham Kid from Two Bit Bucking Bulls was second with a 44.25-point average score. Two-time PBR Canada Bull of the Year Happy Camper concluded the regular-season atop the standings, but a tough final out cost the bovine a record setting third title.
"They are all great bulls, and they have been all year long," said Volz. "It was super unfortunate what happened with Happy Camper there. That bull has been so good for so long, you hate to see it come down to that. The perfect night would be both those bulls having a clean shot and having their days, and the judges deciding which was better. But that's part of this business too, there are so many unknowns."
Five-year-old Phantom Fury was raised by the Wild Hoggs. With some championship blood in his veins, Volz says himself and Wild Hoggs co-owner Ty Streeter had quite a few conversations about what that bull needed to be successful.
Their decision was to keep the bucker another year and put a little more experience and weight on him.
"Phantom is ranch raised. He is out a bull called Catch Me If You Can. He is a brother to Catch My Drift. On the dam side, he has the same mom as Norse God. Norse God was one of our top bulls last year."
"Just the effort he put out," Volz said of highlights when looking back on the season. "You can tell when a bull is trying. He has been ridden quite a few times, and he has been ridden a ways quite a few times and this bull has never given up. He will grab another gear. Norse God was similar too, the further they ride him the better he gets. Phantom is a little bit that way. Size helps too, then they have a little more power to them. We thought the combination of the effort he has and putting 200 more pounds on him might make a difference."
Volz, a championship level bull rider in his own time, said that Phantom Fury's flashy, high jumping and kicking style is exactly what would make him put his name down to attempt the powerful animal athlete.
"Just everything about him. He bails out of the chutes, he gets in the air, he kicks through it. He usually turns back in one or two jumps, he pops and kicks and has all the timing that you could ask for.
"When Lonnie [West] rode him in Saskatoon, he rode him picture perfect. Anytime you can get on one that turns back close and gets off the ground on the front end and kicks through it, to me that is what any bull rider would want to get on."
"Does he give you a shot to win, that's the other thing. You might not always win first on this bull, but you aren't going to be much further back than second. I guess he has no horns either, which helps for most guys."
Logging nine trips in 2022, Volz said it is not hard to pick his favourite out for Phantom Fury.
"I think his trip in Edmonton was his best," volz said without hesitation. "He was really good at the Cody Snyder events in Calgary too, they put two trips on him there that were really good. But he put it all together in Edmonton. The farther they rode him, the stronger he got, I felt."
It is no secret that PBR Canada contractors are working towards making the best bucking bulls on the planet. But to gauge that, a bull must showcase his talents on the PBR Unleash The Beast stateside. Oftentimes, a US contractor will purchase bulls from those in Canada raising World Champion contenders.
Volz says there has been a little bit of interest in Phantom Fury from contractors in the United States but says nothing has been set in stone.
"Look at J.W. Hart's pen and Gene Owen's pen. There are a lot of Canadian-bred bulls on their trucks. If we kept every single great bull we had, we would have dozens of quality Unleash The Beast level bulls at every event. There just aren't enough events. But there are a ton of events and guys who want these bucking bulls down south, and those sales help up all out up here in keeping going."
"We just want our bulls to be competing at the highest level they can. A bull sale means a lot to our program, and it means that bulls can go compete at the highest level. There has been a little bit of interest in him. I can't say either way. It would be great to keep a bull like him. We just want our best bulls to be at the highest level. If someone wants Phantom and wants to bring him to the PBR's highest level, then so be it. We have a good crop of young bulls coming up to fill his place, or come close anyways."