Moonlight Party on Trajectory to Become First Canadian-Born YETI PBR World Champion Bucking Bull
By: Covy Moore Wednesday, February 9, 2022 @ 10:08 AM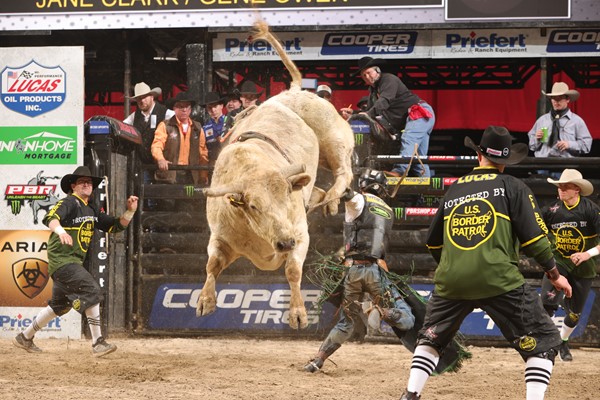 AIRDRIE, Alta. – In PBR history, no bull born in Canada has ever before been crowned the YETI PBR World Champion Bull.
However, in 2022, Moonlight Party will attempt to become the first.
While he may now buck under Gene Owen's banner, the powerful Grey bovine athlete hails from Canada, bred by Allan Shields and then purchased by Outlaw Buckers.
Purchased as a 3-year-old from Shields, Outlaw Buckers front man Curtis Sawyer said there was next to no indication early on that Moonlight Party, who happens to be a half-brother to Canadian Pro Rodeo Bull of the Year Blackstone After Party, had any sort of extra prowess in the arena.
"At that time, we were just buying every bull Allan had," Sawyer explained. "When we dummied him, he was very average with a dummy. He bucked good at a semi-pro event in Cochrane, but the rider didn't make it very long. Then he just hung out for a year. There was something about the way he acted, he was built right, and he was big, tight made. He had lots of intensity, everything he did, he meant it."
Following the bull's hiatus, Sawyer went on to choose Moonlight Party as the bounty bull for a rodeo event in Alaska in 2021 after bucking him in the yard with PBR Canada competitor and Aussie native Callum Miller, where Sawyer admits they might have been able to mark him 45.
"He bucked hard at home that day," Sawyer chronicled. "Callum Miller got on him that day and he bucked hard, jerked Callum down pretty hard. He bucked like hell -- he meant it, he isn't going through the motions. His next trip after that one in the yard was Palmer, Alaska. He bucked off Roscoe Jarboe that night."
And while Moonlight Party went on to register two outs at the famed Calgary Stampede, his efforts in Alaska caught the eye of many.
"The next morning I had three phone calls -- Gene was one of them," Sawyer said. "At that time I didn't want to sell him. They asked how much I said he just isn't for sale."
"We brought him home and then to Calgary, and he had a really good first trip, and then the final day in the four round he bucked like hell there. I thought then that it might be more than what we can do with him up here."
"Gene saw it on TV and had called after Calgary. I changed my mind, decided he would be for sale. Not on sale, but for sale. I told Gene the dollars and he phoned me the next morning and said they'd take him."
And while Moonlight Party may not have been flashy as a youngster, and it took persistence from Owen to get him stateside, he has sure garnered the attention of the Western sports world with his efforts to date in 2022.
After logging four trips on American soil throughout 2021, including two trips at the PBR World Finals, Moonlight Party made his season-debut at the Unleash The Beast launch event in Indianapolis. Drawn by Kaique Pacheco, Moonlight Party tossed the 2018 PBR World Champion in 2.46 seconds to earn a 46.25-point score.
Moonlight Party was back in the draw the very next weekend as the tour returned to New York City. Dispatching Andrew Alvidrez in 5.08 seconds, the bull was awarded a 45-point score.
But Moonlight Party was still warming up – an in late January during the 15/15 Bucking Battle in Milwaukee, Wisconsin, he not only delivered the high-marked out of his career, but also the top bull score to date on the premier series in 2022. Bucking off 2019 Rookie of the Year Dalton Kasel in a quick 1.67 seconds, Moonlight Party was awarded a monstrous 47-point score.
As a result of his dominance, Moonlight Party holds a 46.08-world average, and trails No. 1 Woopaa in the bull standings by a mere 0.42 points.
As for keeping up with their bulls after they leave home, Sawyer said his wife Corrie keeps him up to date on the PBR side. This past Saturday they took in the tour stop in Milwaukee from Fort Worth, with Corrie keeping a keen eye to the live results.
"You can watch the scores come in, but not see video," Sawyer began. "[Corrie] is watching it progress along and all of a sudden she gets a big grin and said 'They 47'd him.' I decided to text Gene and ask if he bucked tonight. He said, 'Oh man, you should have seen it. Oh yeah, he was pretty good.'"
"Gene was quick on the draw with the video, I think he was pretty excited too."
Sawyer says that while it would be nice to have Moonlight Party with the Outlaw Buckers' operation for the coming summer, he admits that sending the bull to Owen and by result the PBR's premier series is where he needs to be.
"I hate to see him leave. But he deserves to be down there and on that stage."
"That is where he needs to be," Sawyer added. "He is too good for what we are doing up here. They are like your kids, you don't want them to leave, but you want them to go off and do good things."
"I would love to have that bull on our truck this summer, but I think at the end of the day, unless he goes to NFR with us, he needs to be at that level with the best of the best. He can contend there, that is where he needs to be."
As for whether or not Moonlight Party can be considered a favourite for the title, Sawyer said he is being a realist and thinks once more scores are logged, there will be some more contenders.
"That is a tough one, it is still early," Sawyer said. "You give that Woopaa more than the one trip he has had, it will be hard to say what happens. I just like that he is showing he can do it, it's all whether he puts it all together like that for every trip."
"May is when they will know. It's hard to say, there are so many good bulls down there. I bet there are ones we haven't even seen yet on tour that are going to come out and surprise us."
"If he can hold his own, be towards the top of the standings coming the end of the year, that's pretty good feather in our hat I suppose."