Australian Jake Wilson Hopeful to Conclude 2022 with First Selection to the PBR Canada Finals as a Stock Contractor
By: Covy Moore Tuesday, January 11, 2022 @ 7:37 PM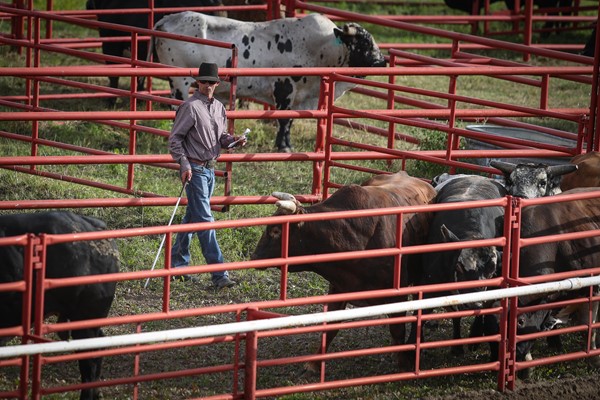 AIRDRIE, Alta. – The Canadian bucking bull industry is led by some huge operations. From Nansen Vold's Vold Rodeo to the Wild Hoggs and Sawyer Bucking Bulls, Canada is not short on passionate and successful bull breeders and stock contracting operations.
But there is a new name in the ownership column as former bull rider turned bull man Jake Wilson has been working on his own herd of buckers for the 2022 season and beyond.
Starting his career riding bulls in his home country of Australia, Wilson got into the ownership game at an early age when he procured his own set of practice bulls.
"When I decided to ride bulls, it all happened back in Australia," Wilson began. "I realized you need a whole lot of practice to get better, so I bought my own practice bulls."
"I was buying more and more bulls and had a cow herd in Australia. I sold a few over there that ended up going down the road, but my concentration was on riding then, so I didn't want to put all my time and effort into it. It came to a point where I didn't feel I was good enough after a few years in Canada, and it was time to write another chapter and that was to be a bull guy and go down the road with the bulls."
Wilson was immediately snapped up by the Wild Hoggs Bucking Bulls firm, longtime friends and supporters of his. Wilson spent a couple of seasons working with their young bulls, caring for the animal athletes at home and hauling them down the road, and in 2020 he began to work for the Vold Rodeo operation.
With all the lessons he has learned in the bucking bull game, Wilson has now started to bring a few of his own bulls into the fold.
"Long term goal is to be a contractor, you want to own a bunch of bulls you can haul, bulls cowboys want to get on, bulls you can be a bunch of points on," Wilson said. "I want to be able to call up Cody Lambert and say I have four bulls here and I'd like to do a run."
"I want to be a name, this is what I am passionate about. I love the bucking bulls. There is nothing better than seeing your bulls buck, and nothing better than seeing someone be 85-90 points on one and having success."
While most competitors who move into the bull raising facet of the sport start with a little cow herd and grow from there, Wilson admitted that process simply takes too long for him.
"There are so many great people who breed and raise buckers that there is room for someone wanting to showcase what they have and put the efforts into helping them become great bucking bulls," he said.
"You get a feel for what people are breeding and what they have got. You get to pick and choose then, for something that will work for you."
Wilson says that everyone in the PBR stock contractor community presents a learning opportunity for him.
"Everyone that owns a bucking bull, you can learn something from them," Wilson said. "I am always asking how people run their programs, what they see in particular bulls. Everyone has an opinion, and in this game there isn't a wrong opinion. You're never too old to learn, and I have taken that and implemented that in my bucking bulls."
"The biggest thing I find is to not be stuck doing things one way. When I go down south, I asks lots out of J.W. [Hart] and H.D. [Page]. I am pretty sure H.D. gets sick of me asking questions because I want to know everything he does, how he does it, why he does it."
Wilson says that one major reason for his early successes in being a bull hand and now buying a few of his own is the openness of groups like the Wild Hoggs and Nansen Vold.
"There is no jealousy in Canada. Guys that ask or I am dealing with on bulls are more than happy for me and are happy to help. I wouldn't be where I am today if the Wild Hoggs hadn't given me a chance. I grew a lot of connections and learned a lot with them."
Looking ahead, the goal for 2022 is simple – have a bull buck at the PBR Canada National Finals.
The goal for 2022 is to have a bull at the PBR Canada Finals. Wilson said a bit of uncertainty with the
"I have got two bulls that I would be happy to see make the PBR Canada Finals, and I am going to set my goal there," Wilson said. "Next year, and the year after, there are more goals. In two years' time, that's when I would like to get my own card and have a set of bulls I can take myself."
Bulls to watch from Wilson are 751 Wu Tang and 895 Who's Sipping.
And if the direct brother to Who's Sipping, a bull owned by Willy Macza called Coming Undone is any indication of the potential, Wilson says that is a bull who could have a future on the elite Unleash The Beast in the United States in the future.
"When I saw his brother buck at the Calgary Stampede, bucking off Daylon Swearingen, I was thinking next year I could try and bring him down south to showcase to guys down there," Wilson concluded.
"And if no one bites I will push to have him at the PBR World Finals. He is becoming a bull that can be at the World Finals."