The Morning Line – Brandon
By: Tanner Byrne Saturday, June 18, 2022 @ 9:51 AM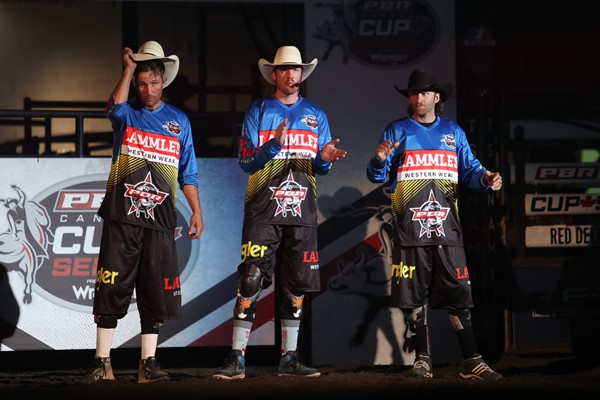 BRANDON, Man. – Another weekend, another high-adrenaline PBR Canada Cup Series, presented by Wrangler. And this Saturday, the nation's premier series is debuting in Brandon, Manitoba, at Westoba Place.
RELATED: Click here for the complete daysheet.
Last weekend, during the season-launch event in Red Deer, Jake Gardner made a statement, going a perfect 2-for-2 to win the tour stop.
Gardner, however, didn't walk out as the No. 1-ranked rider in the race to be crowned the 2022 PBR Canada Champion. That position was held by Lonnie West who also went a perfect 2-for-2 to finish second.
RELATED: Flawless Jake Gardner Wins Season-Launch PBR Canada Cup Series Event in Red Deer, Alberta
With West and Gardner now separated by a mere 6 points, and three-time PBR Canada Champion Aaron Roy in the No. 3 spot, just 24 points back, fans are sure in for a treat this weekend in Brandon, as the ferocious title race continues.
Below are bullfighter Tanner Byrne's bets for Round 1 of the event from Brandon. Let us know your thoughts and your picks for the Cup Series event by tagging @PBRCanada on Twitter.
Tickets for the event are still available and can be purchased online at tickets.keystonecentre.com, and at the Keystone Centre box office.
Aaron Roy vs. Disco Daze
Aaron Roy is coming off a long round win last weekend at the Red Deer Cup Series event. He is riding hot, feeling good. He's in his senior years of riding with the PBR but doesn't look to slow down at all going after that fourth Canadian Championship. By the way that he rode last weekend, and the bull that he picked in the short round, he means all business. This bull Disco Daze is supposed to be a good one, usually has a big fake to the left, out and around a couple to the right, into Aaron's hand. It doesn't really matter to Aaron which way they go, but I think this bull should fit Aaron well, and get him a good score in the first round.
Jake Gardner vs. Peaky Blinder
Jake Gardner coming off the win in Red Deer at the first PBR Canada Cup Series event of the year, showing us all the true Jake Gardner that we know and love.
RELATED: Jake Gardner Eyeing Second Cup Series Event Victory as Tour Readies to Debut in Brandon
A lot of action, a lot of try, never give up attitude, and he brings that to the plate every time he ties his hand into the rope. And this weekend will be no different. This bull is supposed to be pretty bucky, around to the left, which is away from Jake's hand, but look for him to sit up there and battle him out. He's riding hot right now, and Peaky Blinder and him should match up for an 85-86-point ride in the first round.
Griffin Smeltzer vs. Hellfire
Hellfire is a bull that I have been phoning around and asking a bunch of guys, I don't know him that well, but from what I hear, he really bucks. Up and down, around to the left. Griffin was one of my picks last weekend and he'll probably be one of my picks for the rest of the year. He's a guy that has taken his game to the next level. I watched him at a couple of rodeos after Red Deer, and he looks like he is on fire right now, ready to ride anything they run underneath him. This bull should be away from his hand, and Griffin likes them that way, maybe even a little better than those into his hand the way that he rides and stays out over the front. Hellfire should fit him really well. Look for a possible round win, 87-88 for Griffin on Hellfire.
Zane Lambert vs. Paulie Wallnutz
This is a rematch for Zane and Paulie Wallnutz from Saskatoon last year. Bull didn't have his day, but this is a bull that I have seen a lot of different times, and one that I like, and one that the guys really like when he has his trip. He should be right in the door to the right, he has a little trouble getting out of the chutes sometimes, but once he leaves clean, he's an awesome bull that they make a lot of money on. Big black bull, in the door to the right. Zane is fighting a little bit of an injury right now, but he has fought that his whole career, and he is one of the toughest guys we have, and one of the most decorated bull riders in Canadian history. So stuff like that usually doesn't affect him, and when he climbs in the chute, he is all business. Look for this bull to have his day, fit Zane perfectly, and they match up for an 86-point ride.
Jared Parsonage vs. Crawfoot
Once again I don't know anything about this bull, at all, other than he came from Al Lively and he originated from the Burke-Ramsey herd, and most anything that comes from Burke, as well as Al, is a really good one. Jared is one of the most consistent guys we have up here in Canada, he's been having a lot of success at rodeos, and winning a lot of rodeos, so look for him to transition that into the PBR Canada in Brandon and get on a hot streak and make a run for that Canadian title which has eluded him in the PBR. This is a bull, like I said, I don't know much about, but when Jared steps up to that plate, gets in the bucking chute and nods his head, he means business. Most times when Jared is on his game, it doesn't matter which way they spin, what they do, he is going to stay on, get a score and beat them in the average. Not sure about this bull, but look for a good score from Jared, he steps up to the plate when the pressure is on.
Lonnie West vs. Smog
Smog is a bull that should be out there a couple, around to the right, and away from Lonnie's hand. Lonnie has been really, really hot lately, riding super good. Coming off that injury from last season that plagued him, it doesn't look like he's ready to slow down at all and he uses that to fire him up to have a great year this year. The bull hasn't been ridden yet within the PBR ranks, but Lonnie, as we saw last weekend in Red Deer, steps up, rides two, including Winston Bruce from the Skori herd that lot of guys don't ride, so it just shows the level that Lonnie is riding at right now. I look for him to ride anything they ride under him. This bull and Lonnie should match up for an 85-86-point score.