The Morning Line – Regina
By: Tanner Byrne Tuesday, June 21, 2022 @ 7:23 PM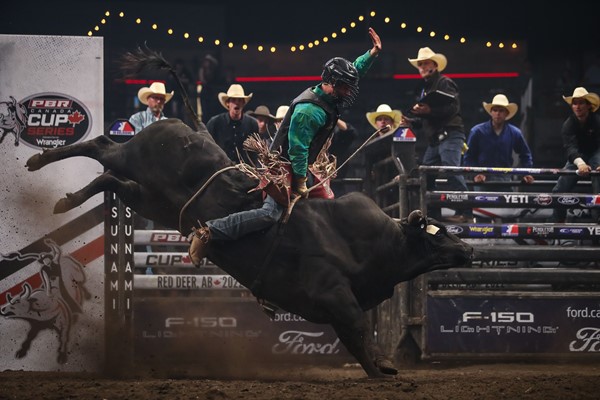 REGINA, Sask. – Guess who's back?
The PBR Canada Cup Series, presented by Wrangler, is holding a rare mid-week event, debuting in Regina, Saskatchewan, with the PBR Regina Classic on June 22 at Brandt Centre.
RELATED: Click here for the complete daysheet.
And the inaugural event in Regina couldn't come at a more competitive time!
Last weekend in Brandon, Manitoba, young gun Blake Smith won his career-first Cup Series event surging to No. 2 in the title race.
RELATED: Flawless Blake Smith Wins Career-First PBR Canada Cup Series Event in Brandon, Manitoba
But it was Lonnie West who once again left the arena as the No. 1 man in Canada compliments of a runner up effort. But his lead is slim! Ahead of this week's event in Regina West leads Smith by a mere 11.5 points.
However, we can't forget Zane Lambert. Seeking his record-tying third national title in 2022, Lambert tied for fourth in Brandon to enter the Top 10 in the nation.
Below are bullfighter Tanner Byrne's bets for Round 1 of the event from Regina. Let us know your thoughts and your picks for the Cup Series event by tagging @PBRCanada on Twitter.
Tickets for the event are still available and can be purchased online at TicketMaster.ca and at the Brandt Centre Box Office.
Blake Smith vs. Moe Joe
Blake Smith is coming off of his latest win at the Brandon Cup Series event. We've been watching this kid get on fire throughout the winter, and he's just getting that momentum rolling in these PBR Canada Cup Series events as well as the PBR Team Series events. Gets his first win on the Cup Series last weekend, and I think he's going to just keep riding that momentum here into Regina. Moe Joe is a really good bull from Cody Strandquist that will buck, and spin, and have a lot of different action, and will spin either way, but one that you can get a good score on. He's been in the short round a few times already this year, so he's one of those ones you can get a big score on. So look for Blake to get this one snapped from about an 87-88 to start things off really good in Regina.
Jordan Hansen vs. Look Alive
Jordan is coming back from injury. He suffered a concussion awhile back. This is one of the first ones that I have seen him back at, but I know he has been back a little bit down south as well. It's always fun to see Jordan's name on the daysheet any time that we can up here in Canada. He's a world-class bull rider and he shows that every time he nods his head. This is a really good bull from Flying Four Bucking Bulls, Look Alive. He's got a few different trips to him, but one thing he's got a lot of is attitude and action. If he keeps it shortened up, and doesn't go out there too many, this could be the round win as well. We've seen Jared Parsonage have a lot of success with this bull. He's one that the guys should want to get on when he has his day, you can get the round win. So look for Jordy to style one out for an 86 on Look Alive.
Daylon Swearingen vs. Look At This Dude
Daylon is coming off of most recently a World Championship. We're in for a treat that we're going to get to see this guy, one of the best bull riders in the world, ride in Regina, Saskatchewan, Wednesday night. He proved what he could do to the whole world and became a force to be reckoned with, and know that every time he nods his head, he means business. I don't know too much about this bull, a young one of Josh Berezay and the Two Bit Nation, but every time he brings them to town, they are going to buck. So World Champion and Two Bit Bucking Bull, you can't go wrong, look for a good score here.
Ashton Sahli vs. Edge of Tomorrow
This bull I haven't seen a whole lot in the last little while, originally from Nansen Vold. A bull with a lot of action and attitude. Should be out and to the right, into Ashton's hand. He's got suck back to him, kind of wants you down on his head, and that seems to fit Ashton's riding style really good, he really gets his hips underneath of him. So this should matchup very good with Ashton. Watch out after the whistle blows, this bull's got all the action and heat in the world. So he'll put us to work and that's what we're there for is to make sure these guys are safe no matter what they are getting on. So look for a lot of action and for a great score. Look for Ashton to hit all the highlight reels on Edge of Tomorrow.